Platforma Artes Guimarães, Architecture Portugal, New Portuguese Arts Venue
Platforma Artes, Portugal Building in Guimarães
Northern Portuguese Arts Venue design by Pitágoras Architects
12 Jul 2012
International Center for the Arts Jose de Guimarães
Location: northern Portugal
Design: Pitágoras Architects
English text (scroll down for Portuguese):
Photos: Joao Morgado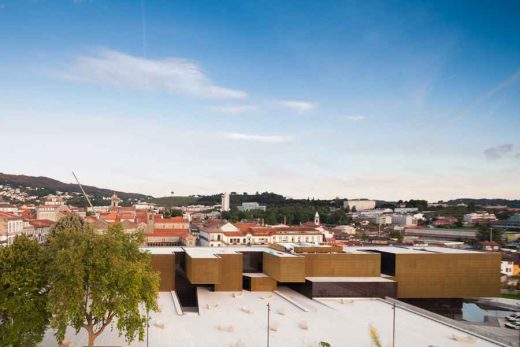 photograph : Joao Morgado
Platform of Arts And Creativity
International Center for the Arts Jose de Guimarães
The buildings that make up the Municipal Market and the space defined by them, commonly referred to as "the square", a name inherited from market square are, as a unit, characteristic elements of the urban landscape of the city of Guimarães. The grounds of the old municipal market boasted a privileged and very central location with excellent accesses, very close to the Toural Square and the historic center.
With this project, the transformation of the marketplace into a multifunctional space dedicated to artistic, economic, cultural and social activities within the scope of European Capital of Culture 2012, allowed for the physical and functional reintegration into the urban fabric, to become a reality and so, to recover one key area of the city space. In addition, the operation extended to adjacent plots, enabling the regeneration of the interior space of the block, which was completely uncharacterized, as a result of its occupation by a marble processing industry.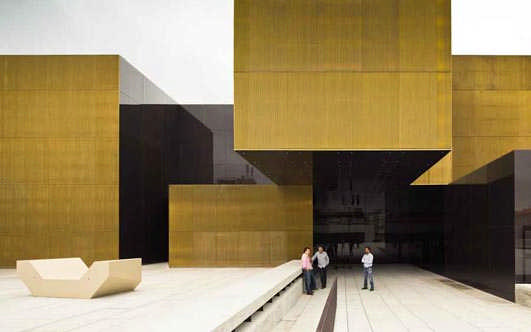 photograph : Joao Morgado
The program provided a clear concept and defined the objectives intended to achieve with this infrastructure, listing a series of skills and spaces that constitute the functional program for both the new and the existing buildings, as well as the adjacent plots of land. For this purpose three major program areas were defined:
-Art Center, which houses a permanent collection, in this case the Collection of José Guimarães, temporary exhibition area, a multipurpose space for additional activities, performances and shows, in addition to a series of complementary services.
-Creative Labs (business support offices) for the reception and installation of activities related to creative industries, allowing the development of business projects.
-Workshops to Support Emerging Creativity, consisting of workspaces and creative vocation for young creators in various areas, hoping to develop projects on a temporary basis.
Finally, the intent to recover the existing building on the eastern side, trying to promote the installation of additional commercial activities that could enhance the creation of a space with a broad scope in regards to multidisciplinary cultural activities.
The whole structure, according to the program would complement the existing equipment in the city, as well as those which are under development within the European Capital of Culture.
When interpreting the program, we aimed to allow for the possibility of each one of its components to function independently and simultaneously, creating accesses to each of the various services and support areas, as well as to the outdoor square and garden.
We opted for a methodology of intervention that involves the rehabilitation of the existing building to the east, keeping the materials and textures, but redoing the entire inside at level 0. For the building at north, and for reasons previously mentioned, the façade towards the Avenue, which characterizes the building, is renovated, but its interior and façade facing the square were object of and almost complete demolition and redesign.
Although it is intended to maintain the scale and the existing formal relations, we propose a new solution for the building that promotes a strong relationship with the square and emphasizes the relationship of this structure with the outer space.
The new building takes a radically different language, by contrast with its surroundings, both from the standpoint of their language and image, discrete, repetitive, as well as by the succession of volumes, with full and empty, marked by the juxtaposition of contrasting surfaces. The coatings, a grid of metal profiles in brass and glass surfaces chromatised on ventilated façades, accentuates a range of textures that is intended display, more dense and opaque in the majority of faces in the case of the metal structure, and transparent when it covertly comes to glass surfaces that intentionally conceal the few openings that the building comprises.
This series of volumes and dissonant elements, which result from decomposition of the initial volume, was originated by the need to create a variety of different spaces in the exhibition area, creating a tension evident in the volume of the building and the relationship with the space of the square, making it the main feature of its design.
For the square, we formulated a proposal with a drawing significantly more aseptic and a coating with large concrete slabs, as a counterpart to the surrounding buildings, characterized as a large reception and a multifunctional meeting area, translated into a physical platform, summing its vocation as public space by nature. It will be an area purposely under fitted, with the preservation of the large trees to the east, by introducing some elements of vegetation along the north building, but leaving most of the free space allowing for the development of numerous spontaneously or organized activities, in the scope of the Platform or not. The urban furniture used in the square comprises moveable elements, allowing for a more versatile use.
Guimarães, July 2012
Pitágoras Architects – Fernando Sá, Raul Roque, Alexandre Lima, Manuel Roque
Platform of Arts And Creativity Guimarães
'Golden Weightlessness' – article for e-architect by Carlos M Teixeira, Brasil
International Center for the Arts Jose de Guimarães – European Copper Architecture Awards 2013 overall winner
Portuguese text:
Platforma Artes Guimarães
PLATAFORMA DAS ARTES E DA CRIATIVIDADE
CENTRO INTERNACIONAL DAS ARTES JOSÉ DE GUIMARÃES
UMA MEMÓRIA
Os edifícios que constituem o Mercado Municipal e o espaço por eles definido, habitualmente designado como "a praça", nome que adquiriu da anterior praça do mercado, são, em conjunto, elementos caracterizadores da paisagem urbana da cidade de Guimarães. O recinto do antigo mercado municipal dispunha de uma localização privilegiada, com excelentes acessos e extremamente central, muito próximo da Praça do Toural e do centro histórico.
Com este projecto, de transformação da praça do mercado num espaço multifuncional, dedicado à actividade artística, cultural e económico social, no âmbito da Capital Europeia da Cultura de 2012, concretizou-se a recuperação de uma área fundamental do espaço da cidade, reintegrando-a física e funcionalmente na malha urbana. Para além disso, a operação estendeu-se para os terrenos anexos, possibilitando a requalificação do espaço interior do quarteirão, totalmente descaracterizado, produto da sua ocupação com uma indústria de transformação de mármores.
O programa previsto definia um conceito claro e os objectivos que se pretendia alcançar com esta infraestrutura, elencando uma série de valências e espaços que constituem o programa funcional, tanto para o novo edifício quanto para os existentes, e bem assim para os terrenos anexos. Para o efeito foram definidas três grandes áreas programáticas:
–Centro de Arte, que acolhe uma colecção permanente, no caso a Colecção José de Guimarães, área de exposições temporárias, espaço polivalente destinado a actividades complementares – apresentações e espectáculos – para além de uma série de serviços complementares e um pequeno parque de estacionamento automóvel.
–Laboratórios Criativos (gabinetes de apoio empresarial), destinados ao acolhimento e instalação de actividades relacionadas com industrias criativas, permitindo o desenvolvimento de projectos empresariais.
–Ateliers Emergentes de Apoio à Criatividade, constituídos por espaços de trabalho de vocação criativa e destinados a jovens criadores que, em diversas áreas de actividade, pretendam desenvolver projectos com carácter temporário.
Por último, previa-se recuperar todo o edifício existente, na tentativa de promover a instalação de actividades comerciais complementares que pudessem potenciar a criação de um espaço de características abrangentes do ponto de vista das actividades culturais multidisciplinares.
Toda esta estrutura, ainda segundo o programa, seria complementar relativamente aos equipamentos existentes na cidade, e aos que estão em desenvolvimento, no âmbito da Capital Europeia da Cultura.
Na interpretação do programa procuramos concretizar a possibilidade de funcionamento de cada uma das suas componentes de forma independente e simultânea, garantindo o acesso de cada uma delas aos diversos serviços e espaços de apoio, mas também aos espaços exteriores da praça e jardim.
Optou-se por uma metodologia de intervenção que passa pela recuperação do edifício existente a nascente, com manutenção de materiais e texturas, mas procedendo a uma reformulação interior, ao nível do piso 0. Para a ala norte, e pelas razões anteriormente apontadas, recupera-se o alçado voltado para a Avenida que caracteriza o edifício, tendo-se optado, no que respeita ao seu interior e alçado da praça, pela sua quase integral demolição. Embora se pretenda manter a escala e as relações formais existentes, propomos uma nova solução para o edifício que potencia uma forte relação com a praça e acentua a relação desta estrutura com o espaço exterior.
O novo edifício assume uma linguagem radicalmente differente, por contraste com a envolvente, quer do ponto de vista da sua expressão e imagem, descontínua e repetitiva, quer pela sucessão de volumes, com cheios e vazios, acentuados pela justaposição de superfícies contrastantes. Os revestimentos utilizados, uma grelha de perfis metálicos em latão e superfícies de vidro cromatizado, em fachada ventilada, acentuam uma variação de texturas que se pretende evidenciar, mais opaca e densa na maioria das faces, no caso da estrutura metálica, e veladamente transparente quando se trata da superfícies de vidro que dissimulam intencionalmente as poucas aberturas que o edifício comporta.
Esta sucessão de volumes e elementos dissonantes, que resultam da decomposição do volume inicial, foi originada pela necessidade de criar uma multiplicidade de espaços differentes na área expositiva, criando uma tensão evidente na volumetria do edifício e na relação com o espaço da praça, tornando-se a principal característica do seu desenho.
Para a praça formulamos uma proposta com um desenho francamente mais asséptico e revestimento em grandes lajes de betão, como contraponto dos edifícios envolventes, caracterizando-se como a grande zona de recepção e reunião multifuncional, traduzindo-se numa plataforma física, sintetizando a sua vocação de espaço público por natureza. Será uma área propositadamente pouco equipada, sendo preservadas as árvores de grande porte a nascente, introduzindo alguns elementos de vegetação junto ao edifício a norte, mas deixando a maioria dos espaço livre possibilitando o desenvolvimento de inúmeras actividades de forma espontânea ou organizada, no âmbito do uso da Plataforma ou não. Também o mobiliário urbano utilizado na praça é constituído por elementos moveis, por forma a que possa ser mais versátil na sua utilização.
Guimarães, Julho de 2012
Pitágoras Arquitectos – Fernando Sá, Raul Roque, Alexandre Lima, Manuel Roque
Platforma Artes Guimarães images / information from Joao Morgado
Joao Morgado Architectural Photography – external link
Location: Guimarães, Portugal
New Portuguese Architecture
Contemporary Portuguese Architecture
Portuguese Architecture Designs – chronological list
Lisbon Architecture Tours by e-architect
Guimarães Building – Recent Design
Shelter byGG
Design: Gabriela Gomes
Guimarães Building
Northern Portuguese Architecture
Vidago Palace Spa, Porto
Álvaro Siza Vieira
Vidago Palace Spa
Palácio de Justiça de Gouveia
Barbosa & Guimaraes
Palácio de Justiça de Gouveia
Comments / photos for International Center for the Arts Jose de Guimarães page welcome