Urban Buildings, City Architectural Discussion, Article, Project, Global Built Environment Design
Urban Buildings : Architectural Discussion
International Architecture aticle by Roland Wahlroos-Ritter Architect, Los Angeles, California, USA
Feb 8, 2011
Urban Architecture
Urban Buildings
UNStudio's enticing design for the Urban Library in Gent deploys a similar strategy as for their Mercedes Benz Museum. UNStudio elegantly weaves together a complex set of programmatic elements into a spatially astonishing architectural form. The monolith gracefully lifts from the ground level in an intricate play with the urban space within which it is situated. It is at the same time formally provocative and yet sensitively woven into the urban fabric, extending the urban space and scale of the city.
Waalse Krook Gent, Belgium
Design: UNStudio, The Netherlands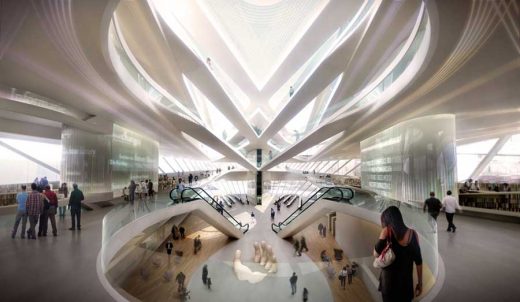 render © Mir_www.mir.no
Equally sensitive, if not obsessed with its urban context, is the Aachenmünchener Headquarters in Aachen by kadawittfeldarchitektur. The now completed project skillfully dissolves what could have been a typical, massive corporate headquarter into an alluring sequence of urban spaces and building parts, that reference the scale of their urban context.
The building complex echoes the ambitions of Candillis, Josics, Woods' to design the Freie Universität in Berlin as a city rather then a building. But unlike the Freie Universität the Aachenmünchener Headquarters allows the public space to pass through the complex and establishes visual references to the city from almost every point within the buildings.
Aachenmünchener Headquarters, Aachen
kadawittfeldarchitektur



photo : Jens Kirchner, Düsseldorf
But perhaps the most surprising news item this week is the Energy Report, a comprehensive study developed by the WWF, AMO and Ecofys. The report outlines in Part one with visual eloquence and verbally provocative the global status quo of our energy situation and possible future scenarios and strategies. Part two, the Ecofys Energy Scenario is a more in depth elaboration of a three part strategy to a global, sustainable energy system; by reducing energy demand to a minimum, providing renewable energy resources and cleaning up 'traditional' energy sources.
Energy Report news
Vision by AMO



image © AMO
Surprisingly AMO, OMA's provocative counterpart, resisted the natural instinct of the architect to elaborate on the role of architecture and architects. Although buildings account for about 40% of the EU's energy demands, only about 3 pages in the Ecofys are dedicated to buildings. AMO's report, genuinely operating beyond the traditional boundaries of architecture, is a refreshingly optimistic call to bold action not to architects, politicians, investors, communities but to all of us. The encouraging message is that, a future with renewable and clean energy is a possibility and it is in our hands to make it happen.
Roland Wahlroos-Ritter
Roland Wahlroos-Ritter is an architect working for WROAD. Recent design work includes the Bigger is Better House in California, USA.
California architect Roland Wahlroos-Ritter:


International Architectural Designs
Architecture Context : article by Trevor Tucker. Sep 2010
Sizing Identities : article by Sergio López-Piñeiro. Jan 2011
Sustainable Building Design : article by Trevor Tucker. Aug 2009
Design Narrative : article by Lee Miles – Sep 2010
Planetization Architecture : article by Mphethi Morojele – Aug 2010
Sustainable Buildings – Building Issues : article by Adrian Welch
Permission Shop, Toronto, Canada
Architects: Reflect Architecture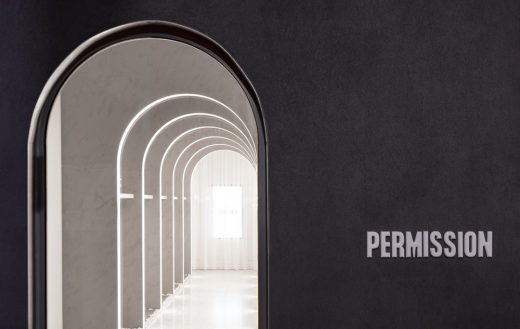 photography : Jeremie Warshafsky
Permission Shop
Comments / photos for the Urban Buildings – Architectural Discussion Article page welcome