Online tile store versus brick and mortar guide, Home tiling advice, Flooring options tips
Online Tile Store vs. Brick and Mortar Tile Store: Which One to Prefer?
25 February 2022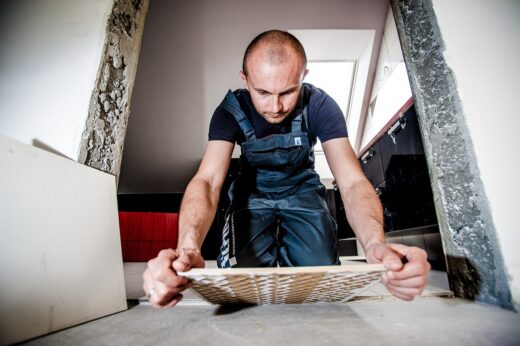 There are two kinds of businesses today when we talk about retail – online and brick and mortar. While shopping was all about stepping into showrooms and stores in the past, many people prefer the convenience of online shopping nowadays, which is all about sitting at your home and purchasing things from anywhere you want. However, the conventional brick and mortar shopping still exists.
Many people still like to buy things after touching and experiencing them physically, specifically certain items that most likely need a physical analysis according to them. Tile is one such very important merchandise. You might have even sometimes searched for 'tile stores near me' in Google while renovating or constructing your house. But there are several benefits of opting for an online tile store as well.
In this article, we will discuss the different benefits of both ways of purchasing tile – ecommerce and brick and mortar. It will help you have your verdict and choose your preferred method to buy tile per your opinion and preferences.
Read on
Perks of a Brick and Mortar Tile Store
If you want to buy tile, it means that you are either revamping or building your house. And you will want everything best for that. Right? Nothing can be better than having an in-person inspection of the tile you are buying. This is one crucial reason many people prefer purchasing tile from showrooms and physical stores while remodeling their homes.
The Visual Experience
If you choose a brick and mortar tile store to buy your tiles, you can have a very close and personal experience with the tiles. On the other hand, online stores might not offer you the advantage of having a real-time impression of the tiles and checking out different minute but important details like color consistency.
Thus, visual experience is very important for tiles, especially the ones that are made of wood or marble. Each slab of such tile has a unique look with subtle and tiny variations in the design. And it is only possible to notice and understand that when someone sees and touches them.
Also, when you are in a brick and mortar store, you can check how the reflection of natural light looks on the tiles and whether it is changing their appearance. This will help you make the best final decision about tiles for your house.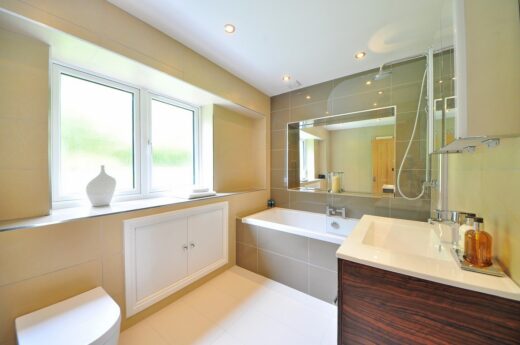 The Physical Experience
If you want to remodel your house, it becomes very crucial to touch and feel the tiles in a brick and mortar store before you purchase it. For example, you are looking for stone tiles. If you can interact with them in real-time, you can understand their unique texture and composition very well. We know that each stone tile may have a few deformities in its shape and extent of coarseness. So, it is important to check the consistency of the stone tiles before you purchase them.
Perks of an Online Tile Store
According to a recent survey, 57% of customers within the age limit of 30-44 years prefer online shopping over brick and mortar when it comes to home remodeling.
The three key elements behind this increasing growth trend are comparing different options, frugality, and ease.
Online Tile Stores Offer Great User Experience
One most amazing thing modern buyers love about online tile shopping is its swift and effortless experience. All you need to do is just type in the keywords for the tile you are looking for in the search bar of the ecommerce store's website. And it will show up hundreds of options for that to you from which you can choose the best one per your requirement.
Online Tile Stores are Time-Saving
When you choose online tile shopping, you don't have to reach out to the sales reps to ask your queries repeatedly. Rather, you will get all the information right there online on the website of the tile store. Thus, the selection process becomes very easy when it's online mode. You can browse through different options quickly with just some swipes, and that's it!
Online Tile Stores Help You to Compare before Buying
Everyone loves prices concerning the best deals! If we talk about the best highs of online shopping, hot deals are one of the most important ones. For example, if you are fascinated with a specific tile design, it can be a smart idea to check their online store to look for the most affordable cost of the same.
Online Tile Store or Brick and Mortar Tile Store?
So, you have now known the biggest advantages of online and offline tile purchase. All of them are unique in their own sense. Have you decided which one you will go for?
The decision is yours.
Understand. Analyze. Select.
Comments on this guide to Online tile store versus brick and mortar article are welcome.
Porcelain Tiles
Porcelain Posts
Porcelain slab applications and varieties
Useful tips for installing porcelain tiles
How to choose between ceramic and porcelain floor tiles
10 best home decorating ideas with Spanish tiles
Building Posts
Residential Architecture
Comments / photos for the Online tile store versus brick and mortar advice page welcome