10 best home decorating ideas with Spanish tiles guide, building tiling tips, Property floor advice
10 Best Home Decorating Ideas With Spanish Tiles Guide
3 Sep 2021
Making your home look glamorous and well-functioning to experience 'contentment' should be your priority. You love decorating your home to turn it into a welcoming space for your loved ones. Have you considered mosaic tiles as a prominent element to execute your design ideas?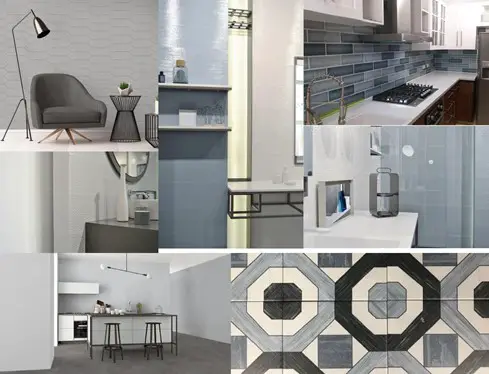 Awesome Interior Design Ideas Using Spanish Tiles
In this article, let us stretch the creativity and find out how Spanish Tiles can be used innovatively for interior decoration. Spanish tile is a pattern inspired by traditional Spanish and Mexican designs. You can notice the prominence of blue and white colors, classic, simple shapes- like rectangle, square, trapezoid, and all sorts of tile sizes under this tile category.
Mesmerizing Accent Wall in Living Room
An accent wall always enhances the aura by grabbing the attention of any visitor. Let's take a glance at a few ideas to beautify walls in the living room using Spanish Tiles:
#1: Contrasting Accents Using Gray Tiles
Installing gray, trapezoidal Spanish Tiles in subway patterns can bring a bold and beautiful look to the wall in your living room. The crucial part here is to match the color of your furnishing with the accent wall and keep the floor and other walls contrasting (maybe white or off-white). Check out kitchen floor tile trends 2022.
#2: Create a Lovable Harmony: All-White Theme
Large-Format Spanish Tiles in white color and a unique mini brick texture create a beautiful surface. Tile a wall in the living space with these tiles, keeping all other elements like the paint on the other divisions, furnishing, and ceiling white. The texture and the size of the tiles (10X30) enhance the overall visual impact.
Some Products Suitable For All-White Themes:
White – Modern 4X12 Beveled Subway Distressed Glossy Ceramic Tile – MTO0586
White – Modern 1X1.5 Fan Scallop Matte – Glass Mosaic Tile – MTOD0115
White – Modern 6X6 Beveled 3D – Glossy Ceramic Tile – MTO0490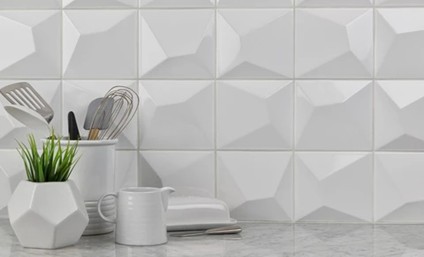 Contemporary Kitchen Backsplash
Your kitchen backsplash can become the center of attraction if you choose the perfect Spanish Tile for it. Let's glance at backsplash design ideas that add beauty to the kitchen:
#3: Subway Still Trends
Spanish Tiles in blue, white, and gray shades look fabulous when installed in a subway pattern on the kitchen backsplash. The unique texture on the tiles and the neutral colors help you make the kitchen backsplash stand out beautifully.
#4: Large-Format Spanish in White
Spanish tiles in white color look absolutely eye-catching on the kitchen backsplash. If you prefer, you can make it an all-white kitchen. (Similar to the second decor idea for the living room). The large-sized porcelain tiles last for years to come and are easy to maintain.
Interior Floor in Classic Style
Spanish tiles in diamond and deco patterns bring a classic touch to any interior space. Ceramic tiles in deco and diamond patterns would be perfect for any room. These Spanish Tiles are made to sustain moderate to heavy foot traffic.
#5: Ceramic Floor Tile in Blue, Black, and White
Spanish tile in deco pattern looks fabulous. You can tile your floor to get a traditional visual effect. The tile pattern, design, and colors beautify the flooring. The design is completed when you assemble the tiles on the surface.
#6: Marble Look Glass Mosaic Tiles in Hexagon Pattern
Matte finish, anti-slip tiles in a hexagon pattern, and gray color would beautifully cover the floor and protect your loved ones from slips and falls. The tile pattern looks gorgeous on any interior space.
Catchy Bathroom Walls (Behind the Mirror)
Your bathroom can be restyled, adding a unique accent to its wall. The place deserves a makeover as you get ready to face the world here. These are some bathroom decor ideas using Spanish Tiles:
#7: Iridescent Finish Tiles in a Square Pattern
Such tiles are considered ideal for swimming pools. However, the dazzling effect through the iridescent finish and a spectacular color combination makes these tiles perfect for bathroom walls too. Install these tiles on the wall behind the mirror and see the difference. These iridescent finished Spanish Tiles add spice to the bathroom decor.
#8: Distressed Ceramic Glossy Bevelled Tiles in Subway Pattern
Distressed Ceramic Tiles in the Spanish Collection provide a magnificent aesthetic appeal to the bathroom walls. These 4X12 sized ceramic tiles combine the modern outlook due to the beveled edges and a classic touch as they are distressed. These tiles add a different visual dimension to your bathroom walls.
Soothing Shower Area Walls
Selecting durable tile material for wet areas is a bit challenging. Tile materials like ceramic and glass mosaics are perfect for this application. Here are two glorious home decorating ideas for shower walls using Spanish Tiles:
#9: Metallic Mosaic Tiles For Shower Walls
A wall behind the shower can be made to shine within the neutral colors on the other bathroom walls, bath fittings in brass or steel, your white bathtub, commode, and washbasin. 1X1 Square Metallic Glass Mosaic Tiles in Silver Gray enhance the elegance of your shower wall drastically.
#10: Large-Format 10X30 Blue Tiles for Aqua Theme
Installing Large-Format Spanish Tiles in 10X30 size and eye-catching blue color adds spice to the bathroom aesthetics. Your shower wall would have a coarse texture and a soft feel to boost your mood.
Spanish tiles leave a rare kind of positive influence on the interior decor if used wisely. After going through these home decorating ideas, browse through the exclusive collection of Spanish Mosaic Tiles from a reputed mosaic tile manufacturer. The product range displayed helps you choose the most appropriate tiles for your application.
The Bottom Line
Spanish Mosaic Tiles are available in enormous varieties. The article lists the top 10 home decorating ideas using the best tile varieties. We hope that the ideas discussed here inspire you to make the most effective use of Spanish Mosaic Tiles for your next home renovation project.
Comments on this guide to the 10 best home decorating ideas with Spanish tiles article are welcome.
Building Articles
Residential Architecture
Floor Tiles Articles
Tiling Design
How to choose between ceramic and porcelain floor tiles
Comments / photos for the 10 best home decorating ideas with Spanish tiles advice page welcome