How to pick the right pool tiles for your property, Property spa tips, Home deck advice
Pick The Right Pool Tiles For Your Property
22 August 2023
Nothing is more refreshing than enjoying a cool dip in the pool on a blazing summer day, especially in your backyard. Having a pool on your property enhances your overall quality of life and adds to your home's value, making it a major selling point if you ever decide to put your place on the market.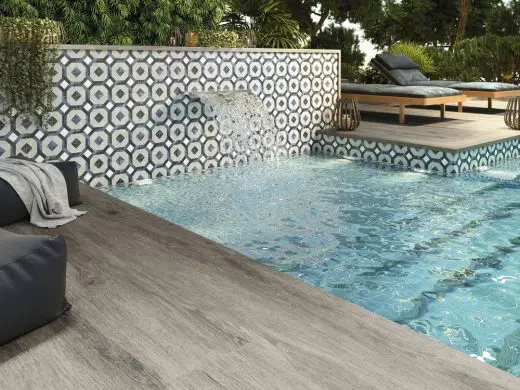 However, like with many other aspects of property ownership, pools come with a great deal of maintenance and year-round upkeep. That's why picking the right pool tiles is crucial when maintaining the safety and durability of your in-ground pool and outdoor spa area. In this article, we'll cover everything you need to know about picking the right pool tiles for your property, whether you're preparing to install a pool for the first time or upgrading your existing swimming area.
Pool Tiles Vs. Liner: What's The Difference?
First, it's important to understand how tile stacks up against other popular pool options like plastic and liners. Many homeowners choose a pool liner because of its affordability and easy-to-install design.
Unfortunately, this can be a costly mistake later down the line. On average, a good pool liner must be replaced every 5 – 7 years, assuming it doesn't become damaged before that time. Since pool liners are less durable than other materials, they're also more prone to tears, leaks, and other serious maintenance issues.
Alternatively, choosing premium-grade tiles can give you a lifetime of durability for your in-ground pool, saving the stress of needing to have your pool repaired every 5 years. Most importantly, pool tiles are the most effective option for protecting the base of your pool from leaks and other issues.
With that in mind, these are the top materials we recommend for pool tiles:
Pick The Rigperty
Glass Tiles
Glass tiles are one of the top choices for all residential and commercial home remodeling projects, thanks to their durability and versatility. Whether you're looking to create a modern oasis or a soothing spa atmosphere, our favorite glass pool tiles are available in over 700 styles, giving you the freedom to customize your outdoor pool area to your liking.
Beyond their aesthetic benefits, glass pool tiles are relatively simple to install and provide long-term durability for your home. High-quality glass tiles are often reinforced to withstand the pressure of being used in a swimming pool. This gives you the added peace of mind of knowing that your home is safe from sudden leaks and other types of damage.
Porcelain Tiles
Unlike other popular options like stone pool tiles, porcelain tiles are exposed to extremely high temperatures during the production process, leaving them with an increased layer of durability that other materials don't have. This makes them a great choice for being used in outdoor pool areas, regardless of how unforgiving the climate may be.
Not only do porcelain tiles stand up against both extreme heat and cold, but they also provide almost no water absorption, allowing them to be continuously exposed to moisture for long periods without weathering, cracking, or breaking down. This is a huge relief for property owners who don't want to deal with additional maintenance costs for their pool.
Finally, porcelain tiles have the unique feature of mimicking other types of materials in their appearance. For example, our porcelain pool tiles can be made to look like limestone, marble, wood, and other stylish options, creating a breathtaking finished product that will have your guests in awe.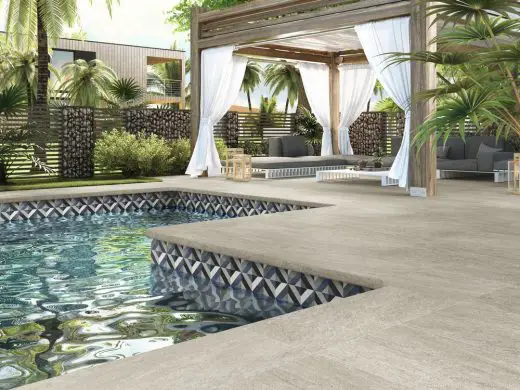 Mosaic Tiles
Mosaic tiles, which are typically made from glass, can be added to any design to add an artistic flair to your pool or spa. These types of pool tiles are smaller than standard tiles and are installed to create various patterns and shapes that accent the line of the pool, which means that they'll need to be installed professionally.
While mosaic tiles are a great choice for their aesthetic benefits, they can also be used to increase the overall safety of your pool area. Mosaic glass tiles are available in a unique anti-slip texture that helps reduce the risks of accidents around your pool area, including the swimming pool, jacuzzi, outdoor shower floors, and more. Simply put, mosaic pool tiles are guaranteed to give your pool the eye-catching appearance you're looking for without compromising on safety.
4 Things To Consider When Choosing Tile
Now that you have a better understanding of different pool tiles and their unique benefits, let's take a look at the things you should consider before choosing your tile:
Waterline
First, you'll need to determine whether you want to tile above or below your waterline. Tiles that are used above the pool's waterline are visible to your guests, which is why this is the most popular area to use decorative options like mosaic tiles. On the other hand, tiles below the waterline are less visible and are more focused on durability than appearance.
Safety Concerns
If your swimming pool area is often used by young children, you may want to consider investing in anti-slip glass tiles that can enhance the safety of your pool and reduce the risk of accidents. Another aspect to consider is the possibility of a water leak on your property, which can cause serious long-term damage. We recommend choosing tiles with maximum durability to protect yourself and your home from these potential costs.
Tile Size
Different types of pool tiles are available in a variety of sizes, which also impacts the price of your project. Before you start, it's a good idea to measure your pool area and determine how big you'll need your tiles.
Installation
Lastly, you need to think about how you plan to install your pool tiles. If you're looking to save money by tiling your pool yourself, glass tiles are usually the best choice because they're relatively easy to work with. However, if you have room in your budget to have your tile professionally installed, mosaic tiles and other intricate designs can add tremendous value to your property.
Where To Shop For Pool Tiles
There are a number of places to find high-quality pool tiles both online and in person at your local home improvement stores. We recommend requesting a few samples of your top tile choices, allowing you to compare them to other materials being used in your pool. No matter which tile option you choose, you can rest assured that you'll be enjoying a beautiful, low-maintenance pool for years to come.
Comments on this Pick The Right Pool Tiles For Your Property article are welcome.
Swimming Pools
Swimming Pool Design Articles
Swimming Pool Designs
Swimming Pool Building Designs
Important purchases for your new swimming pool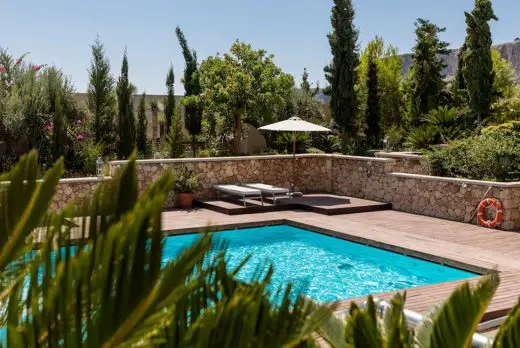 picture : Dim Hou
How to ensure your family swimming pool is child-friendly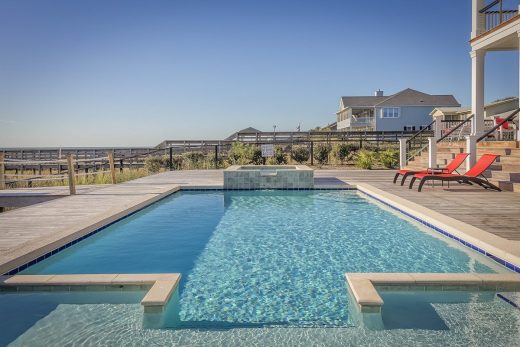 Swimming Pool in Belgium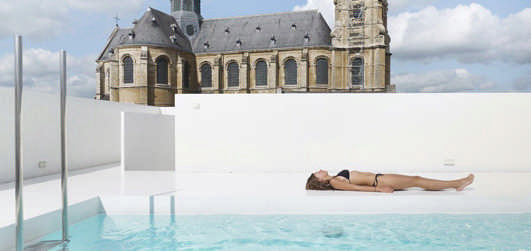 photo : Frederik Vercruysse
Thermal Baths in Bad Ems Building , Germany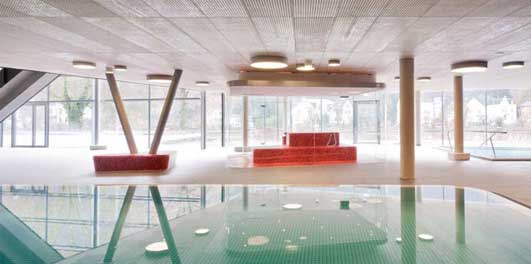 photo © David Matthiessen
Family House Revision & Pool for Art, Athens, Greece
Architects: Eleni Kostika Architecture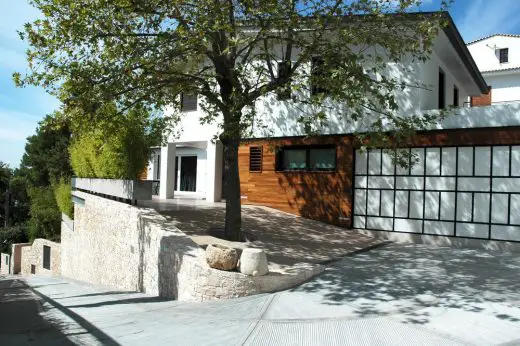 photograph © Alexandros Tsonidis
Family House Revision & Pool for Art
Property Articles
Comments / photos for the Pick The Right Pool Tiles For Your Property page welcome