Porcelain slab applications and varieties guide, Home interior tiles, Online property materials advice
Applications and Varieties of Porcelain Slab
22 Nov 2021
Despite the fact that you have very definitely come into contact with porcelain several times in your life, you may not be familiar with it. Porcelain is a kind of ceramic made from clay that includes kaolinite, which is a mineral. It is produced by firing clay with kaolinite. When the clay contains a significant percentage of kaolinite, the clay is referred to as china clay, which is why the terms porcelain and exquisite china are often used interchangeably. Additionally, the presence of other minerals in kaolinite-rich clays, such as silica and feldspar, may help to improve the final look of porcelain.
Porcelain is a stone that is often overlooked. There are several changes that may be made to a kitchen by homeowners who are interested in modernising it, including the installation of new benchtops. In addition to being a hassle to maintain, the tiled benchtops and the ubiquitous little squares split by thick grout lines were also ugly and out of style. Even though there are a plethora of different benchtop materials to pick from for your kitchen, porcelain is one stone that should be given a little more consideration.
Installing porcelain benchtops in your house is a highly enticing option because of the many advantages it provides. The biggest benefit of using this kind of material is that it enables you to customise the look of your kitchen counter to your preferences. You may select a design that fits your present kitchen décor or one that completely transforms the appearance of the room since porcelain is available in a variety of colours and textures. Because porcelain is very resistant to degradation, your kitchen will continue to look beautiful for many years to come.
Porcelain slab applications
Porcelain slabs are gradually emerging as the sensational change that would undermine all the other stones currently in use in your houses and offices. We have always heard how great marble and granite look but have neglected the significance of porcelain slabs, which give a very similar, if not greater, look of elegance to the interiors but at a lower and more reasonable price. If you want something alluring, then do not rush into the decision without first looking at the advantages of having porcelain slabs.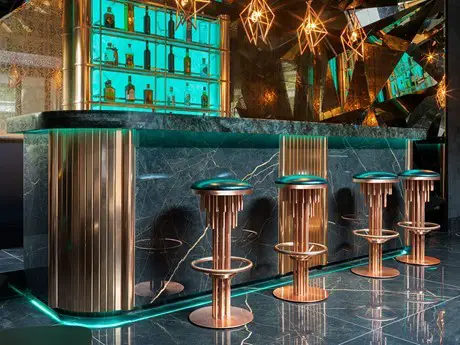 Image Source – Avant Stone
Porcelain slabs designed for use as countertops are coated with a colourful glaze to give them the appearance of real stone or even marble. Porcelain is noted for being non-porous and consistent in its manufacturing process. If you live in an area where the temperature is constantly fluctuating, this is an excellent alternative to traditional radiant heating.
Porcelain slabs are highly heat resistant, making them perfect for the application of countertops or benchtops in your household. It is common knowledge that porcelain slabs are almost thirty percent stronger than granite benchtops, and whether durability is the most important thing to look for before investing your money on something as crucial as the basis of your furniture, their durability does not only lie in their strength but also in the material's being highly water resistant, thereby preventing any kind of damage that can be caused by water seepage. It comes in various colours and patterns and is extremely easy to maintain. You can choose the colour according to your planned decor without having to worry about the limited options.
Porcelain slab varieties
Antique White
Supreme Antique White. Evo. Antique White is a porcelain slab from Italy. Similar to Calacatta Oro Marble, this stone has an exquisite pattern of warm gold veining on a white background. This porcelain slab is available in three distinct veining designs and instantly adds warmth to any room.
This stone is ideal for a contemporary or modern look. Sunflower Yellow, Navy Blue, and Silver-Grey are all suitable hues for this stone.
Blanc Du Blanc
Blanc du Blanc recalls the Brazilian quartzite Patagonia because of its remarkable and beautiful patterning. Additionally, this stone is an Italian porcelain slab. Coffee Brown, Off-White, Indigo, and Baby Pink are all complementary colours to the stone.
Blue
Blue Savoy Blue is an Italian Porcelain Slab distinguished by the light grey veining on the blue/grey base hue. This variety is named after the French Blue de Savoie Marble. The Blue Savoy Porcelain Slab is a fantastic substitute for those seeking a marble effect. Hickory Brown, Oatmeal White, Shadow Grey, Mink, and Pearl Pink colour aesthetics will harmonise with the stone.
BONE
The Navona Bone infuses every area with a sense of rustic beauty. This version was inspired by the travertine mined on the outskirts of Rome, Italy. Navona Bone is a deep-colored Italian porcelain slab. A fantastic match for rose pink, salmon, crepe, tan brown, and cornsilk white, with soft pink and cream tones.
CLASSIC MARQUINA
The Supreme Evo Classic Marquina is an Italian Porcelain Slab with an inky black base and white veining that creates a stunning but elegant aesthetic. This timeless pattern is inspired by the renowned Spanish marble Nero Marquina and is excellent for those seeking black marble. Colors such as Lava Grey, Ice Blue, and Black would complement the stone's powerful aura. Caramel Brown or Forest Green should combine well for a contrasted aesthetic.
EMERALD
Nobile Emerald is a magnificent porcelain slab that has a brilliant green background and an intriguing design. Nobile Emerald adds a splash of colour and energy to any area, and is inspired by Brazil's Esmeralda quartzite. Lavender, Grape, Lime Green, and Pearl River Grey are all suitable and complementary colours for the stone.
GREY
Navona Grey is a stunning mid-grey Italian porcelain slab with a travertine appearance. This version was inspired by the natural travertines seen in Italy and is available in three distinct designs. Cedar Brown, Smokey Grey, Cloudy White, Rhino Grey, and Abalone are just a few of the hues that might complement the stone.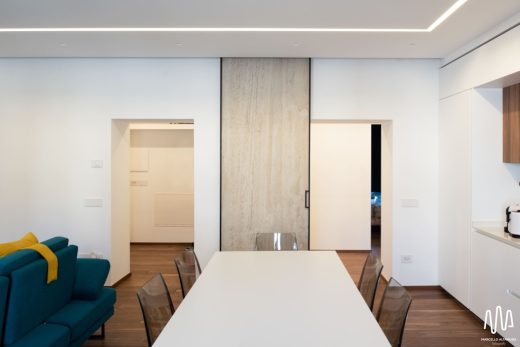 GREY AMANI
Supreme Grey Amani is a timeless, cool grey Italian porcelain slab with soft white veins that lends any application a modest but pleasing limestone appearance. Supreme Evo Grey Amani lends an air of refinement and luxury to any area. This variety is available in three distinct designs. This stone would complement a variety of grey and white colours, including pewter, iron, and bone white.
HONEY
Navona Honey is an Italian porcelain slab with a warm white hue. These are an excellent option since they are inspired by the renowned Italian travertines. Ivory, Peanut Brown, Phthalo Green, and Baby Pink are just a few of the hues that would enhance the stone's warmth.
INVISIBLE SELECT
The Supreme Invisible Select is an Italian Porcelain Slab that has a marble-like appearance with a white backdrop and striking grey veining. It is a one-of-a-kind design that is reminiscent of the stunning Cote d'Azur Marble. Some hues that might complement the stone include Silver Gray, Coin Gray, Off-White, Brunette Brown, and Penny Brown.
MONT BLANC
The Mont Blanc is an Italian porcelain slab named after the same-called Brazilian granite. A delicate flow is created by the combination of light grey veining with a soft tan backdrop. This variant would be complementary to cream-colored aesthetics such as Walnut Cream, Sandstone, Faux Fur, and Beige.
MOON
Moon Blue, or Savoy Moon, is a harmonious and versatile warm grey Italian porcelain slab. Blue Savoy Moon is named after France's Blue de Savoie Marble. This stone would complement hues such as honey, gold, and amber. Similarly, Berry Blue and Charcoal Grey might also work nicely as contrasting hues.
LAURENT NOIR
The Supreme Evo Noir Laurent Italian Porcelain Slab is a fashionable marble design. This version has a dark black background with subtle gold veins like those seen in Port Laurent Marble. Supreme Evo Noir Laurent, which comes in three distinct patterns, adds flair to any application. Sacramento Green, Raven Black, Ivory, Olive Green, and Tortilla Brown would all complement and balance the stone's rich hue.
Porcelain slabs in general are used in high traffic areas without any second thoughts, which itself is a testament to their high durability and strength. If given proper thoughts with the right kind of design by people who are aware of its variations and quality' it would not be long before porcelain became the next big thing in the market as well as in every other household.
Comments on this help guide to porcelain slab applications and varieties article are welcome.
Porcelain Tiles
Porcelain Tiling Articles
Useful tips for installing porcelain tiles
How to choose between ceramic and porcelain floor tiles
Five ways to use ceramic tiles
10 best home decorating ideas with Spanish tiles
Buildings
Residential Architecture
Over Pool House, Hawthorn, Victoria, Australia
Design: Jane Riddell Architects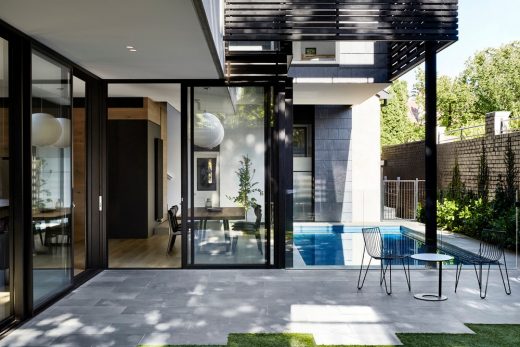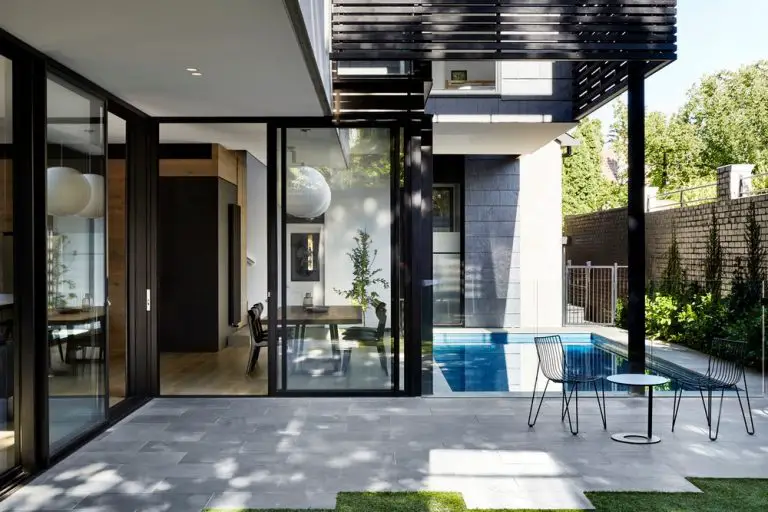 photograph : Tess Kelly
Over Pool House in Hawthorn
Comments / photos for the Applications and varieties of porcelain slab advice guide page welcome