Monthly Report for March 2019 by Brian Carter, Building Types, Architecture Article
Monthly Report for March 2019 by Brian Carter
Architectural Design & Buildings Discussion – article by Brian Carter, Buffalo, NY, USA
Apr 3, 2019
March 2019 Monthly Report by Brian Carter
Buffalo Calling – March Madness!
In America this was the month when seemingly endless screens projected images of apparently endless play across immaculate and seemingly endless polished wood floored arenas into houses, workplaces, bars, restaurants, waiting rooms, airports and all of those places that constitute civic space in the new world.
Those arenas formed conspicuous backdrops and provided stages where the extraordinary skills, and energetic leaping of brightly vested, gregarious teams from universities, schools and colleges, big and small, located in cities, towns and tiny places across the country were there for all to see throughout this hectic month-long egalitarian basketball tournament. Gonzaga, Villanova, Baylor and Auburn were all suddenly headlined and teams projected larger-than life on screens in brief moments of instant Warhol-like fame.
Hoops were sought, hopes raised or dashed as points were registered and time periods buzzed. And, as teams suddenly went 'in' or 'out', boisterous celebrations by players and smartly shirted coaches happened alongside crowds of loyal supporters, gymnastic cheerleaders and uniformed trombone playing campus brass lined up and tooting energetically for each slam dunk.
March 2019 was also a month long scheduled for another move 'in' or 'out'- one that was to prompt its own March Madness.
In each setting that madness has been signaled by images of rooms and cities – one by assertive collections of vast open arenas set against carefully composed and emblematic backdrops of glassy corporate towers, spectacular silhouetted downtown skylines and, wherever possible, augmented by placid reflective planes of mirrored lakes, bays, wide rivers or an ocean.
Across the Atlantic however March Madness has been characterized by claustrophobic paneled rooms lined with people seated anxiously in clubby, chubby green leather upholstery, staring at others opposite across an improbably large and surprisingly empty table and with all under the watchful eye of an elevated Speaker. Simultaneously in that world outside streets have been crammed with people. Handmade placards claiming, "we didn't vote for this", billowing flags and spitting images have been hoisted high above the heads of supporters of 'In' and 'Out' and fronting imposing masonry backdrops obviously inspired by an old world yet one that here, as yet, appears remote from Europe.
And, as the new world still watches for results from NCAA Championship finals between Cavaliers and Tigers, Spartans and Raiders that will surprisingly not be played until April, so in the old world's untied kingdom others also wait for results after their own seemingly endless March Madness.
Brian Carter, a registered architect in the UK, is Professor of Architecture at the University at Buffalo, The State University of New York.



Brian Carter
American Architecture Links : links
New Palace of Justice in Cordoba design by Mecanoo architecten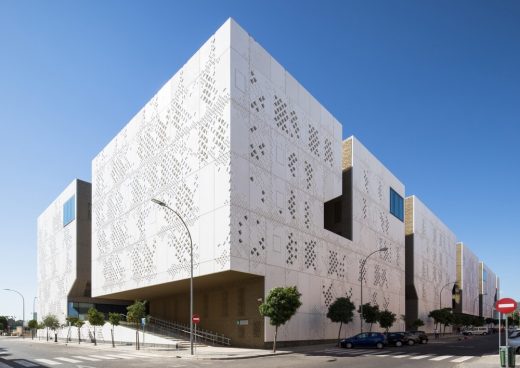 photo © Fernando Alda
Granada Architecture Walking Tours
Articles by Brian Carter – Selection
Monumental shifts/New World Orders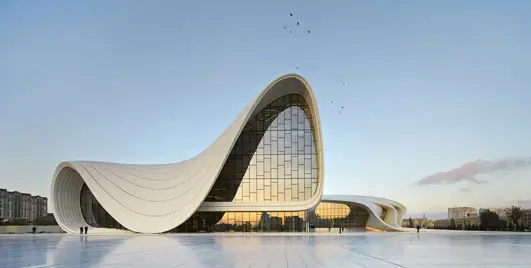 photograph : Hufton + Crow
Old World / New World Architecture
Comments / photos for the Monthly Report for March 2019 by Brian Carter Article page welcome