LEAF Awards Event at Four Season Hotel in London, Karolina Szynalska, Building Design
LEAF Awards Event 2012 : Architectural Discussion
Architecture Discussion – article by Karolina Szynalska
25 Sep 2012
LEAF Awards 2012
The Emirates Glass LEAF Awards 2012
LEAF stands for the Leading European Architects Forum. It was founded in 2001. The LEAF organizes annual forums and publishes The Leaf Review. It states that it brings together leading international architects and designers operating in Europe and beyond to share knowledge, to network, and to develop new partnerships.
The LEAF Awards annually recognize projects that represent the best architecture. It has an ambition to set the benchmark for the international architectural community. The LEAF Awards 2012 are 'crossing borders to create excellence in architecture'.
Entry for the competition is open to all architects and buildings worldwide. Architects can also self-nominate. This year the LEAF Awards received more entries than ever before. The jury consisting of mostly London-based professionals and the event sponsors: architects, a specialist in marketing and a critic, had a laborious task. Their assessment was based on a submissions consisting of 400 words overview and maximum ten images (of which only two can be 'excessive' computer generated visuals).
Sou Fujimoto Architects, with Musashino Art University Museum & Library, Tokyo, Japan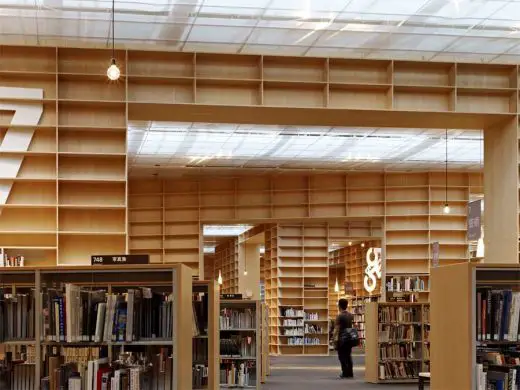 image from architect
Musashino Art University Museum & Library
The winners were announced on Friday evening (21 September) during an event held in the glamorous interiors of the Four Season Hotel in London; following a set by the comedian, and the award presenter, John Moloney, who disclosed a story about his depressed cat named Edward. The lead sponsor of the event was Emirates Glass, a producer of architectural flat glass in the Middle East and a subsidiary of Dubai Investments.
Studio Daniel Libeskind, DCA Architects PTE Ltd, with Reflections at Keppel Bay, Singapore



image © Courtesy of Keppel Bay Pte Ltd
The list of winners, although dominated by London practices, also included buildings designed by teams from Bangladesh, Singapore and Australia. The overall winner was Tokyo-based Sou Fujimoto Architects, with their 'simple and yet sophisticated' Musashino Art University Museum & Library. The award for lifetime achievement went to Daniel Libeskind, who also received the special award for the residential building of the year – Reflections at Keppel Bay, a gigantic development in Singapore comprising of over 1000 units.


photo of the architect © Michael Klinkhamer Photography
Libeskind in his speech pointed out, that we do not know what architecture is; we only think we know. He stated architecture is a search – a quest into the unknown. And it is driven by a desire to create a better world. He admitted it sounded cliché… Architecture consists of the practical aspect, and a wondrous one… and as long as we have souls we will be searching for home… Libeskind's address sounded warm and sincere in the celebratory atmosphere of the event.
Architects and critics notoriously avoid defining architecture or they define it poetically. Defining 'best architecture' is considered impossible. Yet the LEAF Awards shows examples of such… without describing what makes them 'best'.
The organisers avoid disagreements about the criteria (which surely would arise within this multicultural forum) simply by not having them. They use appropriate selection methods, which are reasonably quick, simple, open and (seemingly) inclusive. They are corporate, and provide an opportunity for world class architects to meet with world class sponsors in luxurious settings. The PR driven event is photogenic and the awarded buildings are unavoidably iconic.
Karolina Szynalska
Karolina Szynalska Architect


picture from Karolina Szynalska
Karolina Szynalska is an architect and a lecturer in architecture. She practices at Karaolides Szynalska Architects, and teaches at both the University of Lincoln and Hull School of Art & Design. Her main research interest is discourse analysis in context of sustainability, place making and ethical architecture.
Karolina Szynalska at the LEAF Awards 2012:



picture from Karolina Szynalska
Since completing her Masters in architectural history at the Bartlett School of Architecture UCL, Szynalska has continued to develop her interdisciplinary approach to architectural practice, scholarship and teaching. Recent activities include leading RIBA projects in primary schools, MLA Renaissance projects in galleries, and creating academic and professional practice collaborations across the businesses and institutions in which she works.
Comments for LEAF Awards 2012 page welcome
Location: University of Lincoln, Brayford Pool Lincoln LN6 7TS, UK
Recent articles for e-architect by Karolina Szynalska
Architectural Identity – 3 Jul 2012
Architecture Economics – 31 Jan 2012
City Analysis – 6 Dec 2011
Public Architecture in London – 25 Oct 2011
Placebo Architecture – 27 Sep 2011
International Architectural Designs
Architectural Articles on e-architect : Selection
Contextual Architecture : article by Roland Wahlroos-Ritter. Sep 2011
Cultural and Contextual Identity : article by Nigel Henbury. Aug 2011
Globalisation Architecture : article by Trevor Tucker. Sep 2010
Resisting Boredom : article by Joyce Hwang. Jan 2011
Comments / photos for the LEAF Awards Event 2012 Article page welcome