Architectural Mobility, Architecture Comment, Buildings, Architects, Images, News
Architectural Mobility : Architecture Discussion
Resisting Boredom Article by Joyce Hwang
25 Jan 2011
Resisting Boredom
Architecture Discussion article by By Joyce Hwang, USA
Joyce Hwang, Assistant Professor in the Department of Architecture at University at Buffalo SUNY and Founder of Ants of the Prairie.


image of Joyce Hwang
RESISTING BOREDOM
The world is becoming increasingly more mobile. Technological advancements have enabled us to move rapidly around the globe and communicate from distances away. Yet, within societies that are transforming at such a pace, the monotonies of routines and formulas still thrive within even the most mobile of existences. Perhaps it is the particularities of our fast-paced lifestyles that unexpectedly incite boredom.
Bunker Arquitectura, in discussing their initial motivation for the design of Filadelfia Corporate Suites in Mexico City, suggest that: "One of the biggest complaints of caffeine-charged traveling businesspeople is that no matter how hard they try to avoid it, their daily lives eventually turn into a boring and tedious routine: wake up at 5:30 am, take a cab to the airport, a Starbucks coffee while waiting at the gate, a tasteless omelet in the plane, a cab to the same forgettable hotel, meeting at 9am, business lunch, afternoon meetings, drinks, back to the hotel, sleep, wake up at 5:30am, catch the flight back… and so on. Their lives seem filled with sameness."
Filadelfia Corporate Suites, Mexico City
Bunker Arquitectura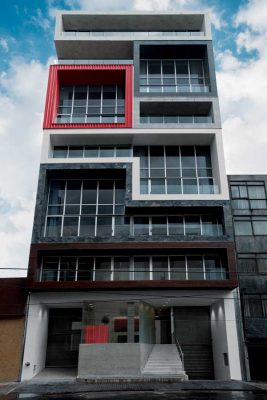 photo : Fabiola Menchelli
This condition of mobility-incurred boredom poses a challenge for architects: How might one construct an environment that resists the monotony of routine? A frequently deployed strategy is simply to create spatial variations in which users have opportunities to choose among different occupiable conditions.
For example, in the Filadelfia Corporate Suites project, Bunker Arquitectura initially planned to create hotel rooms of varying spatial arrangements, "where every recurring visit would be a completely different experience." While this did not actually materialize as planned, they were intent on at least maintaining the visual appearance of variation in the Tetris-like façade design. In small-scale temporary installations – which are already mobile and temporal by definition – the potency of producing transformable spatial variations can also be gleaned from several projects.
Archinoma Modular System
Latest Architectural Product



picture from Alix Shelest
The Archinoma Modular System by Alix Shelest, for example, demonstrates how the desire for formal variation has inspired the invention of a building system that is not only lightweight and demountable, but also uniquely transformable. Temporary pavilions by UNStudio, featured in their exhibition "Motion Matters" at the Harvard Graduate School of Design, explore ideas of serialization and ways of producing "visual and spatial effects of new, more dynamic materializations."
Motion Matters Exhibition, Harvard University
UNStudio



photo : Justin Knight
Actelion Business Center, Switzerland
Herzog & de Meuron



picture from ABC
Along similar lines, one could say that the Actelion Business Center by Herzog and DeMeuron, goes to great lengths to appear dynamically fragmented. In contrast to the sense of stability often projected by iconic business offices, the massing of this project – a series of overlapping blocks that cantilever over one another – instead appears to teeter precariously.
But the Actelion Business Center transcends beyond appearances, and moves toward a deliberate choreography of environmental and social performance. The building's volumes are staggered not only to create formal variation, but are also are located strategically allow for ample daylighting in each space. The redundancies of exterior glass – along with the minimization of in-wall pipes and ducts – also encourage visual communication between workers, in an attempt to create an increasing sense of social openness in the workplace.
This is not to say that Herzog and DeMeuron are not cognizant of the powers of skin-deep appearance. After all, their earlier works – such as the Basel Signal Box or the Ricola Factory Building – were arguably pioneers in reconsidering the façade as an active surface with the potential to produce deeper effects. In response to Bunker Arquitectura's probing questions about the relevance of "architectural dermatology" ("What happens when the concept of a project is reduced to a façade in the process of its development? Are purely aesthetic aims valid in architecture? Is façadism something worthwhile?
Are we to become architectural dermatologists?"), Herzog and DeMeuron's earlier projects would respond affirmatively. Indeed, in certain contexts, it is the formal and material character of the façade that can produce enough difference within a monotony of sameness. However, as Herzog and DeMeuron have encountered, the task of culling a sense of excitement from a typically banal program (such as a corporate office space) demands a more nuanced design approach. It relies not only on form and material character, but also on how form and material are choreographed to stage potential social relationships.
If the notion of a glass office tower is a tool for intensifying corporate power hierarchies – with Presidents and CEOs in the privileged corner offices – the Actelion Business Center can be seen as a diagram for promoting corporate transparency and openness. It is, in effect, a building where everyone has the potential opportunity to see everyone else. But could the increasing equality of vision provoke a trend toward increasing social equality in the workplace? Indeed it could be argued that the marked (and sometimes extreme) social differentiation between various 'levels' of employment – from the CEO to the Middle Management to the Janitor – has become 'routine' in corporate workplaces today. Deploying an architecture of openness and visibility begins to challenge this norm by resisting the monotony of hierarchy.
Previous Articles for e-architect by Joyce Hwang:
Some Thoughts on the 2010 Stirling Prize Winner – Jul 2010
Comments on this Architectural Mobility article are welcome.
International Architectural Designs
Other Designs shown this week on e-architect:
Fogo Island Artist Studios, Canada
Saunders Architecture
Z15 Tower – tallest building in Beijing, China
TFP Farrells, BIAD, ARUP and MVA
The City Dune, Copenhagen, Denmark
SLA
Comments welcome re Architectural Mobility – Resisting Boredom welcome