How to choose the best bathroom flooring advice, House floor selection tiles guide, Property interior style tips
How to Choose the Best Flooring for Your Bathroom
21 June 2023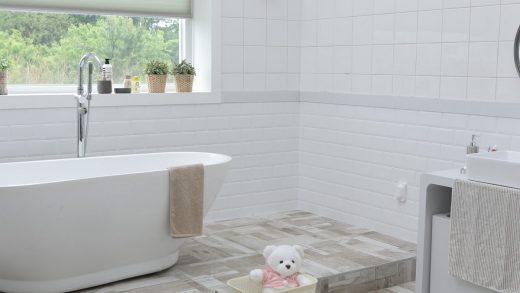 Believe it or not, bathrooms are the most important rooms in every home. As necessities for daily convenience, bathrooms are the key features of every home, whether you are in this for the long haul or want to consider reselling your home. That explains why bathrooms are among the rooms in a home that top the list of priorities when remodeling your property.
What is Trending?
One of the bathroom trends, which isn't going anywhere anytime soon, is patterned tile. This timeless tile style is great for creating an outstanding feature in your flooring. From terrazzo and Mediterranean to monochrome and encaustic, home improvement experts say that there will always be something for all aesthetics.
The Best Bathroom Flooring Types
Naturally, flooring your bathroom should be easy to maintain and clean. And when choosing a more suitable flooring option for your bathroom, consider how easily it's going to fit the space.
For instance, in small bathrooms, a fashionable large-format tile needs fiddly cuts to merge around pipework and sanitary ware neatly. Remember also that if you have a small bathroom, using the same color and style in flooring and wall treatments will create an illusion of an expansive space. Examples of bathroom flooring that experts at Excel Tiles and Bathrooms have suggested include the following:
Vinyl – This bathroom flooring option is highly moisture-resistant, low maintenance, and versatile. Waterproof vinyl bathroom flooring is made of tile, stone, and wood loos. Hence, it will be easy to get something that matches your bathroom's style.
Natural stone – Natural stone offers beauty and authentic character, with no two pieces ever the same. Natural stone is relatively porous and soft compared to porcelain unless you opt for marble bathroom flooring ideas. Natural stone requires careful maintenance and sealing and will inevitably weather, stain, and scratch over time.
Ceramic or porcelain tile – This is the best of all as it is cost-effective, stylish, and waterproof. Like stone, ceramic tile can achieve a textured, rich, and solid feeling. And like vinyl, it is waterproof.s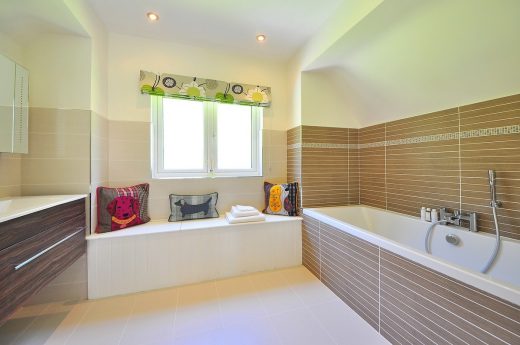 Tips to Choose the Best Bathroom Flooring
Whether it is a powder room or a luxurious master suite, installing new bathroom flooring will do wonders for its functionality and aesthetics.
As far as choosing the best bathroom flooring is concerned, how will you know the best option for you? Here are tips to help you make the right decision:
1.      Go for a Comfortable Flooring
If you love the idea of flooring, which is comfortable to stand on, warm underfoot, and forgiving of dropped objects, consider the best vinyl flooring for bathrooms.
The best luxury vinyl tile or vinyl plank is the best bathroom option. They may create the look of natural stone and wood, but it is much easier to take care of them.
2.      Have a Budget
Determining how much you will spend on bathroom renovation can be a nightmare. There are a couple of factors to look at when buying new styles for your floor or walls.
This is a difficult process, but it might be more complicated than most people imagine. For instance, buying and installing granite can save you between $2k and $4,500. You may save cash by purchasing materials in bulk and doing some prep work.
Compared to other expensive options, such as genuine slab granite, materials, such as quartz tiles, are hardly affordable. Be ready to spend around $90 per square foot for quality brands. Quartz tiles also have a high initial cost, but their capability to last longer offsets this high price. Plus, quartz options have a high resale value.
3.      Consider Moisture Resistant
Moisture is often the number one enemy of flooring. Any flooring, which absorbs water is likely to rot and may compromise the general quality of your floor. Hence, ensure you consider installing bathroom flooring that's waterproof so that when you clean the space, you won't need maximum drying in order to get rid of the water completely.
The Takeaway!
If you plan to remodel your bathroom, among the top choices you are going to make is the kind of flooring to buy and install. There is a wide range of bathroom flooring options, including wood, tile, and vinyl. But before you choose either of these, consider your budget and needs. This way, you will make the right decision.
Comments on this guide to How to choose the best bathroom flooring article are welcome.
Bathroom Design
Bathroom Articles
Bathroom Flooring Best Options Guide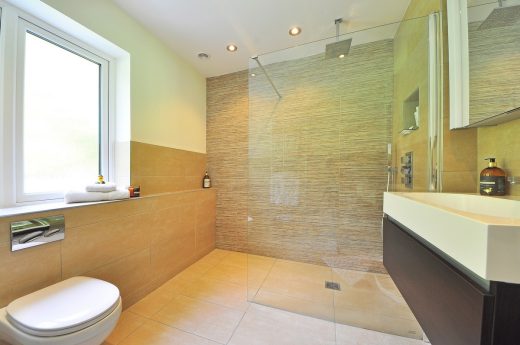 Traits of a competent bathroom professional
Stylish ways to spruce up an older bathroom
Low-cost bathroom renovation in quarantine
Building
Residential Architecture Posts
Comments / photos for the How to choose the best bathroom flooring Guide – home decorating style advice article page welcome