How to choose a sofa to transform your living room tips, Building interior design advice, Property furniture style guide
How to Choose a Sofa that will Transform Your Living Room
21 July 2021
2021 brought with it a seemingly endless variety of sofa collections for interior design professionals and customers with opulent tastes. And quite understandably, you might find yourself at a loss as to what sofa will be ideal for your living room, especially when you are staring at the stately furniture pieces around you at the furniture showroom.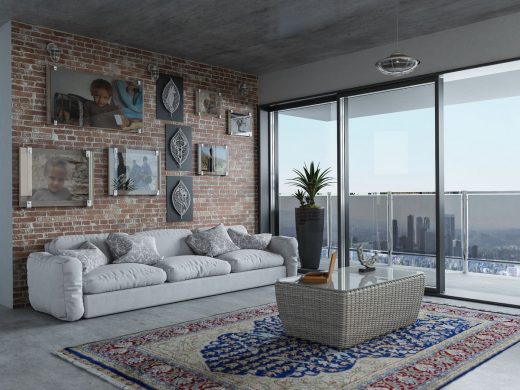 We hope, however, that this article finds you before you make such a big decision. Here are a few things to consider before choosing your designer sofas.
·      Available space in your living room
It is important to measure your living room to ensure space will accommodate your preferred sofa. How much room will you have left for foot traffic? This can be a major determinant between settling for a love seat and a wide sectional chair, for instance.
Also, the height and length of the sofa must be such that allows for coexistence with other furniture and decor pieces without your space getting cramped.
·      Dominantcolor
Although sofas are arguably the most important item in the living room, they should complete the aesthetic aura of the room and not stick out like a sore thumb.
You can achieve this aesthetic appeal by matching your sofa with the dominant color in the room or by contrasting them nicely. A plain sofa in a traditional color (grey, beige, etc.) will give you ample room to play with colors, patterns, and shapes on your throw pillows.
·      Functionality
Velvet and suede-covered sofas are lovely, but only so long that there are no pets or little children to ruin the fabric. Sofas with wooden frames and legs also tend to be tastefully minimalistic, but if you are concerned that your toddler might bump into the wooden edges on the chair then you might want to reconsider your choice.
Leather sofas are just as luxurious, they can very easily be wiped down, and animal furs will easily come off them, making them often preferred. Check out ideas for a grey couch living room.
·      Interior design inspiration
What kind of look are you trying to accomplish for your space? Traditional or modern? For the latter, you might want to look into contemporary chesterfield or contemporary camelback sofas while for the former, antique solid wood carved sofa set with a genuine leather seat might be a good idea.
Trying to create a space that exudes warmth andfeels homey? The Lawson sofa with its plush cushions is a smart idea for this. Having the bigger picture in mind at the point of decision-making is important as the wrong sofa choice can throw off all other efforts to achieve a particular ambiance.
Lastly, don't forget to measure your door frame. Many exquisite sofas end up ripped or with a little abrasion in the process of forcing them through the door. Can your favorite sofa be neatly taken apart and reassembled in your living room in case it doesn't go through the door? This might be a good time to go find your measuring tape!
Comments on this guide to How to choose a sofa to transform your living room article are welcome.
Living Rooms
Living Room Posts
5 trending colour ideas for your living room
Easy contemporary living room decor enhancement ideas
How To Create The Ideal Living Room Space
Building Articles
America Architectural Designs – latest building updates
Comments / photos for the How to choose a sofa to transform your living room help guide page welcome