Easy contemporary living room decor enhancement ideas guide, Home furniture, Property interior design tips, House advice
Easy Contemporary Living Room Decor Enhancement Ideas
11 March 2022
Creating living room decor that will work for you and fit into your style and home's design is all about creating an inviting space that looks great.
The design elements should reflect your personality, complement the existing decor and add to the room's appeal while remaining on-trend with the latest decorating styles to give your space a fresh feel.
Decorating your living area or room is just as important as your choice of furniture. From the colors and patterns to the finishing touches and accents, there are various trendy ideas to search for when it comes to remodeling your living area to add to the appeal and beauty of your space.
You should be able to relax in a clutter-free, safe, and welcoming living area. Also, due to the cost, effort, and time involved before you choose a particular design, it is highly recommended that the theme should align with your needs, be long-lasting, and complement the ambiance of your abode.
Whether it is a complete renovation or simply refreshing your existing look, the home decor will often be a talking point for most guests and people who view your home.
So, let us share with you the latest home décor designing ideas to help you in your home décor project.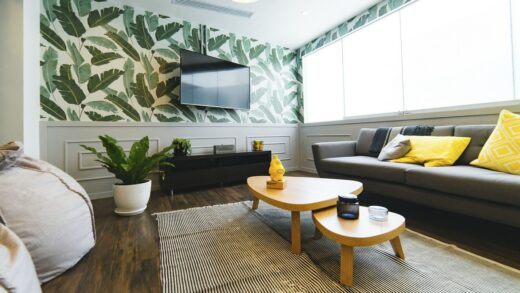 Keep it warm
With the introduction of modern gas fires, the days of conventional fireplaces, which were difficult to maintain and required a lot of effort to use, are over. Instead, they are simple to run and bring elegance to your room.
Unlike older types, these modern fireplaces are energy efficient, making them cost-effective. In addition, they can be controlled with remote control and provide instant heat.
They are simple to install, and the use of LPG as a fuel ensures that they are environmentally friendly.
Mirror on the wall
The use of a mirror at the right place will enable the sunlight in every corner of the room, giving it an illuminated look while creating a positive vibe.
Depending on your taste and aesthetic sense, one can experiment with several styles while choosing the mirrors: an antique wooden frame, carved borders, straight lines, etc.
The right use of mirrors also makes a small space look bigger.
Furniture and Upholstery
Furniture is the material expression of the inner design of a house. It's what gives your decorating ideas definition and physical form, making them tangible.
It's what makes it possible to carry out all kinds of interior designs. Furniture not only has to be strong and durable enough to provide comfort and support – but it also has to take on the role of supporting the rest of your decorating scheme, providing a definite character for every room. It's arguably the most vital aspect of any design project.
While redecorating always follow the age old wisdom of less is more and create a spacious and clutterfree space.
Also, the color, texture, and design of the upholstery must be in sync with the whole appearance of the living room instead of making it stand out.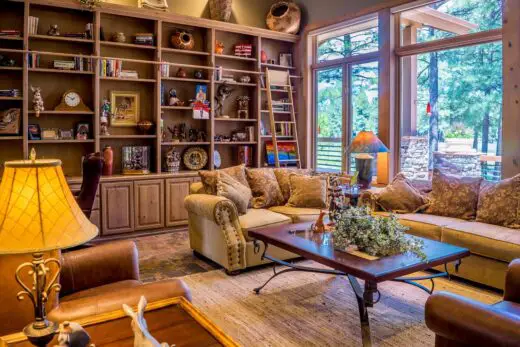 Flying colors
Colors are an essential factor in decorating the living room. You need to choose the right palate because of their importance. You can change the look of a room entirely by choosing the best shades for your living room.
From calming colors to dominant colors, there are many colors that you can choose from to decorate your living room.
The color inspired by nature are always considered best by interior designers, but with some modifications in their saturation and tint, the best color schemes can be achieved.
Nautical Touch
For those who want to add a touch of nautical charm to their contemporary living room decor, consider incorporating a wooden ship wheel. This statement piece is not only functional, but it also adds a unique visual element to the space. Hang it on the wall as a focal point or use it as a decorative accent on a shelf or coffee table.
Pair it with other nautical-inspired elements, such as rope or anchor motifs, for a cohesive look. The natural wood finish of the ship wheel can also bring warmth and texture to the room, creating a cozy and inviting atmosphere. With the addition of a wooden ship wheel, your contemporary living room decor will be elevated with a touch of coastal charm.
Comments for this Easy contemporary living room decor enhancement ideas article welcome
Furniture Articles
Furniture Posts
Ideas for arranging a living room with corner sofas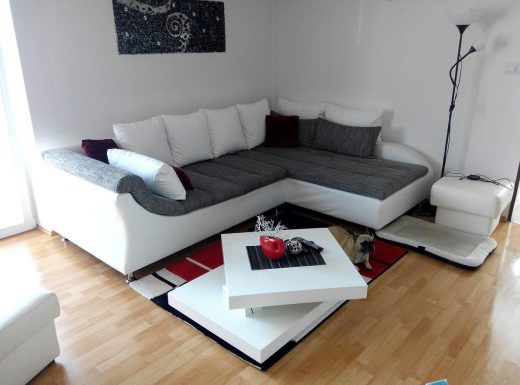 How To Create The Ideal Living Room Space
A Cozy Atmosphere in your Living Room
How to select living room curtains?
Building Articles
Residential Property
Comments / photos for the Easy contemporary living room decor enhancement ideas advice page welcome