How to create the ideal living room space guide, Building design style tips, Online property interior advice
How To Create The Ideal Living Room Space
17 Jan 2022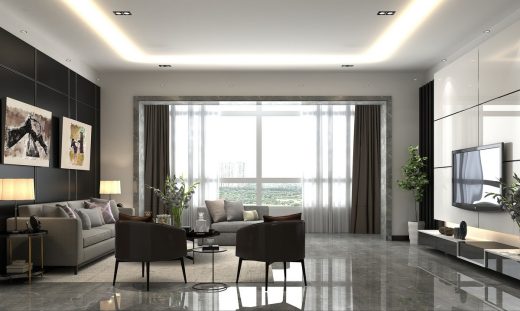 The living room is the most visited place in any apartment. It's the center of the house where families and guests get to interact, watch TV, and engage in literally any form of indoor socialization. The living room is also home to some of the finest pieces of furniture, and due to the number of people that get to use them, they need protective covers like the chaise lounge slipcover and other furniture slipcovers to keep them from getting damaged.
With all the activities that go on in it and the number of people that spend time in it, the urge to keep it perfect is undeniable. We want to keep it as appealing as we possibly can. However, optimizing your living room space isn't as easy as it may seem. It requires precision and proper planning.
So, here are some helpful tips for creating the ideal living room that everyone can spend quality time in.
1.   Stir up a plan for the layout
Before making any arrangements or purchases, you need to determine the kind of activities you want happening in your living room. Are you trying to convert it to a workspace? Do you want to host a cocktail party in it? Or are you going to have movie nights in it? Figuring out its secondary uses will guide you to creating a living room that's both comfortable and multi-functional.
2.   Invest in a couch
Your living room is a haven for social interaction, which means you need pieces of furniture where people can sit while interacting. After deciding the secondary function of your living room, the next best thing to do is purchase your couch. You need to sit in your living room, your family, and your guests too. Purchasing a couch is the best option because it makes the living room more accommodating and comfortable to interact in. Other forms of sitting furniture make it impossible for your family and other guests to "feel at home".
The sitting arrangement is also important. You need to ensure that all couches are facing each other. It makes your living room more sociable.
Also, ensure that you purchase couches that are of top quality. This way, you don't get to replace or have them fixed too frequently. For better aesthetic, alternate couches with an armchair or two and select a color that matches the color theme of your apartment.
3.   Work on lighting
Prioritize natural lighting when setting up your living room. You should make sure that your living room can remain properly lit, with or without artificial lighting. With sufficient natural light, you get to save energy during the day. And when adding artificial lighting to your living room, including high and low lighting, overhead lights, and lamps. With these combinations, you can either choose to light up the whole room or just a part of it, especially when hosting nighttime activities.
4.   Consider storage spaces
One of the best ways to keep your living room organized without having to get rid of certain items, you need to prioritize having storage spaces in your living room. You need a storage space to keep toys lying around, books, or maybe your DVD collection.
If you have a little of a toy or book problem, consider having a TV stand with drawers and shelves to help organize these items.
However, if you have a book problem, you could get a bookshelf. This shelf should be able to hold more than just books, it should be a storage space for magazines and photo albums.
5.   Decorate with rugs
Rugs help beautify your living room. They are comfortable to walk in and are best for homeowners who'd rather have their guests leave their shoes outside. So, if you want to give your living room a classy feeling, throw some rugs on the floor.
6.   Add a centerpiece
Don't leave the center of your room empty. Have a center table or coffee table carefully placed in the middle of your living room or right beside your couch. Not only do they beautify your living room, but they are also functional necessities. Guests can keep their cocktail on them or their cup of coffee when their hands get tired.
7.   Add some throw pillows
Throw pillows are a good way to introduce more colors to your living room. They come in different shapes, sizes, and colors that add to the appeal of your living room. Plus, they are fun to toss around.
8.   Personalize your living room
Leave traces of your personality in your living room. Could be a painting, a flower vase, or some of your fanciest books. Use these items to give your living room some personality as you beautify it too.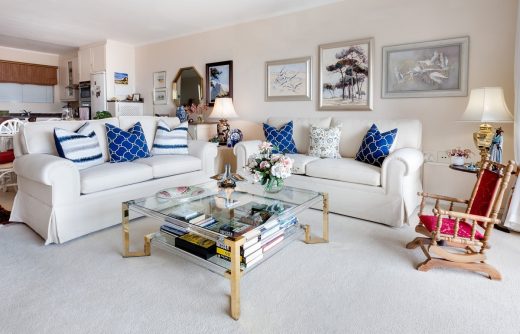 How to create the ideal living room space conclusion
Decorating your living room takes a lot of time and energy, but we hope these tips make it a lot easier for you to get it done the right way. Whatever you do, ensure that you make it spacious and designed to your taste. Always remember to give room for natural light too, it'll help you accentuate the beauty of your living room design.
Comments on this guide to how to create the ideal living room space article are welcome.
Building Articles
Residential Architecture
Kai Tak, Polzeath, Cornwall, south west England, UK
Design: Cassell Tarring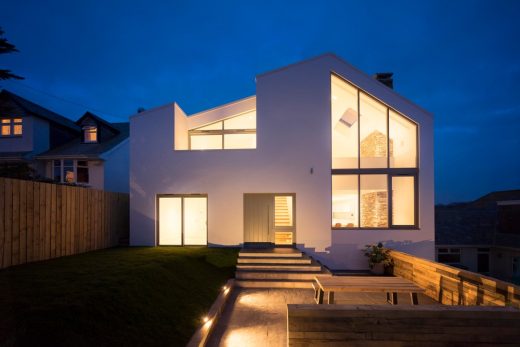 photo : Daniel Fisher
Kai Tak House
A Cozy Atmosphere in your Living Room
Comments / photos for the How to create the ideal living room space advice page welcome