How much does home design affect property valuation guide, Real estate value advice, House style tips
How Much Does Home Design Affect the Property Valuation?
16 July 2021
The design of a house plays a major role in impacting the valuation of the property. Be it simple factors like outdoor patios and garage spaces to fancy designs such as modular kitchens and lavish landscaping, every aspect of the design plays a role in the property valuation. Let's say you are looking for a house for sale in Dartford – the value of the property will not only differ from area to area, but also because of design and interiors. Here are some home designs that affect property valuation that every potential buyer looks at!
Home Design Affect on Property Valuation
The kitchen
Due to the multiple lockdowns in the UK to deal with the pandemic, more and more people have started cooking at home. So now, the kitchen has become a significant focus point amount potential buyers and sellers. Most buyers are looking for a spacious kitchen to enjoy cooking and enjoy eating a meal with their family and friends. Open layout kitchens are a favourite among buyers, as these add an illusion of space to the property. Simply put, buyers are looking for spacious kitchens with a lot of storage space, and a walk-in pantry is just the icing on the cake!
The floors
Hardwood floors are highly in demand! Wooden floors have become very popular among UK buyers, as these floors are long-lasting and have a better visual impact than carpeted floors. Homeowners should opt for high-quality wood because low-quality wood, laminate and vinyl could reduce the property's price. By spending a few hundred poundono upgrading the flooring, sellers and homeowners could add thousands of pounds to the value of their property.
The garden
Again, as more and more people have been spending time at home, and as more people have started working from home, the demand for properties with gardens has shot up tremendously. In fact, most new buyers and first-time buyers are looking for properties with a garden.
It doesn't even need to be a big landscaped garden. A well-maintained office garden or even a small backyard or front yard will do the job. According to some research, a well-maintained garden can add a whopping 20 per cent to the overall value of your property! However, it is better to have a low-maintenance garden because a garden that requires too much upkeep and maintenance might deter buyers.
The interior design
Currently, the Scandinavian design is the most popular interior style in the UK, as well as in the world! According to Zoopla, homes that have the word 'Scandinavian design' in the description sell for an average of £572,079, which is almost twice the average price of a property in the UK. The Scandinavian style not only makes your home look modern, clean and chic, but it also adds a whole lot of value to the property. And the best part is, it is quite easy to add the Scandinavian aesthetic to your existing interior decor!
The garage
The demand for a garage has gone up in the last year or so, specifically because potential buyers are looking for a space to convert into a home office. While some buyers are looking at properties with an extra bedroom or an outhouse that can be converted into a home office, most buyers are looking to convert the garage into their home office. As per the research, a garage can add around 5 per cent to the value of your home. So if you are thinking about putting your house on sale, you can style your garage as a home office to attract more buyers.
The lighting
Just the lighting in your house can add to the value of the property. Natural lighting is one of the best ways to add light to your house, create an illusion of space and make the place look brighter and happier. Most potential buyers say that they prefer looking at properties with natural lighting instead of dark and dingy properties with little or no natural lighting. According to a survey by Express Bi-folding Doors, 84 per cent of potential buyers said that natural lighting is an important criterion while looking at properties. Some even said that they would pay extra money to buy a property with natural lighting!
The bathroom
For many buyers, the bathroom can be a deal-breaker! A bathroom with leaky faucets, fault plumbing and broken tiles can dissuade buyers from buying the perfect house.
Not only should the bathroom be clean and bright, but it should also have a wow factor. Usually, buyers prefer neutral coloured bathrooms such as nude, beige or white. Also, bathrooms with good lighting or natural lighting are always appreciated. Most buyers said that they would pay more for a property that has an en suite bathroom.
Comments on this guide to How much does home design affect property valuation article are welcome.
Home Design Posts
Home Design
Three Benefits of Investing in Home Design
Decorating Hacks to Make Your Home Feel Unique
Ultimate checklist for renovating your home
5 Ways to Incorporate a Piano in Your Home Design
Choosing a cohesive design style for your home
Residential Building Articles
Morehampton Mews Houses, south east Dublin
Design: ODOS Architects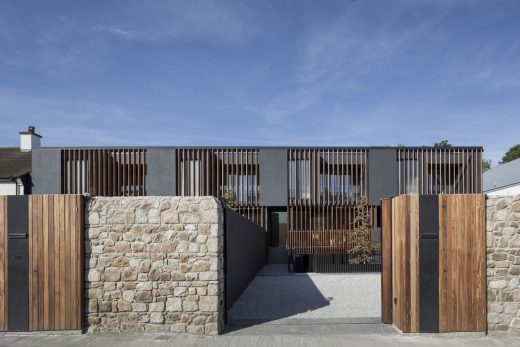 photo : Ste Murray
Morehampton Mews Houses in Dublin
Comments / photos for the How much does home design affect property valuation advice page welcome