5 ways to incorporate a piano in your home design guide, Property style tips, Online home decor advice
5 Ways to Incorporate a Piano in Your Home Design
9 Dec 2021
Invented in the 1700s by Bartolomeo Cristofori, the piano is the most popular acoustic instrument played worldwide. There are various types of pianos, and they can come in various colours, shapes, and sizes.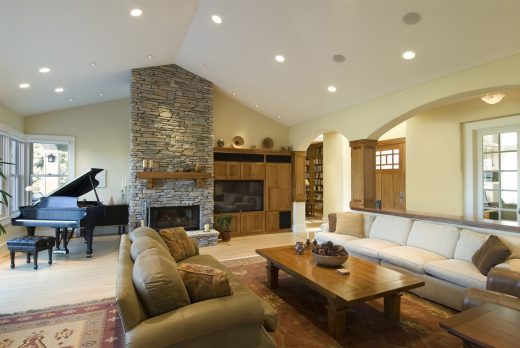 Regardless of their type, a piano is a beautiful instrument that can be easily incorporated into your home design. Take a look at these types of pianos:
5 Ways to Incorporate a Piano in Your Home
Types of Pianos
There are various types of pianos; each of these types can vary in size, shape, and sound. Here are some of them:
Grand Piano
The grand piano is the most famous type of piano because of the excellent playing experience it provides a pianist. This piano produces a great sound and can give any living space an elegant and luxurious feel. There are two popular grand pianos: the baby grand piano and the concert grand piano.
The baby grand piano is perfect if you want a piano that produces loud sounds and easily fits in your living room. In contrast, the concert grand piano has longer strings and a larger soundboard. This type of grand piano is often used for concerts or in an orchestra. If you love good music and are proud of your home's luxurious style, then nothing beats buying a luxury grand piano to complete your interior.
Upright Piano
The upright piano is relatively smaller than the grand piano. Its components, like the soundboard and strings, run upright or vertically. The instrument is small; therefore, it can fit in smaller places. It's often used to take piano lessons. Take a look at Steinway upright piano's pricing.
Digital Piano
The digital piano is a modern-day type of piano that doesn't have strings like the other pianos. It's also referred to as an electric piano. A digital piano produces a different sound from other pianos. The sounds produced by the digital piano are electronic and can create a grand piano experience when playing.
Pianos come in different colours. Black, white, and brown are standard for pianos. Also, regardless of the size of the piano, there are various ways you can blend your piano with your home design.
Incorporating A Piano In Your Home Design
Here are five ways to incorporate a piano in your home design:
In Your Living Room
Give your home an elegant feel by placing your piano in your living room. Place your piano in the corner of the room near your fireplace, but not next to it. The heat from the fireplace can damage your piano, so put the instrument six feet away from the fireplace. You can also place your piano near a window. Also, Try placing the piano away from direct sunlight. The heat from the direct sunlight can potentially damage your piano.
If you feel like moving your piano to another room in your home, ensure you get assistance. Moving a piano is something you shouldn't do alone. Get help to make sure you don't damage your piano when moving it to other areas in your home.
In Your Home Office
If you have a home office, you can always place your piano inside next to your bookshelves. You can also build the bookshelves around the instrument to fit in the middle. You could also position the instrument in a corner next to the bookshelves. Alternatively, you can have the piano against the wall facing the window.
Just make sure that it does not directly face the sun. If you position your piano facing the window, you can build a shelf above the piano to place your music books. Feel free to decorate around your piano. A piano in your home office could symbolize creativity and a space where ideas can flow easily.
Place In Negative Space
If you have a staircase in your home, what better way to utilize the space next to or under your staircase than putting your piano? You can place your piano at the bottom so that it faces the direction where the stairs begin. Place a few family photos on top of the piano to give your home a warm feel. Next to the piano, you can put a round ottoman couch.
Central Piece In The Entertainment Area
If you like entertaining family and friends, you can place your piano in your indoor entertainment area against a white or rustic backdrop. You can position the instrument near the fireplace or in the corner of the room where your guests can have a full view of the piano.
Placing your piano against a white background in your indoor entertainment area can give the space a classy and rich feel when entertaining guests. With a rustic backdrop, it can create a natural and aged look.
Musical Entrance
Another way to incorporate your piano in your home design is by placing your piano in your home foyer. You can best utilize the foyer space by placing your piano to face the entrance. If there is a wall behind or adjacent to the piano, you can always hang two or three picture frames of music sheets to create a warm musical feel for your guests when entering your home.
You can also place two one-seater couches in the foyer with a small coffee table between or in front of the couches.  The couches can be white or brown. This arrangement can create a welcoming feel in your home.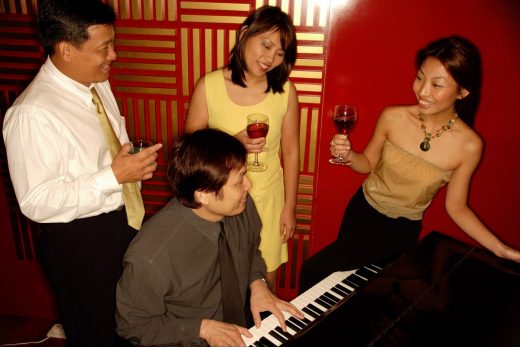 5 ways to incorporate a piano in home design conclusion
The piano is a beautiful instrument to have in your home because no matter what kind, colour, or type of piano you have. You can always decorate around it. Incorporating the piano in your home design can create a welcoming, elegant, and luxurious feel to your home.
Comments on this 5 ways to incorporate a piano in your home design guide article are welcome.
Building Articles
Residential Architecture
4 Marketing Tips to Attract More Customers to Your Store
Best video editing software for home
Comments / photos for the 5 ways to incorporate a piano in your home design advice page welcome