Home Renovation Basics advice, Online Must-Have Tools and Equipment Tips, House Help
Home Renovation Basics: Must-Have Tools and Equipment
31 May 2021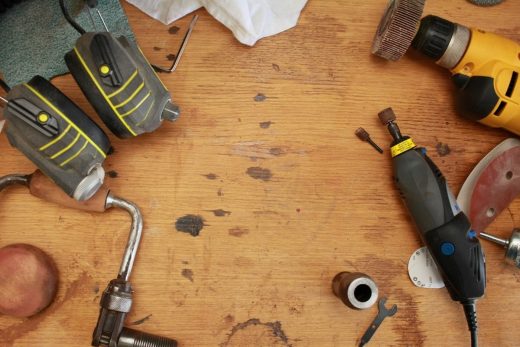 image : unsplash.com/@halacious/portfolio
It's impossible to undertake a successful home renovation project without access to the right set of tools. Every task comes with a corresponding specialty tool.
You shouldn't take this to mean that you need to have every tool imaginable for you to begin working on the remodeling project. A great idea is to fill the toolbox slowly.
Scrolling through the professional tools from Engelbert Strauss shows there exist varying price ranges for remodeling equipment, with the prices equated to quality.
Engelbert Strauss deals with the design and manufacture of work protection gear, including but not limited to shoes, head protectors, cut-protection clothing, E.S. gloves.
What Tools Do I Need?
It takes a lot of time and effort to keep the home in top shape. Understand that many things are likely to go wrong during the project, hence the need to seek home repair tips from pros.
Your priority has to be to call in a professional if a problem gets out of hand. Armed with this information, you can now begin assembling the essential equipment needed.
Some of the basic construction gear you will require includes:
Tapes and Scrooz fasteners: Make sure your toolbox contains various tapes, including plumbers and electrical ducts. Hardware can comprise different nails and screws.
A Hammer: Every home renovation project begins and ends with a hammer. It's something you cannot afford to miss in your toolkit.
A Level: Every DIY project requires a level. It comes in handy when leveling the stove and when hanging pictures around the house.
Combination Pliers: You'll need the pliers when cutting wire, removing screws, and when tightening bolts.
Power Drill: Many don't consider this a traditional handy tool, but it should assist you in tackling minor tasks around the home.
Vise Grips: If you've to hold something in place as you work on another section, you'll need to use some vise grips.
Utility Knife: The utility knife is used when precision-scoring and cutting are required.
Screw Driver Set: You don't necessarily need to have an extensive selection, though it does help to have a couple of both flathead and Phillips screwdrivers.
Needle-Nose Pliers: They're often referred to as a cousin to the combination pliers. They're needed when performing electrical works.
Tape Measure: Different aspects of the home renovation project will require you to use a tape measure. It's best to have one that measures at least sixteen feet.
These are some of the basic construction equipment you'll require for a basic home renovation project.
What Tools Do Construction Workers Use?
Any person interested in starting a career in the construction industry will have read a few job descriptions to get an idea of what to expect.
Many of these descriptions will state the primary education and certifications required, but they may fail to mention some of the equipment needed to join the industry.
Construction workers need the following equipment to perform their job. Every item listed below ought to be considered an asset.
1. Safety Equipment
The Bureau of Labour Statistics data indicates that the construction industry is among the most dangerous jobs a person can get.
Therefore, safety equipment must be worn at all times to assist in preventing and reducing the occurrence of injuries.
Standard gear needed to protect against hazards in the construction industry include:
High visibility jackets
Hard hats
Steel-toe boots/ safety shoes
Goggles
Protective gloves
Every item mentioned above must be worn at all times whenever the workers are on site.
2. Heavy Duty Equipment
Depending on their magnitude, home renovation projects may necessitate the lifting and moving of items that the laborers can't move.
Such cases call for the use of heavy-duty equipment that may include crawler loaders, cranes, backhoes, bull-doers, pipe layers, and excavators.
3. Hand Tools
Electricians and laborers will need to use some of the basic construction equipment mentioned earlier. Yale Electric Supply Co. is the right store for the electrical tools that you need.
Standard equipment needed will include:
Screw guns
Hammer
Electric drills
Pliers
Screwdrivers
4. Air Compressor
An extensive remodeling project may require the use of a two-stage air compressor. The compressor is used with pneumatic equipment like spray guns, air-powered nail guns, staplers, and sanders.
5. Trucks
During the remodeling works, supplies and construction equipment will need to be moved from one location to the next. Different types of trucks are needed in a site, with some of the most popular ones being concrete trucks, boom trucks, crane trucks, bucket trucks, and dump trucks. You can also research Kenworth trucks for sale.
How Do I Choose the Correct Safety Footwear and Workwear?
The right type of safety shoes will ensure you get to work safely without ever having to compromise on comfort.
Most construction sites require special attention, which is why companies have no option but to invest in their laborers' wellbeing, including getting them the right shoes.
The main criteria applied when selecting footwear revolves around four main factors:
Comfort
Material
Work norms
Type of protection needed
Choosing the Best Safety Shoes
Several factors will need to be considered when selecting work boots. Typically, most people concentrate on personal safety matters such as anticipated additional security.
However, other factors that must be accounted for include the shape of the shoes and the material used to make the work boots.
European workers should check the boots to confirm that they have the C.E. marking. Additionally, verify that the shoes conform with the security norms related to your industry.
Where work boots are concerned, laborers need to check whether they have the EN ISO 20345:2011 marking.
It's a marking that determines the kind of safeguard the personnel will require while performing their duties.
You should take care not to confuse work shoes, protective shoes, and safety shoes. Consider the differences present in the toe cap, which include:
EN ISO 347 work shoes: no toe cap
EN ISO 346 protective shoes: 100-joule impact resistant toe cap
EN ISO 345 safety shoes: 200-joule impact resistant toe cap
Home Renovation Basics Conclusion
While it's important to upgrade a home and improve its resale value, it's even more critical to ensure that personnel are well-protected.
The information provided in this article should give you a clue on everything you will need to get ready before you plan your next home renovation project.
Comments on this guide to Home Renovation Basics: Must-Have Tools and Equipment tips article are welcome.
Home Renovation Articles
Home Renovation Posts
Five tips for a smooth interior renovation
Decorating Hacks to Make Your Home Feel Unique
10 sleek home renovating design ideas for the holidays
7 Renovation Tips for Homeowners
Building
Residential Architecture Articles
Comments / photos for the Home Renovation Basics: Must-Have Tools and Equipment tips page welcome