Five tips for a smooth interior renovation, House roofing renewal, Online property advice
Five Tips For A Smooth Interior Renovation
4 March 2022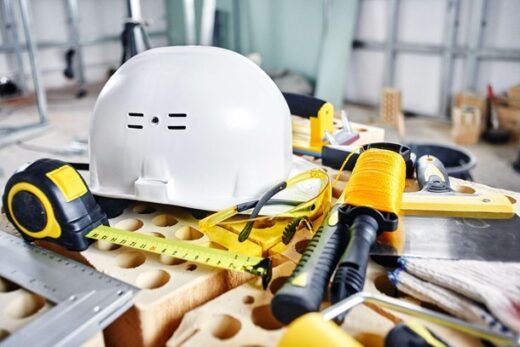 Are you finally ready to make a big change to the interior of your home, but unsure how to go about the renovation? If so, then you're ready to take on an exciting step on the path to having a fabulous new space. And why not take the DIY approach to renovate your home? It's more fun than doing yard work and not as time-consuming as the mortgage process. It might even be able to help you find a better deal when getting a new homeowner's insurance quote for your house. There are plenty of sweet benefits to doing a renovation—especially on the interior of your home. Here are five tips for a smooth one.
Plan Out Your Remodel
Planning and preparation are the keys to success with any renovation. Planning your renovation shouldn't be any different. Planning isn't just a good idea for providing some direction for a project; it's a great way to reduce stress, save money, and accomplish your goals promptly. The folks over at This Old House have plenty of suggestions for planning the perfect remodel. It begins with speaking with contractors. The odds are you're going to hire someone at some point to do some of the work—even if you're a heavy DIY'er. It's okay to get some help on occasion (more on that later in this article).
Education and thorough research are the keys to a successful remodel. Planning should also be methodical. Take your time and don't try to rush things. Getting to the end of a successful project will be worth it in the long run. Just take your time, understand what you want, map out how you're going to accomplish it, and define your timetable. Doing everything right in the planning stage will mean fewer potential problems later on.
Budget Appropriately
So, it's finally come down to starting a new home improvement project at your house. Maybe you want to expand a room, remodel your kitchen, or just find a way to bolster the value of your home. Regardless of your intent, there's an integral part of any renovation that should not be overlooked: budgeting. Home improvement and renovation projects are wonderful when they're complete. But what about the process of actually getting one off the ground? Some degree of planning—and a ton of budgeting—is usually going to be necessary when planning any project.
The Washington Post spoke with some experts on project planning in 2019, finding that most of them recommend budgeting anywhere from 5% to 15% of the value of your home on your renovation. And that's just for kitchens. Bathroom remodels should be budgeted at 3 – 7%. It can vary depending on the room and area of the home. With that in mind, budgeting your project requires some finesse and careful thinking. Superb planning can only go so far if the budget isn't nailed down appropriately—so be sure to nail down that budget before getting started!
Keep Some Power Tools On Hand
Every homeowner, renovator, contractor, or DIY enthusiast will tell you one thing: power tools are the best thing since sliced bread! Okay, that's a bit of an exaggeration, but the truth is power tools are useful, pragmatic, convenient, and satisfying to use. It certainly helps that they can kick off a project with a bang and keep it running smoothly through to completion.
Tools that offer more power in a compact size are ideal for home renovations. Consider picking up a multi-purpose Dewalt tool set to add to your renovation arsenal. With a toolset consisting of various indoor and outdoor tools (such as drills, saws, and impact drivers), you'll be ready to rock and roll with your renovation in no time!
Hire Some Help
While many of us desire to be handymen or DIY extraordinaire, there might come a time when a project proves too challenging or daunting for a single person to accomplish. In citations such as this, there's absolutely no shame in asking for a little bit of help—especially if you're unfamiliar or inexperienced with the task at hand. Professional services and contractors exist for this very reason! Having some help means you don't have to handle everything yourself. It's also ideal for getting some professional supervision for the project.
If there are multiple projects that need to be finished or you're feeling extremely inexperienced, then hiring some help is prudent to complete your renovation to your high standards. If permits or skills you don't possess are required, then a professional contractor is going to be your best friend throughout the project.
Watch out for low bids and do your homework. Sometimes, the cheapest contractor isn't going to be the best one. Knowing when to do the work yourself and when to hire someone to help you can be tough, but a little bit of tenacity goes a long way and will eventually lead to a successful renovation for your home.
Get Some Extra Flooring and Materials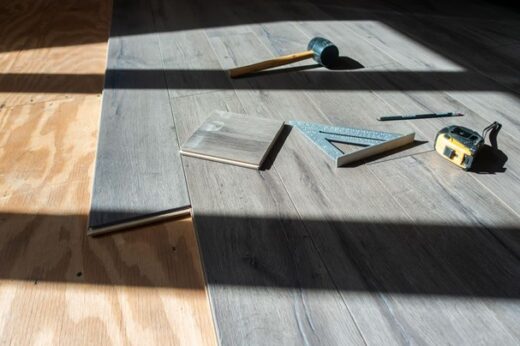 It's never a bad idea to have some extra materials lying around during a job. Flooring professionals recommend getting 10 – 20% more flooring material than you'll need for the project. This largely depends on a number of factors, including the size of the space and budget. 
It's a good idea to have extra flooring just in case something breaks or goes missing during the project as well. Keeping some extra materials is a useful method for planning ahead. Fixing damage, making changes, and completing the project quickly all hinge on preparedness—and that's precisely what you're doing when you keep some extra materials on hand.
Comments on this guide to five tips for a smooth interior renovation article are welcome.
Home Improvement Articles
Home Improvement Posts
Ultimate checklist for renovating your home
Choosing a cohesive design style for your home
How to Spruce Up Your Home with Personalized Prints
What is the Process of Expanding Your Home
Comments / photos for the Five tips for a smooth interior renovation advice page welcome