Green Roofs Installation, Building Planting, Eco Architecture Tips, Sustainable Design
Green Roofs Design and Installation
Architecture Greenery – Vegetation on Property: Smart Planting on Building Roofs
12 Sep 2016
Green Roofs Design and Installation
An Introduction to Green Roofs from Four Experts
How easy are green roofs to install and maintain? While they benefit wildlife and the environment, what else should you consider before planting one?
Sarah Alcroft, Houzz Contributor
For many of us, there's little nicer than gazing across an expanse of greenery, whether that's a country meadow or an emerald patch in the city, so any extra square of planting is welcome. Green roofs are a great way not only to add greenery, but to encourage wildlife, protect your property and bring a little joy to all who can see them. And if you think they only belong on eco new-builds, think again. They can be added to many styles of roof, sloping or flat, from an extensive extension to a garden shed.
If you're tempted by the thought of greening up your space but aren't sure where to begin, read on for expert answers to the most common questions.
Professional advice from:
Tom Storrer of Sky Garden
John Brennan of JB Landscapes
Sam Thornell of Hart Design and Construction
Simon Berry of Natures Balance
What is a green roof?
A green or living roof is simply one that's covered in vegetation. It can be a full-blown garden – known as an 'intensive' green roof – but the classic set-up we're used to seeing on residential properties is a shallow expanse of low-growing plants, or an 'extensive' green roof. Extensive roofs are made up of a series of layers: a protecting layer covers the (waterproofed) roof, followed by a drainage board, which contains lots of little cups – rather like an egg box – to hold the water. Next there's a filtration layer, a substrate layer, then the vegetation.
The plants are either supplied as individual plugs or as a blanket of vegetation that can be rolled out. Green roofs are often seen on new builds, but they can also be retro-fitted onto some existing roofs, too. And the surface doesn't have to be flat. 'Even 45º roofs can have greenery: they simply have special supports to stop the plants sliding down,' says Simon Berry of Natures Balance, who designed the shape and exterior finishes of this garden room.
What are the benefits?
There are so many benefits to having a green roof, it almost seems rude not to order one immediately. Very pleasingly, they increase biodiversity. 'Our wildflower roofs include 38 species of wildflowers and grasses, which attract insects such as bees and butterflies,' says Tom Storrer of Sky Garden.
They also help to mitigate flash flooding. According to The Green Roof Centre in Sheffield, up to 75% of rainwater is runoff in urban areas, thanks to so much of the ground being sealed by buildings, paving and roads. 'The green roof system holds a lot of water, which the plants absorb, helping to prevent flash flooding,' says Tom. 'The plants also help to purify rainwater, as they absorb a lot of toxins,' he adds.
A green roof can help to regulate the temperature inside the building as it insulates the roof, cutting the demand for heating in winter and cooling in summer, though there are circumstances when this isn't the case (see Downsides, below). 'It also helps to soundproof the room below,' adds Tom.
Green roofs reduce the urban heat island effect (where roofs absorb heat during the day and release it at night when the environment should be cooling down), as they absorb far less heat.
'They also protect the roof's waterproofing membrane from UV damage and weathering, helping to double and sometimes triple its life,' says Tom.
Are there any downsides?
The initial cost will be more than for an ordinary roof. Your roof will need to be properly waterproofed before the vegetation can be laid: a roofing contractor can help with this.
Generally, roofs are strong enough to hold an extensive green covering, but some may need strengthening. 'If you aren't sure, you could probably send the dimensions and a photo to the green roof company for their opinion,' says John. A roofer could then do any necessary work; some green roof companies can take care of this for you.
'It's hugely important to have a strong roof, especially if it's a big one, as you don't want to end up with water pooling in one area,' says Sam Thornell of Hart Design and Construction. 'To gauge it, imagine it were a floor to be walked on: if it can take the weight of a couple of people, it should be strong enough.'
Green roofs can insulate the room below. However, according to The Green Roof Centre, this can be tempered by the amount of water the roof is holding, as water has a negative effect on thermal conductance, so in a soggy winter, it might have little effect.
What are the main types of extensive roof?
The two most common green roofs are sedum and wildflower.
Sedum roofs
Sedum is a perennial with succulent leaves, fleshy stems and clusters of star-shaped flowers. It's perfect for extensive green roofs as it provides lush coverage and needs very little soil. It's very hardy, too, shrugging off cold and heat alike, although extremes can damage it.
It changes colour with the seasons, with many species turning red in late autumn. 'Our sedum roofs include 10 to 12 species, so you get different-coloured flowers at different times of the year – red, green, yellow and white,' says John Brennan of JB Landscapes.
Sedum roofs are also lightweight, as the substrate is only around 80mm – 'the minimum depth for happy plants,' says John – which also means weeds find it hard to take hold, especially as the vegetation is tightly packed.
Wildflower roofs
Since the 1930s, the UK has lost 97% of its wildflower meadows, so adding even a handkerchief-sized patch goes some way to redressing the balance. Wildflower roofs are arguably prettier than sedum ones, although they're only in bloom for half the year. They are heavier than sedum roofs, as they require a deeper substrate – around 150mm – which also means weeds can take hold more easily.
Many companies will tailor your wildflower selection so you can get the look and attract the insects you desire.
Discover more ways to create a wildflower haven in your garden
What do I need to consider before installing a green roof?
Apart from the strength and water-tightness of the roof, discussed earlier, think about how all the elements will work. 'During the planning, consider the drainage so the finish is neat,' advises Simon. 'You don't really want a drainpipe sticking out.'
Also, it might sound obvious, but think about how you intend to access the roof to deal with repairs or touch up planting – it's important you (or a professional) can get up there easily and safely.
Spring and autumn are the optimum times to install green roofs for the roots to establish well so, if possible, organise the project to coincide with one of these seasons.
Browse more photos of garden buildings
How much maintenance will I need to do?
A new extensive green roof should ideally be watered every day for the first three months. Beyond that, however, maintenance is a low-key affair. 'Pop up and weed the area once or twice a year,' advises Simon. Wildflowers might need a little more light weeding and should be trimmed each autumn, plus you may need to water them occasionally in a hot spell. 'Make sure gutters are kept free with nothing trailing into them,' adds John.
Sedum and wildflower roofs sometimes need replacement plugs inserting if one or more plants fail to thrive. Many companies offer a six-monthly or annual maintenance visit if you prefer to be totally hands-off.
Do I need a gravel border?
The gravel around many green roofs is a fire break. The Green Roof Centre in Sheffield recommends 50cm-wide gravel fire breaks should be provided around any openings penetrating the roof surface and around the edges of the roof. A metal upstand can be used in place of gravel.
'The border also helps to prevent vegetation tumbling over the edge of the roof and getting caught in the gutters,' says John.
How much will it cost?
Prices vary hugely, but generally plugs cost more than blankets – think of the labour involved in installing individual plants – but wildflower and sedum roofs are roughly comparable.
Companies such as Sky Garden offer a supply-only option, so you can fit the roof yourself. As a rough guide, supply-only blanket green roofs from Sky Garden cost from £120 per sq m, while a blanket plus installation would cost from £336 per sq m.
How long will it last?
If it's looked after, a green roof can last decades. 'There's a green roof in Austria that's more than 70 years old,' says Tom.
Check out ways to create a shed you'll want to potter in
Sustainable Architecture Design
Sustainable Architecture Design
Sustainable Architecture Climate Change
Property Articles
Green Hotel Building Design Abu Dhabi
Rotana Salalah Five Star Hotel, Oman
Design: GM Architects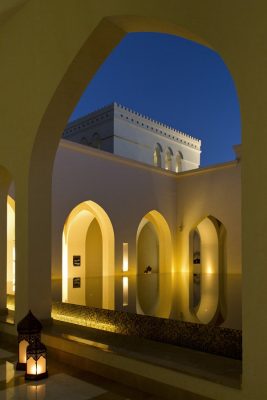 photo from architects
Renaissance Barcelona Fira Hotel, Spain
Design: Ateliers Jean Nouvel



photo : Agostino Calandrino
Comments / photos for the Green Roofs Design and Installation page welcome