Green Hotel Building Design Initiatives Abu Dhabi, LEED Architecture Article, UAE Property
Green Hotel Building Design Abu Dhabi
Sustainability Architecture Discussion by Bhushan Avsatthi, Hi-Tech Outsourcing Services
6 Jul 2015
Abu Dhabi Green Hotel Building Design Initiatives
Eco Architecture in UAE
Green Hotel Building Design Initiatives to make Abu Dhabi Sustainability Destination for the World
Abu Dhabi Green Hotel Building Design
Abu Dhabi's economy stands on two pillars, first the oil industry and second construction. Now as we talk about the construction industry, this region was once labeled as the world's biggest per capita contributors to CO emissions, however; with more emphasis given to green building design and energy efficiency, the scenario is changing.
Using solutions such energy modeling, LEED consulting, whole building energy simulation and analysis the construction industry along with the Hotel, Travel & Hospitality industry is turning a new leaf and imbibing sustainability within its business ideology.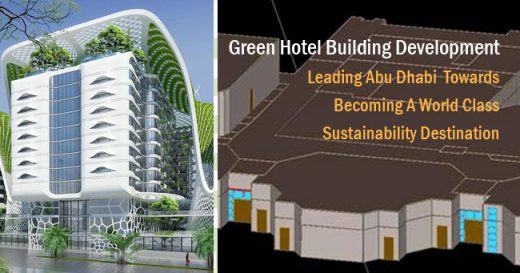 Abu Dhabi tourism and culture authority has taken a step in this direction, and is greatly contributing towards the sustainability goals of the region. How? By developing a new hotel ranking system that has 'sustainability' at the core.
The new system will now incorporate factors such as efficient use of water and energy. The Estidama Pearl Rating System encourages the minimization of water, waste and energy while increasing the use of local materials to improve supply chains for sustainable materials. These are some of the important sustainability requirements and are likely to be considered for this new rating method.
Why is there a need to introduce new rating systems?
Hotels and resorts are classified on a scale of one star – to – five stars, whereas the individual rooms or hotel apartments are classified as standard, superior or deluxe. Now these classification systems and the parameters that segregate hotels and individual rooms and apartments, need to be refreshed periodically. This eliminates all kinds of stagnations and ensures that hotels and resorts always take part actively in upgrading their facilities for the best infrastructure and occupant comfort.
If this new rating system is introduced, then sustainability will become an important aspect in defining the quality and ranking of a hotel. As a result in addition to occupant comfort, better facilities and a great infrastructure, hotel authorities will also have to actively work towards making their hotels and resorts energy efficient.
While this upgrade in the new rating system for hotels is being designed, more buildings shall abide by the sustainability guidelines and lean towards green building concepts, hence the CO emissions will automatically decrease. This will turn out to be a giant leap towards transformation of Abu Dhabi into a Green City.
Great business opportunity for the construction industry
This new marking system will sort hotels and resorts into newer categories like beach hotels and airport hotels and also absorb the Abu Dhabi's tourism and culture authority proposed Green Hotel Guidelines.
The region hence proposes great scope for the construction industry, as there will be major renovation, retrofitting and new green hotel building development projects on rise, as the new ranking system gets introduced. Construction firms and professionals can make the best use of energy modeling services and build new hotels and resorts or renovate existing hotel buildings for a greener environment so that they conform with the new rating system.
With Sustainability at the core, tourism and culture authority – TCA, intends to lead Abu Dhabi towards becoming a world class destination that provides visitors and tourists an enriching experience. The hotel and tourism industry will hence become a community that is aligned with the sustainability vision and generate great business avenues, not only for the construction industry but also for designers of green building solutions, local businesses and more.
About Author:
Bhushan Avsatthi is an Associate Director at Hi-Tech Outsourcing Services. Bhushan imbibes the prophecy of efficient and prudent use of energy in his day to day life and advices his team to do so as well. He is also involved in green initiatives like nonprofit tree plantation project and promotes using cycles for commuting small distances. Bhushan, handles a team of architects, Structural and MEP engineers, LEED consultants and Energy modeling experts.
12 Aug 2010
LEED Credit System Sustainability
'World needs to go Green, then Green needs to go LEED' Article by by Romi Sebastian
Green Architecture



image from Romi Sebastian
LEED Credit System Sustainability article
Do you have a view on the points raised by Romi Sebastian? If so, please e-mail info(at)e-architect.com
Location: Abu Dhabi, UAE
Hotel Buildings
Architecture in the UAE
Green Architecture
Ecocities, London



photograph © Andy Spain
Sustainable Design : article by Trevor Tucker. 15 Sep 2009
Biomass : discussion by Alastair Kerr, Director General. 29 Mar 2010
Website: LEED | U.S. Green Building Council
Sustainable Building Design : article by Trevor Tucker. 18 Aug 2009
Nature Architecture : article by Trevor Tucker. 15 Sep 2009
Sustainable Buildings : article by Adrian Welch. 12 Sep 2006



photo © Andy Spain
Comments / photos for the Green Hotel Building Designs Abu Dhabi page welcome