Money Saving Tips When Building Your New House, Property Purchase Guide, Real Estate Buying
Garden Design Trends in 2020
13 May 2020
Garden Design Trends to Follow in 2020
The design of one's garden is a very personal thing, as it depends on the properties of the land, owner's taste and preferences, as well as the purpose the garden needs to serve. However, when it comes to design, whether it's about clothes, interior design, music, or cars, there are always some trends that influence people's thinking, innovations, and development. Gardens are no exception here, so if you're looking for some inspirations or you simply want to know what's going on, here are some of the trends that will be worth following in 2020:
1.  Water
Backyard ponds are growing in popularity these days. They used to be reserved mostly to big, extravagant gardens, but now even the smallest garden can have its own reservoir. It's easier than ever – with the right pond kit, you can even do it all by yourself or with only a little help from a professional. There are plenty of different features available on the market so that you can find the one entirely suitable for your needs. A well-designed pond will create a whole new ecosystem in your garden, sustain the local wildlife, and provide you with the perfect place to relax. And if you don't have space for a pond, even a birdbath can make a change.
2.  Sustainability
With the environmental awareness growing among societies, more and more people start looking for ways to reduce their carbon footprint. If you already segregate your waste, recycle and eliminate plastic from your daily life, having a garden is an excellent opportunity to do more. If you have a pond, you can consider buying a solar-powered aeration kit. Don't use chemicals for pest control, make your own compost, and use only eco-friendly or recycled materials. If you're buying timber products, make sure they're responsibly sourced. Whenever you want to get rid of something, don't throw it away, but try finding it a new purpose or a new owner, and when you look for something new, consider second-hand items.
3.  Native and wildlife-friendly plants
Garden-owners are starting to research plants that are native or more likely to adapt to their climate. This approach has multiple advantages: it allows your garden to truly flourish, it requires less maintenance, and it's beneficial to wildlife native to your area as it provides food and shelter. It lets you both be environmentally-friendly and have a thriving, picturesque garden. Species plants, roses, bees-friendly, nectar-rich plants, grasses, gaps in fences for hedgehogs, water features, and more, become a necessity. It's especially important because a lot of species are in danger of going extinct, so the growing popularity of this trend is a good sign.
4.  Outdoor play
As young parents are constantly looking for tricks to convince their children to go and play outside, various kinds of fun features are being integrated into their backyards. Whether it's a seesaw, a sandpit, a hammock, a wildlife pond, a treehouse, or a climbing frame, it's essential to make it an integral part of the whole landscape design.
5.  Vertical gardening
Gardening is not a privilege of house-owners with big gardens anymore. You can enjoy your greens even if you live in a tiny house, a condo, or an apartment. People are trying to adapt, and it doesn't matter how much space they have. Vertical gardening is getting more and more popular among those who can't grow plants traditionally, with hanging plants becoming more common than ever. Various pots and a piece of a wall may be all you need to start planting today and enjoy a variety of plants, even with several square meters of garden space.
6.  Fruits, herbs and vegetables
A lot of gardeners are looking for some space in their gardens to grow their own food. It tastes much better than anything you can find in stores, and you can be 100% sure that you're not consuming any harmful chemicals. It's a reasonable decision if you care about what you eat and what you feed to your family. Of course, fruits, herbs and vegetables all need different, specific conditions, so the trick is to provide them with all that while composing them to your landscape design.
7.   The help of technology
It may not be linked to garden design directly, but it certainly influences how your garden looks and whether your plants can flourish and thrive. To many people, gardening is a way of disconnecting from the world and stepping away from technology. Still, a lot of gardeners aren't afraid of using the wonders of development to make sure their garden is well taken care of. There are grow light gardens, self-watering pots, and apps that can tip you off whenever a specific plant starts lacking water.
Follow your taste
These things will keep trending in the next months, but it doesn't mean that you need to try them all. The most important thing is to feel good and comfortable in your own garden. It's you who has to like how it looks and spend time in there. Plan every change thoroughly to make sure it will work, and that you can afford it. A great garden is a well-designed garden, no matter the style or purpose.
Comments on this guide to Garden Design Trends to Follow in 2020 article are welcome.
Garden Articles
How to Make your Big Garden Look Smaller Guide
How to Look after your Garden During COVID-19
Guide to Creating a Sustainable Garden
How to improve drainage in garden Tips
Residential Property Articles
House V on Monaghan Farm, Lanseria, Johannesburg
Architects: Daffonchio and Associates Architects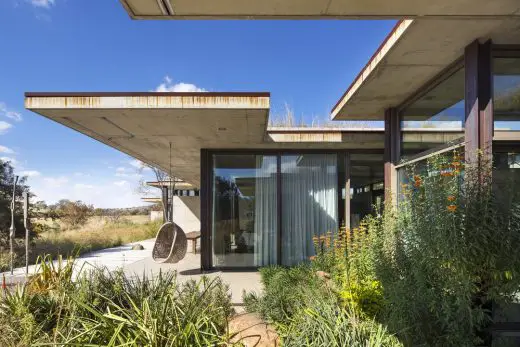 photograph : Adam Letch
New property in Lanseria, Johannesburg
Comments / photos for the Garden Design Trends to Follow in 2020 Guide page welcome