Environmental Qualities of Traditional Building Design, Architectural Article
Traditional Architecture Environmental Qualities
Architecture Design Discussion – article by Brian Carter, Buffalo, NY, USA
Sep 18, 2018
Good Environmental Qualities in Traditional Architecture
Personal Comfort and Well Being – The Monthly Report
August was hot. Signaled by images of parched grasslands and flaming forests in places as far apart as California, Greece, Australia and Siberia and of smog shrouded citizens in India and China, increasingly high temperatures also created sweltering cities.
Suffocating conditions in Tokyo claimed more than a hundred lives as temperatures reached 40'C for the first time. Suddenly it seemed that the abstract statistics of climates changing and the earth warming were made increasingly vivid.
New v old – shading qualities in a typical Mediterranean streetscape: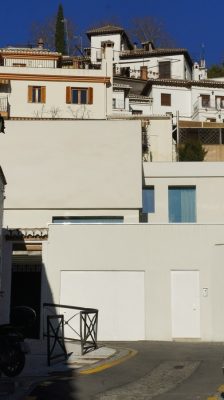 Photographs of Granada, Spain, by Luis García Gollonet
And in London sweaty commutes, arctic workspaces created by urgent and radical air conditioning, inappropriate clothing and steamy rooms with windows flung wide open, offered little relief.
Meanwhile holidaymakers, another predictable and obvious sign of August, were on the move. Eager to get away from hot workspaces, homes, schools, shops and shop-floors hoards of travelers chose to stay cool. Seeking out the heavy masonry of monasteries, churches and palaces in Portugal, Galicia and Italy, chilling out to play on Mama Mia trips to white washed villages in Greece, sauntering down shaded streets in North Africa and Seville or meandering through arcaded squares in Telc, Garrovillas and Caldas de Reyes they looked for comfortable places and sought out the vernacular.
Defined by Bernard Rudofsky as an "unfamiliar world of non-pedigreed architecture" – the vernacular increasingly offers 'go to' places for holidaymakers in August. And, in addition to comfort and joy, these anonymous, spontaneous and indigenous places provide havens for 'hashtaggers' who are, apparently, suddenly vital as all-important global guides and social media 'influencers'. Their images – or arguably our images – have taken over from the colorful brochures of tour operators and the advice of travel agents on the high street to confirm 'nice places' and shape itineraries.
In this context contemporary architecture has been largely abandoned. And, apart from odd exceptions like Gehry's contorted skins in Bilbao, new architecture predominantly highlights the banality of rentable returns and commercial hubris. Characterized by a seemingly insatiable appetite for glass and a quest for transparency that frequently reveals nothing of significance, it demonstrates a conspicuous lack of concern for personal comfort and well being, That same narrow mindedness makes the forging of meaningful connections between new and old surprisingly difficult.
New architecture's glassy spectacles, and the bleak urban spaces that they almost inevitably frame, clearly make for uninteresting and uncomfortable places and holiday destinations of little interest. However if heat and holidays are two significant characteristics of the month then perhaps one lesson learned might be that new and old could be more effectively integrated? Perhaps buildings and materials, cities and nature could then be designed to work together, respond to changing climates and learn from the vernacular?
Politicians, vital custodians of the environment, are obviously uninterested. Arguably then it is the responsibility of clients, planners and architects to prompt incremental change that can provide respite for the vulnerable, demonstrate the value of design and underline the ingenuity embedded in that 'unfamiliar world of non-pedigreed architecture' that many of us remember so vividly from August.
Brian Carter, a registered architect in the UK, is Professor of Architecture at the University at Buffalo, The State University of New York.



Brian Carter
American Architecture Links : links
New Palace of Justice in Cordoba design by Mecanoo architecten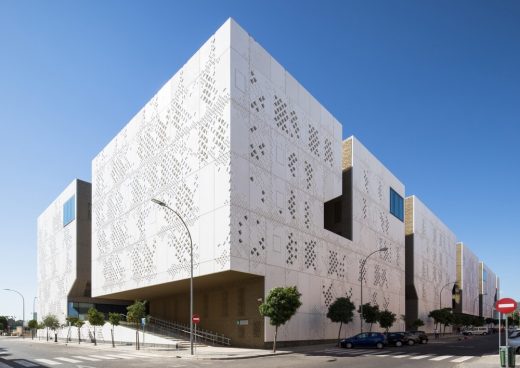 photo © Fernando Alda
Granada Architecture Walking Tours
Articles by Brian Carter – Selection
Will the Concert Hall Start a Revolution?
Monumental shifts/New World Orders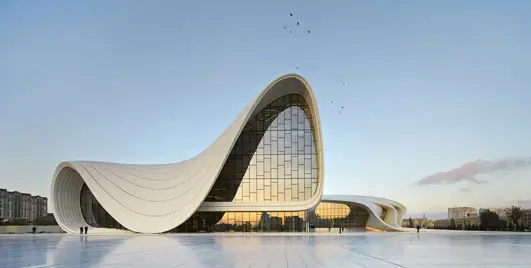 photograph : Hufton + Crow
Old World / New World Architecture
Comments / photos for the Environmental Qualities of Traditional Architecture- Article by Brian Carter Article page welcome