The Experimental City, Studying Building Types, American Architectural Article
The Experimental City Article by Brian Carter
Architecture Design, Building Type Discussion – article by Brian Carter, Buffalo, NY, USA
Nov 19, 2018
The Experimental City
A November screening of THE EXPERIMENTAL CITY caught my eye – The Monthly Report
The film, shown in London, focuses on a plan for a new city where 250,000 people could live under a single roof over a remote spot in America. That plan, produced in the sixties and devised by the Minnesota Experimental City Authority, highlighted a brave new world and the recent showing references a continuing pre-occupation with cities and complex collections of people, cultures, commerce and things.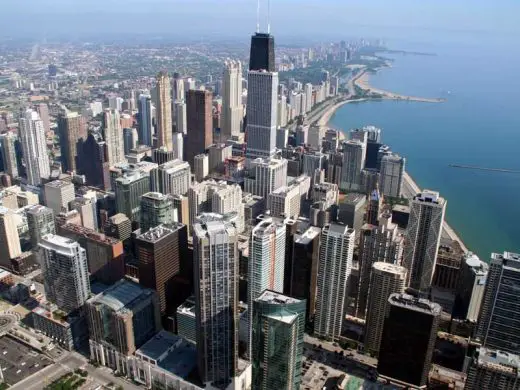 Chicago aerial photograph courtesy of Jan Klerks
This particular screening also seems timely after the latest news from Europe. While Venice is submerged a receding River Rhine is leaving inland ports between Koblenz and Mainz high and dry. Simultaneously as Londoners are apparently choking on ever more noxious air so Berliners continue to wait for the check-in gates at their new airport to open after a seven year delay. These European cities appear to be decidedly un-resilient, hardly sentient and distinctly scruffy rather than smart.
Meanwhile North America, albeit torn by political strife, continues to cultivate cities. History helps here. The early pegging out of egalitarian grids from coast to coast has combined with inspired plans like those devised for Boston, Chicago, Buffalo, New York and Montreal by Frederick Law Olmsted to create surprising places.
In Chicago politicians and city planners were reluctant to embrace the curve or tweak the grid so as to avoid windy streets in a notoriously windy city. However the construction of Millennium Park over rail land, extensions to the Art Institute and an impressive new Poetry Foundation, reclamation of river frontages and the continuing benefits of plans originally devised by Olmsted for the World Columbian Exposition in 1890 combine to make that city an exceptional place.
Olmsted's proposals for Buffalo, drawn more than twenty years before those in Chicago, were prompted by a request for advice about the creation of a public park. Instead Olmsted outlined a plan that established three city parks with all connected by a network of new landscaped parkways.
These routes extended through the city, linked diverse communities and, like his subsequent proposal for a vast new city park in Manhattan, have proved to be remarkably resilient. The democratic ideals embedded in these plans continue to be cultivated through the use of civic spaces that also encourage exercise, help improve public health and air quality, advance sustainability and create distinctive green cities.
This particular new world designer was, however, also a global citizen inspired by old world ideas and cities. While Frederick Law Olmsted had travelled to China by the time he was twenty one, met Joseph Paxton and visited Birkenhead to see the city park that he had designed Olmsted went on to co-found The Nation – a magazine that advocated for civility – on his return to North America, become an early opponent of slavery and serve as the executive secretary to the United States Sanitary Commission – a precursor of the Red Cross.
Perhaps it is a surprise to discover that the Experimental City is alive and well in the new world, impressively resilient, sentient and decidedly smart?
Brian Carter.
Brian Carter, a registered architect in the UK, is Professor of Architecture at the University at Buffalo, The State University of New York.



Brian Carter
Architecture Design
American Architecture Links : links
New Palace of Justice in Cordoba design by Mecanoo architecten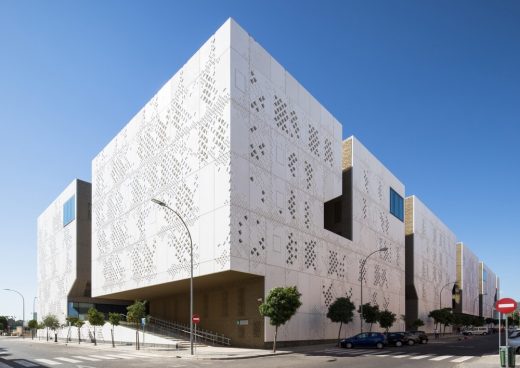 photo © Fernando Alda
Granada Architecture Walking Tours
Articles by Brian Carter – Selection
Monumental shifts/New World Orders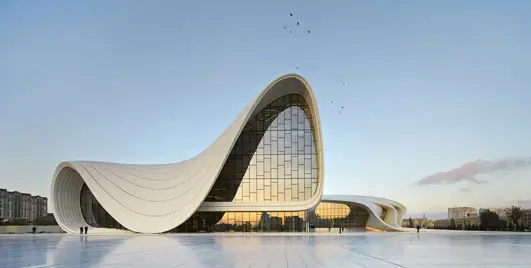 photograph : Hufton + Crow
Old World / New World Architecture
US Architectural Design
Comments / photos for the The Experimental City – Article by Brian Carter Article page welcome