Classic commercial pool deck designs, Building Materials Design guide, Property garden style advice
Classic Commercial Pool Deck Designs
15 Mar 2023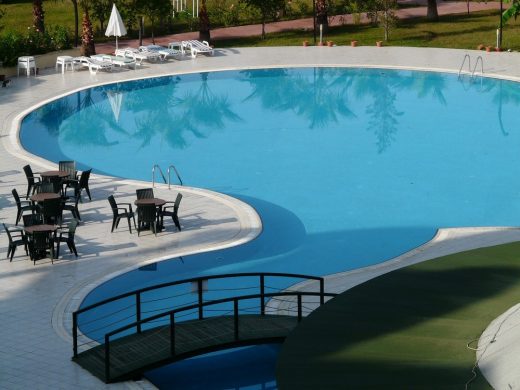 A pool deck should look as good and safe as your overall establishment. Various options are available for commercial pool decks, from materials to designs. If you're lost, the best thing to do is to stick with the classics.
Join us as we explore the best material and classic theme you can use to build a commercial pool deck in Orange County, CA.
What Material Is Best For Classic Commercial Pool Decks?
Before you design, you should learn what you should look for in materials. Here are some key characteristics that the ideal pool deck material should possess:
Durable
To avoid expensive maintenance in the future, commercial pool decks require a material that can endure heavy foot traffic, water and chemical exposure, and harsh weather conditions.
Slip-resistance
Your pool deck needs to have a material with enough grip to prevent slips and falls, as required by your state's law. Failing to do so could result in severe consequences, such as legal issues and medical bills.
Quick To Install
A quick-curing material is perfect for busy home or business owners who want to return to their daily routine as soon as possible.
Affordable
Cost is essential for any commercial pool owner, so a budget-friendly pool deck material is a jackpot.
Flexible Designs
Pool owners want a safe and stylish pool deck that meets their specific design preferences, as no one wants a pool deck that looks tacky, even if it is deemed safe.
Concrete is ideal for commercial pool decks since it offers all those benefits that other materials may not.
For example, natural stones and pavers provide slip resistance and design versatility. Still, they are more expensive and time-consuming to install. Wood decks, though affordable and natural-looking, require regular and costly maintenance. Plus, they might get easily damaged with pool water.
Therefore, concrete achieves classic pool deck designs with long-lasting performance and lower overall cost. Keep reading for concrete pool deck design ideas!
What Are Classic Designs For Commercial Pool Decks?
Now that we have discussed the benefits of concrete for commercial pool decks let's explore some classic pool deck designs and how to achieve them using concrete.
Art Deco Pool Deck
Art Deco is the classiest design style from the roaring 20s, characterized by its bold geometric shapes, metallic accents, and vibrant colors. Do the following to achieve this iconic style:
Create an inverted arc shape for corners while pointy on some areas of the pool design.
Add a bold color on or near the pool coping.
Stamp concrete in intricate geometric patterns.
Stain concrete to replicate the appearance of luxurious marble.
Here are Art Deco patterns for stamping or texturizing any surface in your pool area:
Polygons like triangles, diamonds, and hexagons
Floral motifs with a geometric twist
Zigzag or Chevron patterns
Fish scales/Scallop patterns
Concentric circles or spirals
Staggered horizontal lines
Sunburst designs
On the other hand, these are the Art Deco colors you can use in the pool deck:
Jewel tone: sapphire blue, amethyst purple, topaz yellow, garnet red, citrine orange, etc.
Metallics: gold, silver, and copper.
Black and white
If you prefer to avoid incorporating the deep and rich colors of Art Deco, using a monochrome palette is a viable option.
Mediterranean Pool Deck
The Mediterranean theme brings the sunny coastal vacation feels of Greece, Spain, and Italy to your pool area. Follow tips below to create a Mediterranean pool deck:
Plant Mediterranean plants to enhance the natural ambiance.
Use wrought iron accents or furniture.
Add arches in wall shapes and entrances, or even the pool.
Incorporate water features for a soothing sound.
Add some fire pits and sculptures inspired by greek gods, goddesses, or Mediterranean animals.
Now you can do one or all of the following concrete methods in your Mediterranean pool deck:
Stamping concrete to replicate the appearance of natural stone.
Creating textured surfaces with exposed aggregate.
Making colorful mosaic concrete.
Concrete patterns that work well for a Mediterranean theme include:
Cobblestone Patterns
Brick Patterns
Flagstone Patterns
Arabesque Patterns
Damask Patterns
Fretwork Patterns
Moorish Patterns
Talavera Patterns
Here are some Mediterranean colors to use on the pool deck:
Shades of blue: light aqua to deep navy
Shades of green: light mint to a dark forest
Earthy colors: sandy beige, terracotta, and warm brown
Vibrant colors: bright yellow, orange, and red
White: primary color for walls and other surfaces.
Tropical Pool Deck
Hawaii and Bali are the best examples of tropical dreamscapes you can use as inspiration in creating any commercial pool deck.
Stampe and printing patterns that resemble tropical foliage
Plant natural tropical beach plants
Use splashing water features
Add fire bowls and torches
Concrete designs that work well for a tropical theme include:
Palm Tree Patterns
Bamboo Patterns
Hibiscus Flower Patterns
A tropical pool deck also has vibrant colors like:
Bright greens: lime or kiwi
Bluegreens: turquoise or aquamarine
Sunny yellows: lemon or goldenrod
Bold pinks: fuchsia or magenta
Earthy browns
Rustic Pool Deck
Natural materials like wood and stone inspire rustic pool deck designs. Here's how you can achieve that rustic feel for your pool decks:
Add decorative elements like string lights, clay pots, rustic lanterns, fire pits, wrought iron furniture, or Adirondack chairs for a cozy camp effect.
Create textured surfaces with exposed aggregate.
Stamp concrete to create patterns resembling wood, stone, or brick.
Concrete designs that work well for a rustic theme include:
Wood Plank Patterns
Timber Patterns (No Plank lines)
Cobblestone Patterns
Flagstone Pattern
Ashlar Stone Patterns
Herringbone Patterns
Slate Patterns
Fieldstone Patterns
Focus on the following colors to achieve a rustic feel:
Burnt orange
Olive green
Dark chocolate brown
Mustard yellow
Warm beige
Deep red
European / Old English Pool Deck
The elegant and timeless architecture and design of Europe inspire European pool decks. To achieve a European pool deck, consider the following:
Use ornamental plants such as topiaries or boxwood hedges to enhance the pool deck's appearance.
Create a natural stone look by adding textured finishes.
Install vintage or antique-looking outdoor lighting fixtures to add a unique touch.
Stamp concrete to create patterns that resemble European pavers.
Here are some examples of Old English patterns to use:
Old English Slate
European Fan Pattern
Cobblestone Patterns
Herringbone Patterns
Brick Patterns
For an Old English/European pool deck, some color options you may consider are:
Earthy tones: brown, beige, cream, and tan
Neutral colors: gray, white, and black
Dark colors: deep red, dark green, and navy blue
Metallic accents: gold or bronze
Oriental Pool Deck
The beauty and simplicity of traditional Japanese and Chinese design are called the Oriental style. If you want to showcase an Oriental pool deck, do any of the following:
Add water features from regular stone or sculptures of animals or mythical creatures like dragons or phoenixes.
Incorporate paper lanterns, traditional eastern umbrellas, tea sets, or other oriental tableware.
Add decorative screens or partitions from wood or bamboo.
Plant bamboo, bonsai, or cherry blossom trees.
Use natural textures like wood or stone to create a Zen-like environment.
Design the concrete with patterns resembling traditional Oriental motifs.
Here are some Oriental patterns to use on your concrete pool deck or other surfaces:
Bamboo Patterns
Cherry Blossom Patterns
Rock And Pebble Finishes
Wood Plank Patterns
Dragon scale/Scallop Pattern
Now, when it comes to Oriental design, colors have deeper meanings, like:
Red – good luck, joy, or happiness.
Gold – wealth, prosperity, or good fortune.
Black – power, sophistication, and elegance.
White – purity, innocence, and spiritual enlightenment.
Green – growth and harmony.
Note that color meanings in Oriental cultures are not from any specific religion but a cultural tradition that evolved in various parts of Asia.
A Classic Choice: Transforming Your Commercial Pool Deck with Concrete
Elevate your pool area's functionality and visual appeal with concrete! You can achieve a beautiful pool deck with various customizable patterns and colors that perfectly match your style. It's best to choose from the classic designs we listed above to create a flexible space you can change any season and leave a lasting impression on your guests.
Comments on this Classic Commercial Pool Deck Designs article are welcome.
Decking Articles
Decking Posts
Does Composite Decking Add Value To Your Home?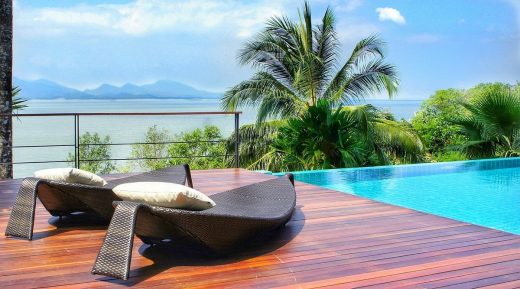 Tips for building a good looking deck
Tips for staining a previously wooden deck
Building Articles
Residential Architecture
Comments / photos for the Classic Commercial Pool Deck Designs page welcome