Does composite decking add value to your home tips, House deck guide, Property wooden patio advice
Does Composite Decking Add Value To Your Home?
14 May 2021
Making home improvements is a great way to enhance comfort and convenience, but it can also affect the value of your property. In some cases, changes you make to your home can increase its value, while other changes may decrease the value or have no impact it at all.
With that in mind, many homeowners are being more selective about the projects and refurbishments they undertake. At the moment, outdoor renovations such as landscaping, introducing a patio, or building a deck are some of the more popular home improvements being made. But the question is, will it add value to your home? And, if so, by how much?
In this article, we dive deeper into the benefits of introducing decking to your outdoor space – specifically composite decking – and how much of an impact in can have on the value of your property.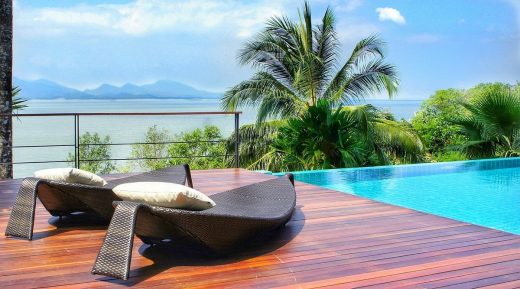 How much value does a deck add to a property?
There are differing viewpoints on exactly how much value a deck can add to a home. However, the general consensus among experts in the UK is that, on average, a deck can add approximately 10% value. This might not apply to all circumstances, but generally speaking, a deck will most likely increase the value of your home.
The benefits of composite decking
The materials you use for your deck will have an impact on how much it can increase your house's value.
Composite decking has loads of great advantages over its soft or hardwood counterparts – see www.duracomposites.com. For one thing, it's much more durable, often lasting twice as long as wooden decking and yielding approximately a 70% return on investment.
Unlike timber decking, composite decking boards don't rot, split or splinter. Plus, the maintenance costs are almost non-existent, as there's no need to stain or seal composite decking boards as you would with wooden decking. Take a look at Grey Composite Decking available at HR Composites.
Another great benefit of composite decking is that it's much more eco-friendly, as it's made from sustainable sources using a blend of recycled wood fibres and polymers. These factors also make the decking more resistant to water and moisture. What's more, it has a life span of about 25 years or longer, perfect for creating a lovely and long-lasting outdoor space.
Factors that impact the added value of a deck
When weighing up the potential added value a deck can bring, it's important to consider construction cost against the added resale value. We also advise taking the additional factors below into account if you're thinking about building a deck.
Location and weather
Where you live can have a significant effect on the value of your deck. If you live in a predominantly cold place in which outdoor activities aren't easy to facilitate, then a deck may not actually increase the value of your home. Whereas, in warmer areas, a deck in the garden can easily enhance value. That said, it's worth nothing that in very hot weather, decking can heat up quite quickly, so due consideration is necessary. For the most part, a garden deck in the UK is usually a sound investment!
How long you plan to stay in your home
If you're planning on remaining in your current home for a few more years to come, then it's advisable to opt for composite decking over wood because – although they may cost a little more – composite decking can last for up to 25 years and beyond. That means that you can enjoy your deck now and be safe in the knowledge that it will still be intact when you're ready to move out.
Additional deck furniture
When you're ready to move on and you're looking to sell your home quickly, additional furniture can help score you some extra points from prospective buyers. Consider decorative touches such as a table, seating and cushions, parasols, lighting, and water features.
Considering a deck? Dura Composites can help
Dura Composites' great range of environmentally friendly composite decking products feature high-quality materials, come with a 10-year warranty, and won't ever weather. Meaning you never have to worry about rot, mould, fungi, or UV damage – that's added value you just can't argue with!
To test out different decking colours and styles, check out Dura Composite's Composite Decking Visualiser tool. You can also request a composite decking sample, or get quick price quote with their Composite Decking Tile Calculator.
Comments on this guide to Does composite decking add value to your home help article are welcome.
Decking Articles
Decking Posts
Tips for building a good looking deck
Tips for staining a previously wooden deck
Building Articles
Residential Architecture
Comments / photos for the Does composite decking add value to your home advice page welcome