Architecture Growth, Architectural Article, Building Dialogue, Future Design Agenda
Architectural Growth
Architecture Discussion – article by Nigel Henbury
22 May 2012
Growth in Architecture
GROWTH IN OUR TIME
Many emotions in this week's selection, but as growth is rather topical at the moment, a quick comment on whether this past phenomenon and future holy grail imbues fear, burden, excitement, joy…


Nigel Henbury
My country has experienced the industrial revolution, reparation of destructive conflict, and experimentation with new construction methods and materials to create new socio – residential matrices. Thereafter we joined the western family energised by financial engineering, and then became embroiled in global financial engineering.
Inter galactic is now the only dimension to go! Retro for some will be too painful to contemplate.
So let's slow down a little and appreciate the subtleties of the advances that have been made by a real world innovator.
Architecture expresses aspirations borne of different cultures, sensibilities and circumstances and is practiced in a matrix of neighbourhood, regional, national and international contexts.
An overview of projects by Sir Norman Foster's offices covers all of those contexts, the portfolio shooting to public prominence with the Willis Faber Dumas building in Ipswich, England. This building put provincial England in a global market with a wordly agenda.
Cards on the table: This was the future. It was to be organic. Space defined by new engineering and synthesis of building components. Details not in the ornament, but the technology of the synthesis, enabling purpose, development, relaxation and environmental integration under one roof in the work place. Externally, full glass facades engineered to achieve complete integration with and energising the townscape, reflecting adjacent buildings by day and a radiance at night.
Foster has been with us to influence most facets of human assembly in the last 40+ years of his office – work, culture, art, education, transport and sport.
History shows prolific visionaries – notably Frank Lloyd Wright and Le Corbusier – pushing the physical and aesthetic properties of materials in essays and projects for a new world.
Somehow even in our frenetic times, Foster's office has captured and kept pace with the patronage of world architecture, influential, capable, bold, multi – disciplined, multi – cultural.
It is a remarkable achievement for a company to transgress international building cultures, codes and patronage to enable a model for growth. To do this requires extraordinary dedication of philosophy, research, cultural and professional integration, creative flair and risk–taking, to build the expertise and deliver numerous diverse projects, most of which are derived to inform, educate, some to entertain and all to be experienced spatially, symbolically and texturally. A core principle therefore must be that people are confident to feel part of, can accept and exist with the dynamic of change.
CCTV Headquarters in Beijing, China
OMA – completion news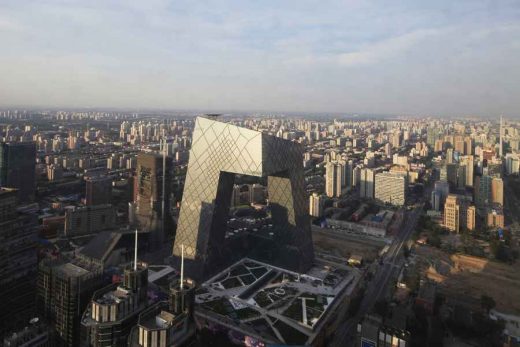 photograph : Iwan Baan
OMA's completed China Central Television Headquarters building in Beijing, together with Jean Nouvel's BS3 project in Paris look to be projects that will assault the senses of some. I recall seeing a Rem Koolhaas lecture as a student in the early eighties and he left the audience in no doubt that the city was the place for action – polemical, colourful, bold, massive. Thirty years on, the quest matures and the question has to be asked if this project could be realised in any other country than China right now. The mass appears rather intimidating and powerfully symbolises the alpha battle television has with the social media for the role of most influential, some may say manipulative medium.
Duo Towers, Paris, France
Jean Nouvel – new images + info



image © Ateliers Jean Nouvel
The two towers of Jean Novel's BS3 present floor plates and building form as apparently crystalline forms of twisting and melting.
Both projects have the feel of scary theme park rides, enticing the customer in to experience the thrill of disorientation and wow at the gravity defying three dimensional structures. Our senses our being manipulated for a short term thrill.
We grow through nourishment of young cells, then education and culture informs the senses. Do we do this organically as integrated societies or do we live for the next quick fix,' because we can'.
Architecture is equipped to do both and patronage must be the arbiter, rather than politics. Right now there is too much commoditization and growth has been conjured by manipulation and fails to serve the needs of millions of people who wish to improve their lives democratically.
Good architecture can socialise the growth of mind, body and soul.
Nigel Henbury
Nigel Henbury is a Diploma Graduate of Portsmouth School of Architecture, England, golf course architect and Licentiate Member of the Landscape Institute, UK.
Comments on this Architectural Growth article are welcome.
Architectural Articles by Nigel Henbury
Cultural and Contextual Identity – 30 Aug 2011
Skyscraper Building Design – 24 Jan 2012
Architectural Articles – Selection
Placebo Architecture : article by Karolina Szynalska – Sep 2011
Architecture Narrative : article by Trevor Tucker. Aug 2010
Nature Architecture : article by Trevor Tucker. Sep 2009
Sustainable Buildings – Building Issues : article by Adrian Welch
Architectural Competitions : links
Comments / photos for the Architecture Growth Architectural Article page welcome