Nigel Henbury UK, Architecture Writer England, Golf Course Architect, Landscape Institute
Nigel Henbury Architect, England
Regular Guest Editor at e-architect – architectural articles
Nigel Henbury, Golf Course Architect


Nigel Henbury
Nigel Henbury is a Diploma Graduate of Portsmouth School of Architecture, England, golf course architect and Licentiate Member of the Landscape Institute, UK.
Architecture Articles by Nigel Henbury
Architecture Articles by Nigel Henbury, reverse chronological:
5 Nov 2013
Future Energy



image © Adrian Smith + Gordon Gill Architecture (AS+GG)
Future Energy
The recent announcement of the winning masterplan for Expo 2017 in Astana, Kazakhstan merits consideration as a significant event.
Expos are organised to showcase new moves in our existence on this planet. A fusion of past mistakes, successes and future aspirations as beacons of conscience are made manifest under a 'mother theme'.
In 2017, this will be future energy
The choice of Astana as host city can be viewed as inspired, controversial or ill-conceived in the context of the appointed theme depending on your viewpoint.
Kazakhstan is in the upper tier of countries in comfortable ownership of natural resources that can power and supply human endeavour and consumption for the next generation.
7 May 2013
Architectural Levels



photo : Pirak Anurakyawachon
Architectural Levels
Firstly, congratulations to e-architect on the milestone of their 200th Newsletter, a tribute to their dedication and the spirit of the world architecture community.
A comment by the chancellor of the UC Davis Art Museum on the winning design by SO – IL said of the scheme "From its curved glass walls to its soaring canopy, it will draw people in, surprise them, and engage them. All who enter this museum will become students again."
12 Mar 2013
Sculptural Architecture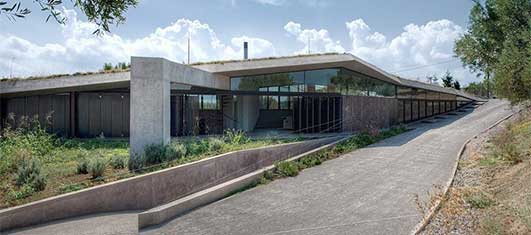 photograph : Stelios Delis
Sculptural Architecture
SCULP(ITEC)TURE: when architectural order is unable to create an appropriate solution, language or environment, then sculptural form takes over.
Such is apparently the case with a group of built projects featured this week.
The Sikamino, house in Greece by the Tense Architectural Network features bold concrete forms of dynamic geometries orchestrating shelter, transitional areas and key horizon lines, blending with the immediate topography.
6 Nov 2012
Material World



image from architects
Material World
Another inter-continental selection of projects this week with a common theme of 'material' playing a key role in each.
The Chinzombo Bush Camp in Zambia, Africa by Silvio Rech and Lesley Carstens for an established eco-tourism client uses modernist and contemporary structures as skeletons for the 'organs' of enclosure, party and utility using raw recycled local materials. The architects make reference to their continuing evolution of understanding the properties and crafting of these materials with a high branding return from their diligence.
18 Sep 2012
Organic Architecture



photo from RIBA
Organic Architecture
THERE IS A LIGHT THAT NEVER GOES OUT
Shortlists for two RIBA awards – recognising small works and emerging practices achieving high tariff returns from challenging briefs and budgets – feature this week.
There is a purity in the definition of architecture as a fusion of aspirational endeavour, the architect trusted with access to a client' s personal values and budget – simultaneously risking professional values of design flair and fitness for purpose – to create a legacy of habitation.
22 May 2012
Architectural Growth



photograph : Iwan Baan
Architectural Growth
GROWTH IN OUR TIME
Many emotions in this week's selection, but as growth is rather topical at the moment, a quick comment on whether this past phenomenon and future holy grail imbues fear, burden, excitement, joy…
My country has experienced the industrial revolution, reparation of destructive conflict, and experimentation with new construction methods and materials to create new socio – residential matrices. Thereafter we joined the western family energised by financial engineering, and then became embroiled in global financial engineering.
Inter galactic is now the only dimension to go! Retro for some will be too painful to contemplate.
24 Jan 2012
Skyscraper Building Design



photo from TFP Farrells
Skyscraper Building Design
Celebrity and the City
This week, two tendencies of the human desire to create buildings. They could not be further apart.
A review by CTBUH of the recent and continuing trend to build tall and tall(er) buildings sees Taipei included – the city that also accommodates CICADA Urban Acupuncture (Bamboo City) by Casagrande Laboratory (C-Lab).
30 Aug 2011
Cultural and Contextual Identity in Architecture



photograph : Reinaldo Cóser
Cultural and Contextual Identity
The Casa dos Ipes, São Paulo by studio mk27 presents a free living space as a playground under a wide span monolith upper level slab in the tight containment of suburban privacy.
A contradiction of privacy and exclusivity with uninhibited passage within and around the volume for the inhabitants and their invited guests. A confident and literally concrete statement and belief of the architect in Brazil's developing stature and affluent middle class.
More Architectural Articles by Nigel Henbury online soon
Location: England, UK
Landscape Architecture
Architectural Articles on e-architect



photo : Ángel Navarrete
Comments / photos for the Nigel Henbury – Global Architectural Issues article page welcome