Architecture Narrative, Article, Building Project, Photo, Design, Property Image
Architecture Narrative : Literature
Architecture Discussion by Trevor Tucker
24 Aug 2010
Architectural Narrative
After reading the thoughtful editors these last few weeks, how does one step into such an articulate group? I'm not an architect; I'm a lit prof. Fortunately, there's some significant overlap.


Trevor Tucker
What are some of the questions we both bring when addressing art? I tend to think (perhaps a little too much) about symbolism. "That is not a tree but the back of a tree;" says Chesterton, "that is not a cloud but the back of a cloud." Everything is pointing to something else – a reality, behind it.
Narrative and context and mythic quality are also keys. But there's more. I look for art as a celebration of order; don't make a mess and call it edgy and intelligent. I look for art as speaking honestly to human nature. I look for "images that shimmer" (to borrow from Joan Didion)—that niggle the reader, that have an energy and are never quite the same upon progressive experiences of them. A kind of motion.
Finally, I always ask, do the details of the story speak for themselves or does the author rely on outlandish modifiers, metaphors, and hyperbole to evoke a feeling in the reader that comes not from the bare and well chosen bones of the story but from the mind of this autocratic feeling-imposing author? Such writing might make tonnes of money for romance writers; it might create "real page turners"; but it is not literature, and its' story, images, and lessons don't last.
Here next to suburbia, Ottawa's big-name developers have blown up another hillside. I'd say about a good third of the hill is gone—leveled out to apparently make the building process easier and to allow more homes on the site. They're calling it Heritage Hills. Its nestled beside Kanata Lakes. Next to come is "Arcadia—destined to be the finest community in Ottawa."
Ala Moana house, Hamilton Island, Australia: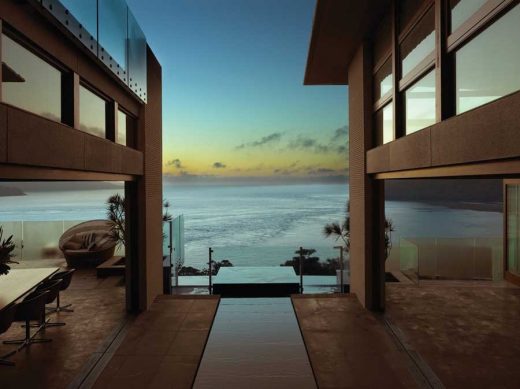 The example of the Ala Moana house in Australia, my favourite of this week's news, is a welcome contrast to this kind of environmental obliteration, and to pretentious overstatement. Frankly, I like the writeup. Just reading the process of conceptualization and building is an enjoyable change from some of the rhetoric and hyperbole we're apt to get from architectural firms. It is detailed and factual.
They have carefully worked with the site. These architects let the building speak for itself and don't have to embellish the language to convince readers that the home will ensure inner peace, an oasis away from it all with simply breathtaking views, or any other clichés borrowed from resort brochures.
And while the pictures clearly suggest a strata of luxurious living that I'll never know, there is much about Ala Moana that remains welcoming and homey. There is texture in the wide range of materials, and the designers are not afraid of colour. Yes, the home looks outward with its many views, but this is still shelter, and one in which amidst the heavy wood and stone, you could still snuggle down safe from storm.
House Tumle in Sweden is also void of embellishments; it doesn't overstate at all. But somehow—though Hemingway might have liked it with such a bare bones, experience-it-yourself, approach—there's something missing. It feels alienating—something a home should never be. Being a father of near four kids, I have to ask, "Who will live and play here?" The writers call it an icon of a home, but an icon is supposed to be the idealized version of home—the best.
Carl Larsson—Sweden's answer to the Arts and Crafts movement and colourful, humourous, homey styles, along with essentially defining that Swedish look that has made Ikea rich—would be puzzled, in the least. Yes, there is an enticing artistic quality to it, with its clean lines and airy use of a small space, but you just know that a few toys strewn about would detract from the effect, not add to it. But, do architects even think of children these days?
Human nature and community are heavy terms, and two versions of the site plan for the West Kowloon development on the Hong Kong waterfront speak of them. Foster and Partners' proposal for West Kowloon City Park way out in front of all the would-be cultural buildings, a natural buffer between the buildings and the sea, is indeed enticing especially in today's go-eco climate. But there is something in the overall plan that seems impressed upon the site.
OMA's West Kowloon Cultural District presentation seems somehow more democratic. Three villages divided by public gardens creating airy public spaces for huge gatherings and with wonderful views. This is not extravagant architecture, but organic and multidimensional, that depends heavily upon public interaction. One can almost feel the villages rise out of the existing community. It speaks to human nature as it is—as organic and textured, even a little messy.
Now, when I read a story, I want it to immerse me, to call me into a body of knowledge and experience that is even larger than the story itself. Literature should feel like it is part of a community of shared wisdom. To me it's the same with architecture. Where is this building in its context, and, more specifically, do its individual parts—and a person's experience of each part—fit into a larger whole. Wheels within wheels. Who am I—as a resident, say—in terms of the larger story?
It may be overstating, but something about BIG House in Denmark evokes this timeless element. "This is our take on creative, experimental architecture, which surprises and calls for a life based on a sense of community," explain the architects. You stand on your porch and feel joined in a larger narrative.
And not just of people but of your environment. Reminiscent of Ken Yeang's work, this organic building draws vegetation from its surroundings, through a series of ramps and staggered porches, right up to the roof. "On the rooftop, eleven stories up, these shared spaces culminate in a combined 'mountain path' and rooftop garden," says Bjarke Ingels, founder of Bjarke Ingels Group.
A few more items this week deserve attention. The presentation of the Kristiansund Opera House in Norway is an evocative one. Spaces overlapping in an almost seamless fashion. You've got to love the bold use of red that emphasizes movement through the building and poses interesting questions on movement. Have a look at the City North Substation in Sydney too, with its 'Mondrian' aesthetic.
Here is an image that indeed shimmers, in this case with a kind of sci-fi feel to it. And two new books from Taschen are added to the week's list. Hadid Complete Works 1979-2009 covers the to-date architecture of Zaha Hadid, and is written by Philip Jodidio. Next, by Peter Gössel, Arnt Cobbers and Oliver Jahn, is the timely book PreFab, on the hugely changing world of prefab architecture.
Finally, we have the Jimmy Connors Tennis Center and Stadium. One thing sadly lacking from modern architecture and the arts in general, a quality that we almost forget about until we see it, is humour. That's why these two buildings are welcome additions here. This site is compact, coherent, and playful.
Now, the tennis centre looks more like two Armadillos kissing, if you ask me, than the "parti" described by the architects in their very interesting pictures of dismantled tennis balls, but there is a shape, a concept, an embracing unity to the overall plan that isn't lost on pedestrians like me. Visitors won't need some elitist academic lesson on how to engage this very welcoming set of buildings. Here indeed is an example of art that does new work, and which might unnerve, but in a light and refreshing way.
Architecture Narrative article author:
Trevor Tucker
Editor and sessional professor of English literature at the University of Ottawa
Trevor Tucker
Comments on this Architecture Narrative by Trevor Tucker article are welcome.
Architectural Articles
Sustainable Design : article by Trevor Tucker. 15 Sep 2009
Sustainable Building Design : article by Trevor Tucker. 18 Aug 2009
Architecture Context : article by Trevor Tucker. 21 Sep 2010
Design Narrative : article by Lee Miles – 7 Sep 2010
Architectural Narrative : article by Trevor Tucker. 2 Mar 2010
Nature Architecture : article by Trevor Tucker. 15 Sep 2009
Sustainable Buildings – Building Issues : article by Adrian Welch
Comments / photos for the Architecture Narrative Article page welcome