Inviting Nature back to Town, Architectural Article, Design
Nature Architecture – Architectural Design
Building Discussion – article by Trevor Tucker, Canada
11 Apr 2010
Natural Architecture
Inviting Nature back to Town
It's always fun to see what themes emerge when a diversity of buildings are put together in one weekly list. This week's run-down of architectural happenings could be said to be about two things: creating views and inviting nature back to town.


Trevor Tucker
Probably the most layered and impacting project of the week is The King Abdullah University of Science and Technology. Heavily inspired by traditional Saudi architecture and ideals, this campus merges LEED-meeting design technologies with a thoughtful sense of history. Unlike the new landmark in Denmark mentioned above, this project seems to be rooted, stretching out across both space and time. There is air, water, greenery, shady public spaces, and an evocative sense of texture. Moreover, it looks like what it claims to be: a centre of learning, with excellence and beauty at heart.
We have the novel use of silos in Denmark. Now, silo-related architecture seems to be popping up all over the place and I'm all for the inventive re-use of old structures, at least where the initial structure still has the integrity of being itself while merging effortlessly with the new spaces. These stacked boxes, this "unusual structure with protrusions and displacements", may look like Lego, but certainly this project should get points for offering nice views to its residents, each flat with a slightly different perspective. One is left to wonder, however: Does "new landmark" always mean its beautiful?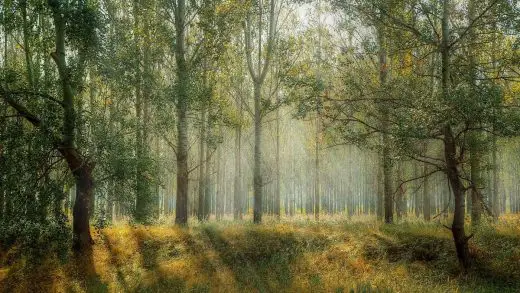 Stretching out and embracing its community, on the other hand, we have the Chelsea Barracks: 12.8 acres which consist of streets, squares and gardens – "some of the first significant new public garden squares to have been created in Central London for over a century". In the midst of additional residences and small hotels, will be gardens…not just for show or "curb appeal", but actual producing gardens. "This will not be a gated development but will link seamlessly into the surrounding community…" say the designers.
This week's list also includes the new multi-storied cultural centre in The Hague and the bank plaza in Middelfart that uses skillfully crafted angles in the roofline to allow a "perfect views" of the Lillebaelt waters. But then we return to the tangible, the down-to-earth and highly useful: The Edible Schoolyard in New York City. "The project, to be located at what is now the school parking lot," explain the designers, "consists of an organic garden, a mobile greenhouse, a kitchen classroom, and a systems wall containing a rainwater cistern, solar batteries and a chicken coop."
Green architecture should not only give a nod to LEED and inventive energy efficient designs, but should also entice the user to embrace a more natural lifestyle. The green school stands as a sort of calling card, an anachronism in the midst of all of the other fanciness.
This is a sensitive approach to children, to our natural environment, to experiential learning and to architecture. Here there is play, delight, education, and maybe a not so subtle ideological statement about addressing environmental issues (what a day it is when planting a garden in the midst of the city can be an ideological statement!). Its users – whose opinion is ultimately the only one that matters – will love it. They will not only be able to walk through it, but also able to shape it themselves – not just observe their environment but immerse themselves in it.
Trevor Tucker Articles
Trevor Tucker
Editor and sessional professor of English literature at the University of Ottawa
Trevor Tucker
Comments on this Nature Architecture article by Trevor Tucker are welcome.
Sustainable Design : article by Trevor Tucker. 15 Sep 2009
Architectural Narrative : article by Trevor Tucker. 2 Mar 2010
Suburban Design : article by Trevor Tucker. 26 Oct 2009
Sustainable Building Design : article by Trevor Tucker. 18 Aug 2009
International Architectural Designs
Sustainable Buildings – Building Issues : article by Adrian Welch
Horse Riding Field in Cattle Farm design by OOIIO Architecture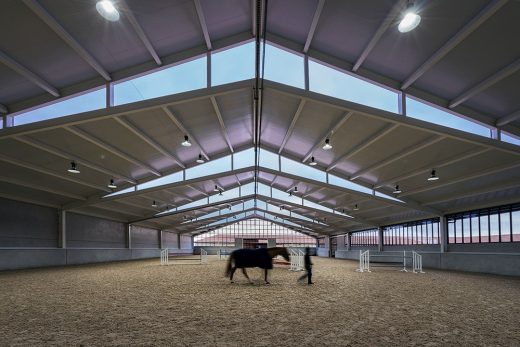 images : OOIIO Architecture, Josefotoinmo
Horse Riding Field in Cattle Farm
The Norman Foster Foundation presents its annual Digital X Workshop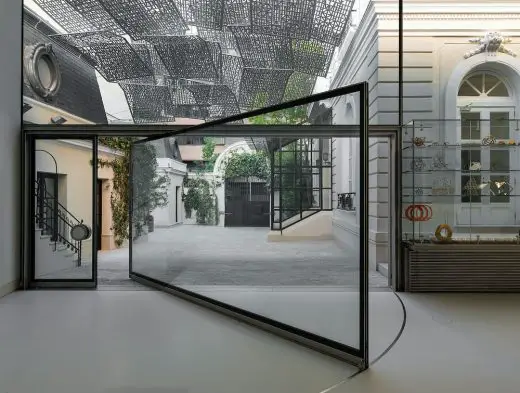 photo © Luis Asín © Norman Foster Foundation
Norman Foster Foundation Madrid
Comments for the Nature Architecture page welcome