Architectural Office Martinez, Argentina Design Studio, Building, Project, Picture
Architectural Office in Martinez Argentina
Development design by Alric Galindez Arquitectos in Buenos Aires
post updated 19 June 2021 ; 12 May 2009
Architectural Office in Martinez
Location: Buenos Aires
Design: Alricgalindez Arquitectos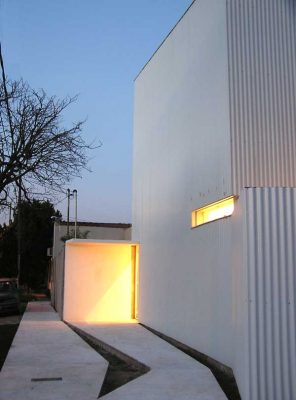 English text (scrtoll down for Spanish):
Argentine Architects Studio
Alter years of work, we decided to face the construction of our own office. Sited on a corner defined by Catamarca and Caracas streets, in Martinez, Buenos Aires. A zone that is actually transforming and developing, from being an area of horse keeping studs, to become a commercial spot, surrounded by offices and modern restaurants, right in the heart of San Isidro.
The code establishes maximum heights and retirements to be followed. Due to its corner situation, we decided that the building should behave this way, and created a volume from iron sheets, with several displacements and situations towards the corner. The roof slightly rises to allow the sunlight in, the upper plan terrace tenses towards the corner, and the lower plan opens one of the faces, generating a private patio.
We decided to work the channeled sheets as the expressive material, as a proper way to get the sensation of the fabric or workshop, and a quick and not expensive construction. Using this specific material made us think on how to work with it, how we could show the way the "tin" was beginning to open itself, and how the completions and details were going to be managed. Like this, the corner situation intended to be resolved, and emphasized with the "continuous skin" concept.
A fluid and flexible work space was the main priority, to support various layouts, being important here, the decision of placing the service areas aside.
We considered an important theme, the search of a place coherent with the idea of work and profession we have, considering outside spaces, as working and reflection areas too.
A special treatment received the entrance path, understood as a unique piece that generates the access and its white roof.
This was also possible on the dividing wall, because the low bordering house allowed us to intervene in a fine and slight way, introducing stretch light lines, with different and changing night and day effects.
Spanish text:
Oficinas Estudio de Arquitectura en Martinez, Argentina
Oficinas Estudio de Arquitectura en Martinez
Después de años de trabajo, decidimos encarar la construcción de nuestro estudio. Físicamente se encuentra en un terreno en esquina en la intersección de las calles Catamarca y Caracas, en Martinez. La zona está en pleno desarrollo modificándose el uso de studs de caballos de carrera por nuevos emprendimientos de oficinas y restaurants, consolidándose como una nueva centralidad en la zona de San Isidro.
El código de edificación establece una altura máxima y retiros a respetar. Debido a su situación de esquina decidimos que la construcción debía actuar en ese sentido, por lo que decidimos armar un volumen de chapa que a través de distintos desplazamientos generase distintas situaciones hacia la esquina, tanto en horizontal como en altura. La cubierta se levanta generando una entrada de luz, la terraza de la planta superior se tensiona hacia la esquina, en planta baja se abre una de sus caras generando un patio.
Decidimos trabajar con la chapa como material expresivo, con el fin de darle un carácter de fábrica, taller. y a su vez la posibilidad de una construcción rápida y económica. Utilizar este material nos hizo reflexionar de que forma había que trabajarlo, de como se podía expresar el modo en que se iba abriendo esa lata, y como se debían resolver sus terminaciones. Consideramos importante la resolución de la esquina. que mediante la posibilidad de doblar la chapa, no fue necesario el uso de de zinguerías, enfatizando de esta forma el concepto de piel continua.
Buscamos tener un espacio de trabajo continúo y flexible, de modo de poder soportar distintas configuraciones posibles, siendo importante en ese sentido, la decisión de ubicar por fuera de la caja, los servicios.
Consideramos importante la búsqueda de un espacio acorde con la forma que entendemos el trabajo y la profesión, considerando también los espacios exteriores como espacios de trabajo o de reflexión.
Como situación peatonal, se le dio un tratamiento especial a la vereda, entendiéndola como una sola pieza que genera el camino y el semicubierto de acceso.
La construcción vecina es de baja altura por lo fue posible darle a la medianera, un tratamiento por medio de varias rajas de luz que generan distintos efectos de luz de día y de noche.
Ficha Técnica
Alric Galindez Arquitectos
Arq. Santiago Alric, Arq. Carlos Galindez, Arq. Federico Lloveras
Staff : Alfredo Quiroga, Sofía Peluffo, Joaquín Adot
Ubicación :
Patagonia
Avenida Bustillo 5300 Departamento 5
Bariloche
CPA R8400AMD
(02944) 441980
Oficinas Estudio AG
Ubicación : Catamarca 2292 – Martinez – Pcia. de Buenos Aires – Argentina
Año de realización : 2008
Metros cuadrados cubiertos : 185m2
Metros cuadrados descubiertos : 60m2
Location: Buenos Aires, Argentina
Architecture in Argentina
South American Architectural Projects
Argentina Architect : Architecture Studio Listings
Buenos Aires Architecture Tours
Alric Galindez Arquitectos
Key Buildings in Argentina
Bocatoma Taproom, Cerro de las Rosas, Córdoba
Architects: VS Arquitectura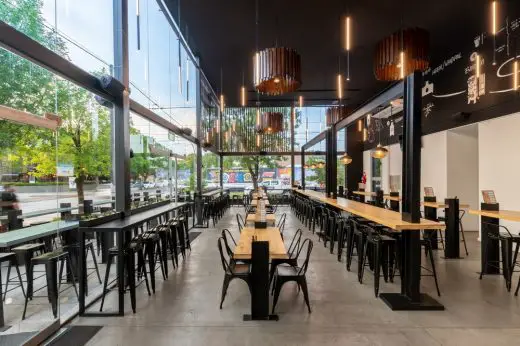 photo : Architect Gonzalo Viramonte
Bocatoma Taproom in Cerro de las Rosas, Córdoba
Comments / photos for the Architectural Office in Martinez – Argentina Architecture Studio design by Alric Galindez Arquitectos page welcome