UNStudio Architects, Design Office Netherlands, Projects, Book, Architecture News, Lecture
UNStudio, Netherlands : Practice Information
Dutch Architecture Office, Europe – Holland Design Studio Info
post updated 7 April 2023
UN Studio : main page with current news + designs
30 June 2022
UNStudio expands its leadership team and local presence across the globe
UNStudio Architects News
21 July 2021
Sochi Waterfront Masterplan
10 Nov 2016
UNStudio Practice News
A10 ring road and the Lelylaan area in Amsterdam, The Netherlands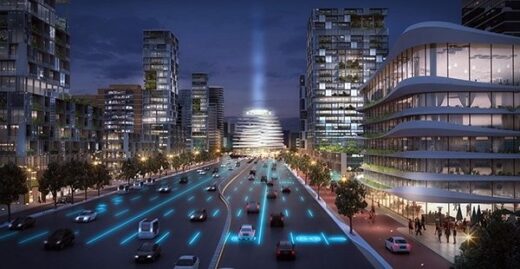 image from architect practice
A10 ring road and the Lelylaan area in Amsterdam
Ben van Berkel / UNStudio collaborate with a multidisciplinary team on a new study for the development of the A10 ring road and the Lelylaan area in Amsterdam
1 Aug 2016
Knowledge Matters Book by UNStudio
1st of August 2016 – Coming soon: 'Knowledge Matters' – The new book by Ben van Berkel & Caroline Bos / UNStudio
Knowledge Matters will be published by Frame Publishers on Sept 1st 2016 and will be available for pre-order via the Frame Store on Aug 15th.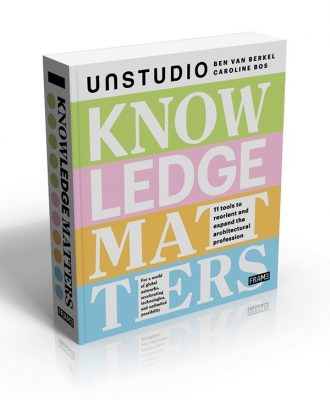 "Knowledge Matters as far as we absorb, engage and transform it – to serve us, in our effort to expand our imagination and our grasp of the future expansions of the profession."
Ben van Berkel & Caroline Bos
UNStudio architect news : more information
UNStudio in Motion
26 Oct 2012 – 'UNStudio in Motion', a bilingual (Chinese and English) project book detailing 51 projects from the last ten years of UNStudio's practice has recently been published in collaboration with Tianjin Ifengspace Media Co. Ltd.
The richly illustrated publication details projects of all typologies and scales, from large scale Master Plans to product designs. The 320 page project book covers competition designs, built projects, urban studies and buildings currently in process or under construction and is available on www.dangdang.com, www.amazon.cn (bilingual edition) and from Nov 2012 on www.amazon.com and www.ribabookshops.com (English edition).
Ben van Berkel and Caroline Bos (UNStudio) awarded Professorships at two leading international Universities
13 Aug 2012 – Caroline Bos awarded Honorary Professorship at University of Melbourne's Faculty of Architecture, Building and Planning and Ben van Berkel's Kenzo Tange Chair at Harvard University Graduate School of Design extended for three years.
Caroline Bos – Honorary Professorship, The University of Melbourne, Faculty of Architecture, Building and Planning


image © Inga Powilliet
The University of Melbourne's Senior Appointments and Promotions Committee (SAPC) recently advised in favour of the Faculty of Architecture, Building and Planning's nomination of Caroline Bos to a five year Honorary Professorial position within the faculty.
As an Honorary Professor, Caroline Bos will contribute to the teaching and research at the school through lectures, master classes and student crits. Caroline Bos will commence her Professorship with a free public lecture titled 'More not Less – Value Engineering for Architecture', as part of the MSD Dean's Lecture Series on August 7th 2012.
In her Dean's Lecture Caroline Bos will explore the architect's propensity to polarise prime, showcase spaces in favour of more humble subsidiary spaces. She will propose that architecture and urban design should cease creating such distinctions and instead consider the added value of subsidiary spaces during pivotal design stages.
UNStudio has made non-specific, transitory space into a focal point in projects of all scales. What characterises these spaces is their connectivity. This offers potential for innovation, as fixed typologies are expanded and as a result can be interpreted spatially and structurally, as well as behaviorally. Caroline Bos proposes that any identification with just one stakeholder contains a risk. UNStudio therefore adopts a 'relational' stance to the overlapping and competing interests that combine to create spaces. In particular: governmental agencies and citizen groups in the studio's design for a new public transportation hub in Arnhem, The Netherlands; and commercial and cultural objectives in the Galleria Centercity in Cheonan, South Korea, where public spaces are embedded within private ones.
As part of the MSD Dean's Lecture Series, an exhibition of recent projects by UNStudio will also be held in the Wunderlich Gallery at the University from 30th July to 10th August 2012.
Ben van Berkel – Kenzo Tange Chair extended for 3 years at Harvard University Graduate School of Design.


image © Inga Powilliet
Ben van Berkel Architect
In 2011 Ben van Berkel was awarded the Kenzo Tange Visiting Professor Chair at the Harvard University Graduate School of Design. Following the studio carried out in the Fall semester of the same year, the Kenzo Tange Chair has been extended to Ben van Berkel for a further period of three years.
17 Jul 2012
Caroline Bos Lecture at University of Melbourne, Australia



image : Inga Powilleit
University of Melbourne Architecture News
Architect Caroline Bos will reveal the value of strategically designed subsidiary spaces in her free public lecture, on Tuesday 7 August 2012 in the Carrillo Gantner Theatre, Basement, Sidney Myer Asia Centre at the University of Melbourne as part of the MSD Dean's Lecture Series.
15 May 2012
Exhibition 'Activate – Architecture for the Future', Theatre De Vest, Alkmaar, The Netherlands
2012
UNStudio's exhibition 'Activate – Architecture for the Future' at Theatre De Vest in Alkmaar (NL) investigated the challenge for today's architecture to provide an impulse to urban city centres. In the exhibition UNStudio presented a vision of the role that architecture can fulfill in the activation of public space. Themes such as colour, culture, regeneration and public intervention illustrate architecture's current potential. These four themes are used as a starting point for discussion. What is the role of colour in the urban space? Do cultural buildings promote social cohesion? How do architects respond to aging and vacant buildings? In the exhibition UNStudio projects are used to illustrate the importance of engaging architectural means to activate public space.
21 Oct 2011
Ben van Berkel joins Gehry Technologies
BEN VAN BERKEL JOINS GEHRY TECHNOLOGIES (GT), A STRATEGIC ALLIANCE DEDICATED TO TRANSFORMING THE BUILDING INDUSTRY THROUGH TECHNOLOGY
Gehry Technologies advisory board:



picture : Richard Schulman
Ben van Berkel has joined the Gehry Technologies (GT) Advisory Board. GT today announced that Co-founder and Chairman, Frank Gehry has brought together the world's most distinguished architects and designers to form a strategic alliance furthering his vision to transform the building industry and the practice of design. As part of today's announcement, this core group of renowned architects will also serve on Gehry Technologies' board of advisors.
Ben van Berkel of UNStudio:



picture : Inga Powilleit
UNStudio News 2011
Observation Tower, 'De Onlanden', Drenthe, near Groningen, The Netherlands
2011



picture : UNStudio
Observation Tower Groningen
UNStudio's design for an Observation Tower for 'De Onlanden' presented to Natuurmonumenten
On September 22nd the design for an observation tower for the nature reserve 'De Onlanden', situated to the South-West of the City of Groningen, was presented to Natuurmonumenten (the Dutch Society for the Preservation of Natural Heritage) during the mini-symposium 'Experience Nature with innovative concrete' in Peize.
Motion Matters Exhibition, Harvard University, MA, USA – 20 Jan



photo : Justin Knight
Motion Matters Exhibition
UNStudio News 2010
SUTD Building, Singapore
Ben van Berkel / UNStudio design



picture : UNStudio
SUTD Building
Architecture News 2009
I'Park City Suwon, Korea



image © www.moka-studio.com
I'Park City Suwon
I'Park City Model House, Korea



photo : Christian Richters
I'Park City Model House
Post Office Redevelopment, Rotterdam, The Netherlands
Post office Rotterdam
Raffles City Hangzhou, China
Design: UNStudio / Ben van Berkel



image : UNStudio
Raffles City Hangzhou
Grand Hyatt Tower, Frankfurt, Germany



image : UNStudio
Grand Hyatt Tower Frankfurt
RETREAT Exhibition, KunstFort Asperen, Netherlands
Curated by Ben van Berkel and Caroline Bos / UNStudio



photo courtesy of Katrien Franken
RETREAT Exhibition
MUMUTH – Haus für Musik und Musiktheater, Graz, Austria



photograph : Christian Richters
Music Theatre Graz
Dutch Building Prize – IBG and Tax Offices, Groningen, The Netherlands



image : UNStudio
Consortium DUO2 awarded 'Integrated Design & Construction' prize
Building News 2008
Star Place Kaohsiung, Taiwan
2008



picture from UN Studio
Kaohsiung Shopping Centre
Ben van Berkel's 'MYchair'
MYchair, lounge chair design by Ben van Berkel / UNStudio: MYchair is the first chair designed by Ben van Berkel / UNStudio and is described as a real architect's chair.
Städelschule collage, Germany



image : UNStudio
Frankfurt exhibition
UNStudio Buildings, chronological
Light*House Aarhus Harbour front, Denmark
2006-22
Design: UNStudio & 3XN Architects



image : UNStudio
Aarhus Harbour
Mercedes-Benz Museum, Stuttgart, Germany
2001-06
Tea House bunker, Vreeswijk, Netherlands
2004-06
Tea House bunker
Holiday Home, ICA, Philadelphia, USA
2006
Park & Rijn Towers, Arnhem Central, Arnhem, Netherlands
2000-05
Bauhaus Archive Extension, Museum of Design, Berlin, Germany
2005
Extension to the Berlin Museum of Design by Walter Gropius in 1964
Theatre Agora, Lelystad, Netherlands
2005



image from architecture practice
Theatre Agora
Congress Centre, Zaragoza, Spain
2005
Te Papa Museum, Wellington, New Zealand
2005
Offices "La Defense", Almere, Netherlands
2004



image from architects office
La Defense Almere
Hotel Castell, Zuoz, Switzerland
2004



photo from architects firm
Hotel Castell
Prins Clausbrug, Utrecht, Netherlands
2003
Prins Clausbrug
Electrical Substation, Innsbruck, Austria
2002



image from UNStudio
Austria substation building
Living Tomorrow Pavilion, Amsterdam, Netherlands
–
Moebius House, Utrecht, Netherlands
1998
Ben van Berkel & Caroline Bos
Waste Disposal Facility, Delft, Netherlands
–
Museum Het Valkhof, Nijmegen, Netherlands
1998



image from UNStudio
Museum Het Valkhof
More UN Studio projects online soon
Unrealised Project
Rolling Curves – World Business Center, Busan, Korea
2006-11



picture from architects
World Business Center Busan
UNStudio Architects Exhibition
Development of Space
Deutsches Architektur Museum, Frankfurt, Germany
2006
Erasmus Bridge, Rotterdam, Netherlands
1990-96



photo from architects
Exhibition Design Schirn Kunsthalle, Frankfurt, Germany
2005
Schirn Kunsthalle by UNStudio
Five Franklin Place, New York, USA
2008-
Ben van Berkel former practitioner : Santiago Calatrava
Location: Amsterdam, Holland
Architects Practice Further Information
Design studio based in The Netherlands
Proposed UNStudio Buildings
Battersea Weave Office Building, London, UK
2004-10
Ponte Parodi, Genoa, Italy
2001-09
Located in the harbour, reminiscent of Renzo Piano's similar harbour project
Arnhem Central, Arnhem, Netherlands
1996-2008
Arnhem Central building
Ben van Berkel former tutor : architect Zaha Hadid
Website: www.unstudio.com
Architectural Designs
Buildings / photos for the UNStudio Architects page welcome