Dutch Tea House, Vreeland Holland, Dutch Project, Photo, UNStudio Architects
Tea House Vreeland, Holland
Contemporary Building Development in The Netherlands design by UNStudio
2007
Tea House Holland
Date: 2004-06
Architect: UNStudio
Tea House Vreeland
The two bunkers are additions made in 1936 to the nineteenth century New Dutch Water line of defence; an 85km long protective garland of military objects combined with an intricate water management system that enabled the inundation of land in case of attack. Thus, the bunkers are part of an extensive historic structure, situated in a classic, Dutch polder landscape.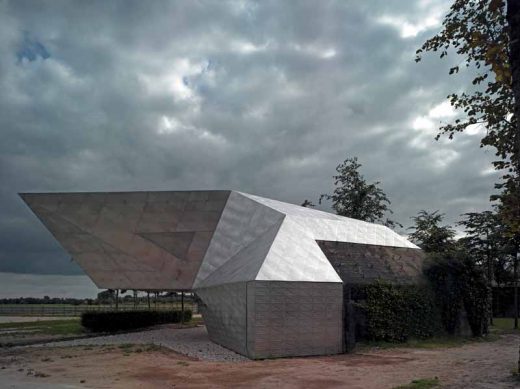 photo courtesy of architects office
For a number a years they have formed part of an estate that is slowly being developed as a mixture of high-end business and sporting functions. Stables and polo fields form the core of the estate, but there are also some offices.
The structure on top of the first bunker, a second one might be realized at a later stage, is intended as a business retreat. It consists of a single, large room with some elementary facilities. The seamless, stainless steel façade is orientated towards the polo field with its single window. A glass skylight enforces the smooth, car-like manifestation of the structure.
Vreeland Tea House building: text authorised by UNStudio Architects 270407
Tea House on bunker
Vreeland, the Netherlands
Project information
Multi functional room
Location: Vreeswijk, Netherlands
Contribution: UNStudio
Competition design and aesthetical guidance during execution phase
Program
Meeting space / business retreat
Scale
Gross floor surface: 80 m²
Volume: 136 m3
Building site: 54 m²
The project involves the reprogramming of a historical and derelict building through renovation and addition. The original bunker is part of an intricate water management system that enabled the inundation of land in case of attack situated in a classic, Dutch polder landscape.
Stables and polo fields now surround the building and the new addition is intended as a large space with facilities to support a meeting space or business retreat. The existing 1936 bunker remains intact except of a portion of the concrete roof where the new structure connects whilst the new addition is like an umbrella, an addition that could be removed and does not damage or permanently influence the historic structure.
The metallic addition appears to have grown out of the still visible concrete facades of the bunker, cantilevering out towards the sports fields with its large single window. In fact the space is designed with steel structures within its two main walls which act as one story high beams.
These beams are balanced off center on two columns that land directly in front of the existing bunker. Stability is achieved by using the massive concrete shell of the bunker as a counterweight, offsetting the forces of the cantilevering extension by connecting it with the two beams.
The bunker houses all the new installations and public circulation restricted to the new addition. Entrance into the building is accessed between the existing bunker's outer façade, which remains uncovered, and the new façade cladding of the addition.
Tea House on bunker
Vreeland, the Netherlands
2004-06
Gross floor surface: 80 m²
Volume: 450 m3
Building site: 54 m²
Credits : teahouse on bunker – English
Client: Cor van Zadelhoff
Design: UNStudio, Amsterdam
Ben van Berkel, Gerard Loozekoot met René Wysk, Job Mouwen en Marcel Buis, Thomas de Vries, Holger Hoffmann, Eric den Eerzamen, Joakim Kaminsky, Peter Irmscher, Daniel Kalani, Anika Voigt, Eric Coppolse, Stephan Albrecht
Project management: Rietmeyer, Almere
Ronald Cos, Geert Wilmink
Constructural engineer: ABT, Velp
Rob Nijsse
Construction: ABT, Velp
Rob Nijsse, Stephan Toonen
Installation: ABT, Velp
Onno Janse
Construction physics: ABT, Velp
Mark van Veghel
Lighting outside: Arup lighting, Amsterdam
Rogeier van der Heide, Marion Tränkle
Execution:
Facade: Sorba, Winterswijk
Glass: Metaglas, Tiel
Door: Hallington, Vianen
Interior construction phase: van Schaik, Breukelen
Interior finishing phase: Benschop, Zoetermeer
Floor: van Zoelen, Badhoevedorp
E-installations: Bart Lodder, Breukelen
W-installations: Engeltherm, Montfoort
S-installations: Smit installatietechniek, Utrecht
Design UN Studio:
Ben van Berkel, Gerard Loozekoot with René Wysk, Marcel Buis and Thomas de Vries, Job Mouwen, Holger Hoffmann, Eric den Eerzamen, Joakim Kaminsky, Peter Irmscher, Daniel Kalani, Anika Voigt, Eric Coppolse, Stephan Albrecht
Credits : teahouse on bunker – Dutch
Project information
Vloeroppervlakte: 80 m²
Oppervlakte bouwlokatie: 54 m²
Volume: 450 m³
Opdrachtgever: Cor van Zadelhoff
Ontwerp: UNStudio, Amsterdam
Ben van Berkel, Gerard Loozekoot met René Wysk, Job Mouwen en Marcel Buis, Thomas de Vries, Holger Hoffmann, Eric den Eerzamen, Joakim Kaminsky, Peter Irmscher, Daniel Kalani, Anika Voigt, Eric Coppolse, Stephan Albrecht
Projectleiding: Rietmeyer, Almere
Ronald Cos, Geert Wilmink
Constructeur: ABT, Velp
Rob Nijsse
Constructie: ABT, Velp
Rob Nijsse, Stephan Toonen
Installaties: ABT, Velp
Onno Janse
Bouwfysica: ABT, Velp
Mark van Veghel
Buitenverlichting: Arup lighting, Amsterdam
Rogeier van der Heide, Marion Tränkle
Uitvoering:
Gevel: Sorba, Winterswijk
Glas: Metaglas, Tiel
Schuifdeur: Hallington, Vianen
Interieur ruwbouw: van Schaik, Breukelen
Interieur afbouw: Benschop, Zoetermeer
Vloer: van Zoelen, Badhoevedorp
E-installaties: Bart Lodder, Breukelen
W-installaties: Engeltherm, Montfoort
S-installaties: Smit installatietechniek, Utrecht
Location: Vreeland, Netherlands
Architecture in The Netherlands
Contemporary Dutch Architecture
Netherlands Architecture Designs – chronological list
Dutch Architect – design firm listings
Borneo Sporenburg : Houses
Design: various architects incl. MVRDV
Borneo Houses
Theatre Agora, Lelystad, Flevoland
Design: UNStudio
Theatre Agora
Tea House Buildings
Riverside TeahouseMin River, Sichuan, southern China
Architects: Lin Kaixin DesignDesign: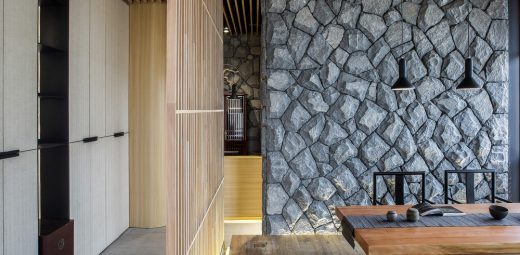 photo : Wu Yongchang
Chinese Riverside Teahouse
Bamboo Courtyard Teahouse, Yangzhou, eastern China
Design: Harmony World Consulting & Design (HWCD)
Bamboo Courtyard Teahouse
Tea House in Hutong, East District, Beijing, northern China
Design: ARCHSTUDIODesign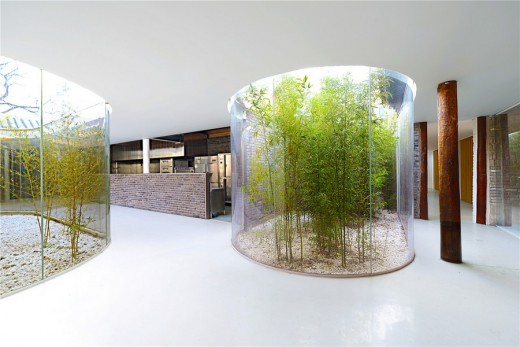 photo from architects
Chinese Tea House in Hutong
Tea House, Shanghai, Jungong Road, Yangpu District, Shanghai, eastern China
Design: Archi-Union Architects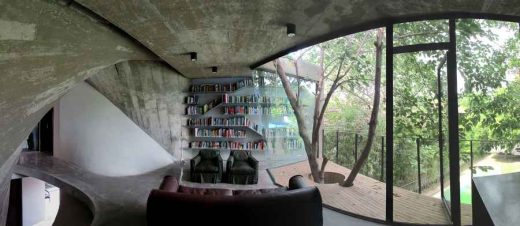 photograph : Zhonghai Shen
Tea House Shanghai
Boa Nova Tea House, Portugal
Design: Álvaro Siza Vieira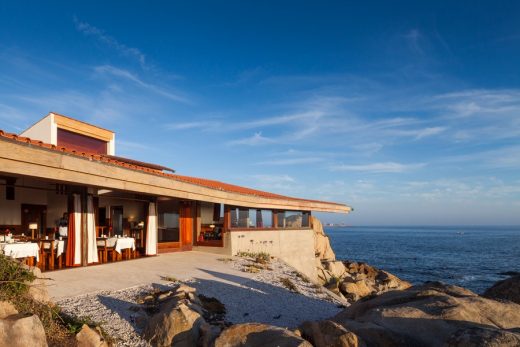 photograph : Joao Morgado
Boa Nova Tea House
Tea Houses California, Silicon Valley, California, USA
Design: Swatt | Miers Architects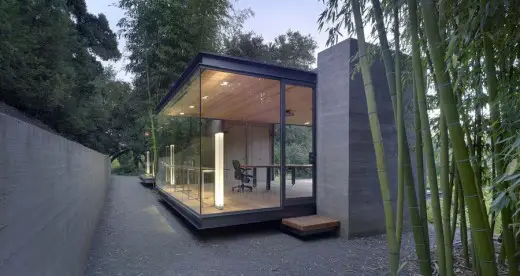 photograph : Tim Griffith
Tea Houses California
El té – Brazilian Tea House, Porto Alegre, Brazil
Design: Gustavo Sbardelotto & Mariana Bogarin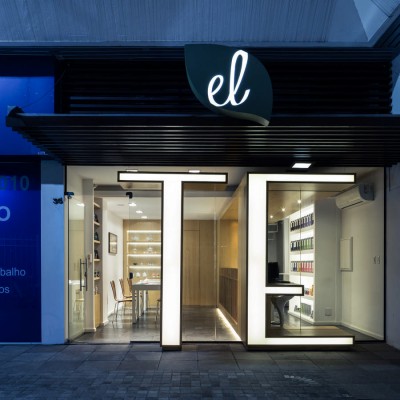 photo : Marcelo Donadussi
El té Tea House
Comments / photos for the Dutch Tea House Building page welcome