UNStudio Architects News, Netherlands Architecture Office, Dutch Building Designs, Holland Projects Pictures
UNStudio Architects News
30 June 2022
UNStudio expands its leadership team and local presence across the globe
UNStudio is strengthening its presence around the globe with new leadership appointments across its offices. Alongside new appointments in our Amsterdam HQ, UNStudio's satellite offices are now expanding with a series of appointments and promotions to reinforce our strategy of further international development.
UNStudio Architects Leadership Team
These new appointments reflect the strategic importance of UNStudio's relationship with its clients and its ambition to contribute to the improvement of the quality of urban life around the world. Having a local presence on the ground will enable us to cut down on international travel and help our clients to deliver healthy, sustainable and innovative projects all around the world.
"We are pleased to welcome these highly valued members of our professional family to the Board of Directors and to strengthen our international strategy," said Ben van Berkel, Founder and Principal Architect at UNStudio. "Their expertise, leadership and rich backgrounds give me great confidence that we will continue our mission to support clients and partners in creating spaces and built environments of high social, ecological and economic value around the world."
video:

UNStudio is Growing! from UNStudio on Vimeo.
Joining the UNStudio Board of Directors in Amsterdam
Dana Behrman
Dana is an Associate Director / Senior Urban Designer who leads her team in their mission to create beautiful, intelligent, sustainable cities all over the world.
Filippo Lodi
Filippo is the Associate Director / Senior Architect who heads up UNSx, our experience design team. Filippo guides his team in the creation of environments, products, strategies and services that support and enhance the experience of people and the planet.
Aurélie Hsiao
Aurélie is the Associate Director / Senior Architect responsible for the development of UNStudio's projects and activities in the French market, an important appointment for the evolution of the practice in France.
Kristoph Nowak
Kristoph is an Associate Director / Senior Architect with a keen focus on collaboration within our projects.
Marc Salemink
Marc is an Associate Director / Senior Architect who specialises in high-rise and mixed-use projects, with a focus on South Korea and Southeast Asia.
Inge Schipper
Inge is our Head of Human Resources and helps everybody at UNStudio with their professional development.
New to the UNStudio Board
Matthieu Bletgen
Matthieu is our Chief Financial Officer and is responsible for leading UNStudio financially in its growth and ambitions.
Video:

Meet the People Helping UNStudio Grow Internationally! from UNStudio on Vimeo.
UNStudio International
Our full-service glocal design offices enable us to have closer contact with our clients regionally, and combine international and local knowledge together to better serve our global projects. In addition to our Shanghai and Hong Kong offices, we, in recent years, have opened a number of new local international offices, each of which is at a different stage of growth and development. With this growth, we are drastically cutting our need for international travel and are improving communication with native speakers and the elimination of time difference.
Joining our Board of Directors in Shanghai:
Nora Louisa Schüler
Nora, as Associate Director of Business Development Asia, leads the expansion of UNStudio's network in the diverse and dynamic markets of Asia. Through the acquiring of new exciting projects, she strives to continue the growth of the offices and expand the list of exceptional UNStudio designs in Asia.
Feely Pan
Feely is our Director of Operations based in Shanghai. She organises and oversees the daily operations of Asian offices. Alongside building and leading several departments, Feely is focus on cultivating an efficient and collaborative office culture to facilitate long-term growth and success.
Heading up UNStudio's other international offices
Arjan Pit
Arjan is UNStudio's Managing Director for the Middle East and Africa and runs our Dubai office, where he is currently nurturing and growing his team of architects and designers for projects in the region.
Clarissa Alfrink
Clarissa has rejoined UNStudio after 10 years working in the real estate sector and is now our new Managing Director Germany. As such, Clarissa is responsible for growing the business in Germany and the other German speaking countries in Europe.
Carleigh Shannon Carleigh, our Associate Director of Strategic Development recently relocated to Los Angeles to build our U.S. office. Together with her talented team and clients, Carleigh has a mission to build more equitable, vibrant and technology-driven destinations in North America and beyond.
Sander Versluis Sander, Associate Director Australia, heads up our Melbourne office and with his growing team intends to add more projects to our Australian portfolio.
Contact and address information for all the UNStudio offices
Previously on e-architect:
UNStudio Building Designs
UNStudio News
Shanghai Jiuguang Center, North Shanghai, People's Republic of China
Interior: UNStudio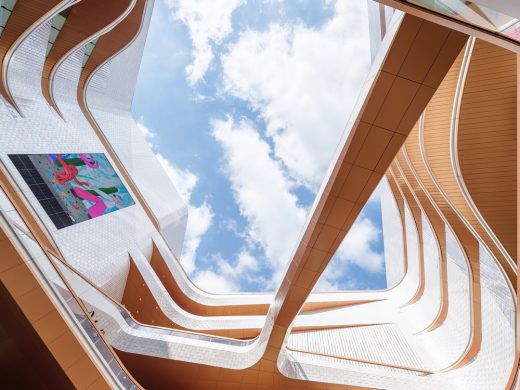 photo © Aaron&Rex
Jiuguang Shopping Center North Shanghai
Southbank by Beulah, Melbourne, Victoria, Australia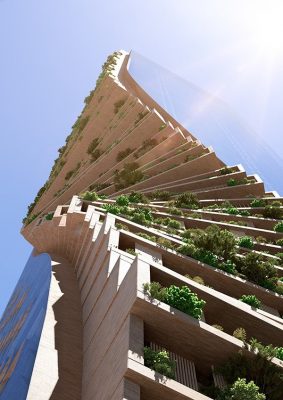 image : Norm Li, courtesy of UNStudio
Southbank by Beulah Melbourne design
Doha Metro Network, Doha, Qatar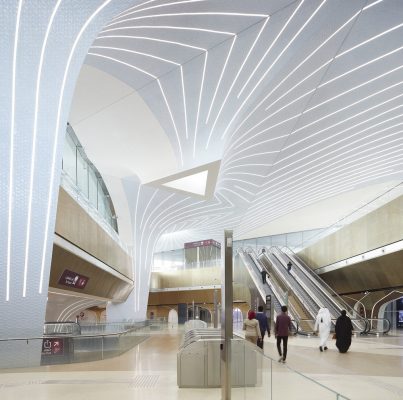 Interior Msheireb (interchange) Station. photo © Hufton+Crow
Doha Metro Network
UNStudio and UNSense to collaborate with IE School of Architecture and Design as they launch the world's first MBArch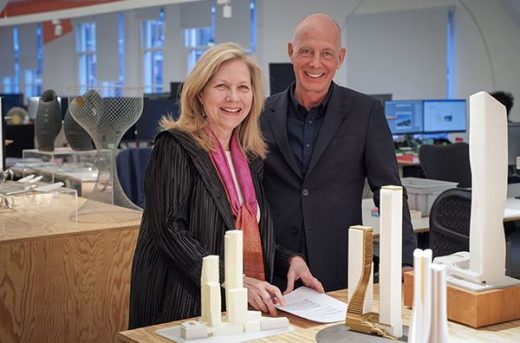 photograph courtesy of UNStudio
Master in Business for Architecture and Design
Smart and green mobility to futureproof cities
The world's cities are facing an urgent set of challenges when it comes to ensuring a fundamental necessity of urban living: getting around:
UNStudio Sustainable Mobility Report
Business School for the Creative Industries, Epsom, Surrey, southeast England, UK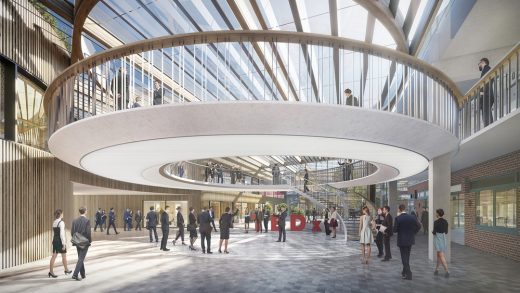 visualisation : FlyingArchitecture
Business School – UCA – University for the Creative Arts
The Lyric Theatre Complex, West Kowloon, China
Architects: UNStudio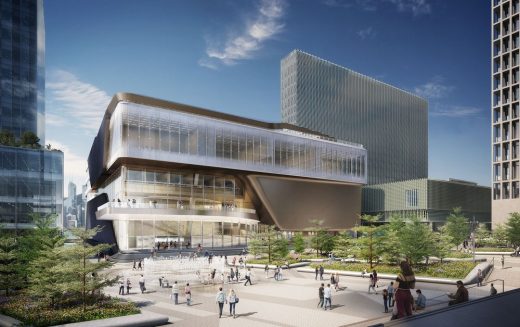 renderings by DBOX ; Masterplan image: © WKCDA
The Lyric Theatre Complex in West Kowloon
Raffles City Hangzhou Building, China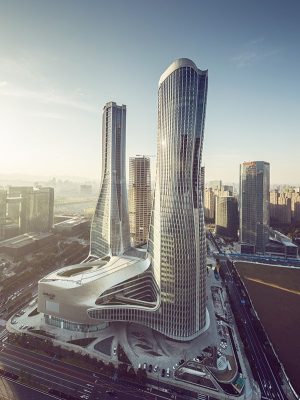 photos: © Hufton+Crow, © Seth Powers, © Jin Xing
Raffles City Hangzhou Building
More buildings by UNStudio online soon
Location: Amsterdam, Holland, western Europe
Dutch Design Practices
Dutch Architects
Ben van Berkel former tutor : architect Zaha Hadid
Buildings / photos for the UNStudio Architects News page welcome
Website: www.unstudio.com