Ben van Berkel Architect, UNStudio designer, Netherlands architecture projects news, NL images
Ben van Berkel : Architect
Dutch Architecture Practice, Europe – based in Amsterdam, Holland, NL
Ben van Berkel Architect
5 Aug 2019
Ben van Berkel is Named as a Speaker at World Architecture Festival 2019 in Amsterdam
World Architecture Festival 2019 Speakers
11 Feb 2013
Ben van Berkel elected as an Honorary Fellow of the American Institute of Architects
The AIA Jury of Honorary Fellows announced on Friday that Ben van Berkel has been elected as an Honorary Fellow of the American Institute of Architects.
The AIA Honorary Fellowship programme was developed as the international counterpart to the Fellowship programme. Honorary fellowship is bestowed on architects of esteemed character and distinguished achievements who are neither U.S. citizens nor U.S. residents, and who do not primarily practice architecture within the domain of the Institute.
Ben van Berkel of UNStudio: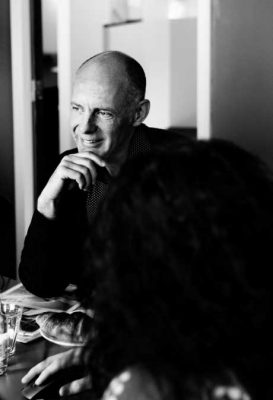 picture : Inga Powilleit
Election to honorary fellowship not only recognises the achievements of the foreign architect as an individual, but also elevates before the international public and the profession a model architect who has made a significant contribution to architecture and society on an international level. The Honorary Fellowship is among the highest honours the AIA can bestow upon a colleague who has contributed significantly to architecture and society.
Ben van Berkel will receive the Honorary Fellowship and medal during the Investiture of Fellows and Honorary Fellows to be held on Friday, June 21, 2013 in Denver.
He was recently awarded the Kenzo Tange Visiting Professor's Chair at Harvard University Graduate School of Design where he is currently carrying out a series of studios for a period of three years. With UNStudio he has completed a number of projects in the U.S., such as the New Amsterdam Plein & Pavilion in Battery Park (NY), the Collector's Loft (NY) and the VilLA NM (Upstate NY). Ben van Berkel / UNStudio also received 2nd Prize in the competition for the New Business School for Colombia University and were selected as finalists in the LA Union Station vision competition last year.
Ben van Berkel of UNStudio:



picture : Inga Powilleit
UPCOMING LECTURES BEN VAN BERKEL IN LOS ANGELES
20/02/2013 – 'Architecture and its Future', SCI-Arc, W.M. Keck Lecture Hall, Los Angeles, 19:00.
Intro by Eric Owen Moss
On Feb 20th 2013, Ben van Berkel will present the lecture 'Architecture and its Future' at SCI-Arc in Los Angeles.
Van Berkel will discuss how the architect today needs to embrace the rational and scientific side of the profession in order to create affordable and responsible architecture. Van Berkel believes that in the future the profession will become increasingly oriented towards knowledge and expertise – not simply through transforming knowledge into new design techniques, but through the cross-combination of information and knowledge so that architecture and design will be replaced by what he refers to as 'trained judgement'.
21/02/2013 – Presentation and discussion with Silvia Lavin, Architecture & Design Museum, Los Angeles
On Feb 21st 2013 Ben van Berkel will give a presentation titled 'Motion Matters' at the Architecture & Design Museum in Los Angeles. The lecture will be followed by a discussion between Ben van Berkel and Silvia Lavin, a leading figure in contemporary architectural history, theory, and criticism.
Photo: © Inga Powilliet
UN Studio : main page with current news + designs
UNStudio – Latest Studio News
Ben van Berkel and Caroline Bos (UNStudio) awarded Professorships at two leading international Universities
13 Aug 2012 – Caroline Bos awarded Honorary Professorship at University of Melbourne's Faculty of Architecture, Building and Planning and Ben van Berkel's Kenzo Tange Chair at Harvard University Graduate School of Design extended for three years.
Ben van Berkel – Kenzo Tange Chair extended for 3 years at Harvard University Graduate School of Design.


image © Inga Powilliet
In 2011 Ben was awarded the Kenzo Tange Visiting Professor Chair at the Harvard University Graduate School of Design. Following the studio carried out in the Fall semester of the same year, the Kenzo Tange Chair has been extended to van Berkel for a further period of three years.
Broadening the scope of the initial studio, which addressed the question of knowledge spaces, and how such spaces facilitate the generation and dissemination of information, the upcoming studio, 'Unfinished Work', will investigate the relationship between architecture and emerging modes of production. The studio and research agenda will explore how changing ideas about work alter the demands and performance of space. New methods of production which are reshaping the work environment will be used for case studies into how these models alter the ways in which people work, communicate and problem solve.
Tandem research will explore the impact of emerged and emerging work models and their concentration in 'knowledge cities'. The end product will be the visual representation of the production process as it applies to a singular building programme, and the design of a working environment that encompasses the principles, values and attributes of the new method studied.
Research and student work will culminate in a book about how architecture can facilitate and respond to emerging ideas about work in this inventive economy.
Kenzo Tange Chair
Since spring 1984, twenty-nine internationally recognised architects and urbanists have been appointed to the Kenzo Tange Visiting Professorship Chair at Harvard University. In these twenty-seven years recipients have included Alvaro Siza, Enric Miralles, Peter Zumthor, Zaha Hadid and Kazuyo Sejima. In addition, several current faculty members, including Rafael Moneo, Farshid Moussavi, and Jacques Herzog & Pierre de Meuron were also recipients of the Chair.
21 Oct 2011
Ben van Berkel joins Gehry Technologies News
Ben van Berkel joins Gehry Technologies
BEN VAN BERKEL JOINS GEHRY TECHNOLOGIES (GT), A STRATEGIC ALLIANCE DEDICATED TO TRANSFORMING THE BUILDING INDUSTRY THROUGH TECHNOLOGY
Gehry Technologies advisory board:



picture : Richard Schulman
Ben van Berkel has joined the Gehry Technologies (GT) Advisory Board. GT today announced that Co-founder and Chairman, Frank Gehry has brought together the world's most distinguished architects and designers to form a strategic alliance furthering his vision to transform the building industry and the practice of design. As part of today's announcement, this core group of renowned architects will also serve on Gehry Technologies' board of advisors.
Technologies' advisory board meets at the Marketing Center at 7 World Trade Center, New York to discuss design and technology relationship for AEC market.
Gehry Technologies advisory board:



picture : Richard Schulman
"The building industry has been slowly but steadily moving toward minimizing individual responsibility and away from producing architecture that solves clients' and communities' problems," offered Frank Gehry. "I am dedicated to giving architects better control of process so that they can deliver the fruits of their imagination, which is what our clients expect. I have gathered a group of my friends together who believe in this mission as much as I do and who can help me find the solutions that will ultimately lead to better buildings throughout the world."
Alliance objectives
The alliance intends to enable new approaches to design through technology, to create more effective industry processes and a higher quality built environment. By applying and innovating new technology solutions to old problems such as waste, delay, and miscommunication, this new alliance will lead the process change that the AEC industry needs to confront future challenges. The group represents a new type of professional organization for the 21st century, one which embraces the possibility of technology to empower design. The alliance will work together to drive technology innovations that support the central role of design in the creation of culture.
This group will work collectively with GT to realize and demonstrate better ways of achieving project outcomes: higher quality, more efficient, and cost effective projects. Most importantly, the alliance wants to ensure a context for professional work where the best designs and the best facilities can be realized.
Initial Alliance and Board members include:
Ben van Berkel, David Childs, Massimo Colomban, Frank Gehry, Zaha Hadid, Greg Lynn, Laurie Olin, Wolf Prix, David Rockwell, Moshe Safdie, Matthias Schuler, Patrik Schumacher and Richard Saul Wurman
"We are honored to add such legendary expertise and industry thought leadership to the GT advisory team," said Dayne Myers. "Their combined experience, ideas and insights will be instrumental in shaping our offerings to the market. This kind of resource is truly invaluable toward shaping our growth and leadership moving forward."
The advisors will come together today for their inaugural meeting, which will take place at the Marketing Center at 7 World Trade Center in New York. Discussion topics will include: demonstrations of new GT technologies and initiatives; the future of design; and the role of technology in design.
The board of advisors will continue to meet virtually on a monthly basis, with an annual in-person session.
UNStudio Research
Research at UNStudio
Participating in the GT advisory board will further enable UNStudio's Smart Parameters Platform (one of four in-house research platforms) to truly develop new design tools for challenges encountered in current projects. The merging of practice, research and software innovation enables the Smart Parameters Platform to greatly improve the efficiency of design process through the integration of computational tools and processes into UNStudio's design approach.
Ben van Berkel's 'MYchair'
MYchair, lounge chair design by Ben van Berkel / UNStudio: MYchair is the first chair designed by Ben van Berkel / UNStudio and is described as a real architect's chair.
Location: Amsterdam, Holland, Netherlands
Ben van Berkel, Amsterdam – Further Information
Architect based in The Netherlands
He once worked for engineer-architect Santiago Calatrava.
Ben van Berkel former tutor : architect Zaha Hadid
Architecture
Buildings / photos for the Ben van Berkel Architect / UNStudio page welcome