MVRDV Architects News Archive, Netherlands Buildings, Dutch Architectural Designs
MVRDV Buildings: Dutch Architecture Office
MVRDV Buildings News
MVRDV architects – current page with latest news
MVRDV Architects News Archive from 2010 to 2013
27 Nov 2013
Book Mountain: Biography of a Building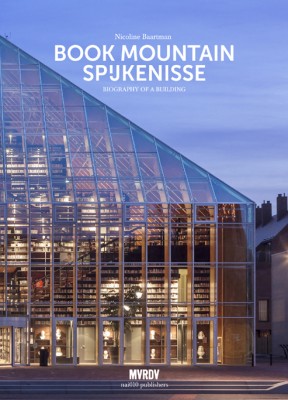 Book Mountain Spijkenisse
On November 27th, the publication Book Mountain Spijkenisse – Biography of a Building will be presented. It is the second part in a new experimental series of books by MVRDV outlining in a sizeable text the complexities of realising a building. Written in an accessible style by independent author Nicoline Baartman, the story follows the building, its context and the various protagonists: from the nimbi's to the new-town whisperer, the good moments and the many difficulties. The book is available in Dutch and English in selected (online) book stores.
13 Nov 2013
The Couch, Tennisclub IJburg, Amsterdam, The Netherlands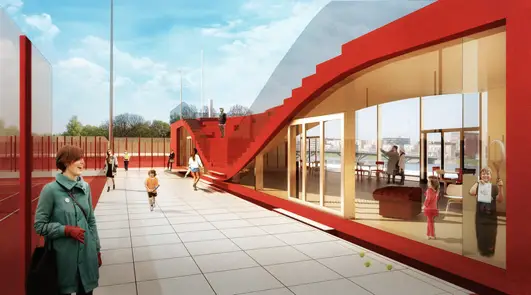 image by architects
The Couch, Tennisclub IJburg
The Couch is a new club house for a young tennis club. Inside the building, the concrete construction is clad with fsc-certified wood, with the outside fully sealed with an epdm polymer hotspray in the same colour and texture as the clay tennis courts.
12 Jul 2013
Urban Hybrid Emmen, near to Lucerne – architecture competition news



image from architects
Urban Hybrid Emmen
The city of Emmen has announced that investment corporation Senn BPM AG together with MVRDV are the winners of the Feldbreite competition for a housing block with 95 homes of 16 different types. The urban hybrid development combines characteristics of city dwelling – central location, privacy, underground parking – with the characteristics of suburban life: gardens, multilevel living and a neighbourhood community. Construction is envisioned to start in 2015.
12 Jun 2013
Gangnam Style – Chungha Building, Seoul, South Korea
Design: MVRDV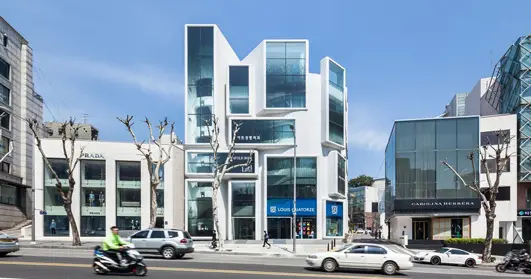 photo : ShinkyoungSub
Gangnam Style Seoul
Just before a Korean pop-song became a global success on YouTube for the first time in history, and Gangnam became world famous as the nouveau riche hangout of the South-Korean capital Seoul, MVRDV was commissioned to redefine a building on Gangnam's chic Apgujung Road. Even though the Chungha building was completed in the 1980s it was already outdated in a street dominated by flagship stores.
7 May 2013
Madla Revheim Masterplan, Stavenger, Norway
Design: MVRDV + Space Group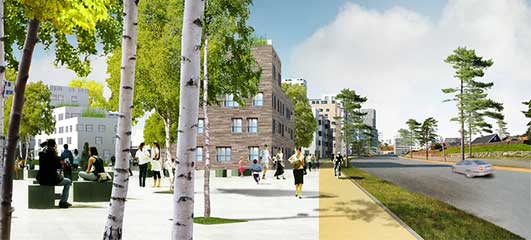 image from architects
Madla Revheim Masterplan
Alongside three other teams, MVRDV and Space Group presented their proposal for a new masterplan for Madla-Revheim outside Stavanger, Norway this week. Madla-Revheim is the main development area outside Stavanger, for which MVRDV and Space Group were to implement 4000 housing units on the 780 acres site area, in addition to public programs and sports facilities.
2 May 2013
Presqu'ile de Caen Redevelopment, north west France – exclusive to e-architect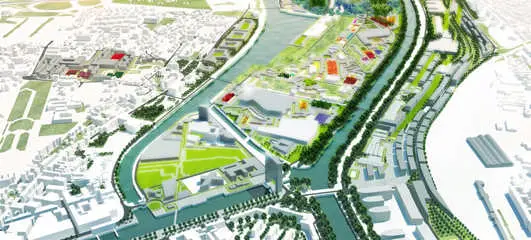 image from architects
Caen Masterplan
La Grande Mosaique, MVRDV selected to transform 600ha former industry in Caen, Normandy. SPLA, the public development agency for the transformation of the Presqu'ile de Caen, has chosen MVRDV out of 3 competitors to transform the 600ha area consisting of former industry and ports. The MVRDV plan envisions the future of Caen Presqu'ile as a collection of gardens surrounded by intensified urban area. It envisions Caen as attractive city with a connection to the sea whilst interventions improve landscape, environment, mobility and connections. The project is planned to last ten years or longer.
25 Apr 2013
Hongqiao Airport Central Business District, Shanghai, China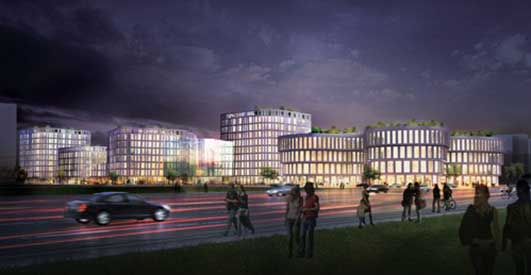 image from architect
Hongqiao Airport Central Business District
Sincere Property, MVRDV and Aedas have started construction on a Central Business District at Shanghai's mostly domestic airport Hongqiao. The 4.5ha site is located near Hongqiao Airport train station at the corner of Shenhai Express Way and Shenbin Road. The plan comprises ten office towers, an underground shopping centre, cultural program, parking and a sunken plaza which will bring a more intimate form of urban life into an area currently dominated by large boulevards and urban expressway's. The project's completion is planned for 2015.
28 Mar 2013 + 4 Oct 2012
Book Mountain – Spijkenisse Public Library, Rotterdam, The Netherlands



picture : Jeroen Musch
MVRDV Book Mountain
An advertisement for reading : MVRDV completes Book Mountain and Library Quarter Spijkenisse. Today Spijkenisse Book Mountain and the adjacent residential neighbourhood will be opened by Prinses Laurentien of the Netherlands. Manifesting itself clearly as a mountain of books on the town's market square, it is both an advertisement and an invitation for reading.
21 Mar 2013
The Beam, Villeneuve d'Ascq, north east France



picture © MVRDV
Villeneuve d'Ascq Masterplan
MVRDV win Competition with 'The Beam', Marking the Urban Renewal of Villeneuve d'Ascq, France. Development corporation ADIM Nord with MVRDV and de Alzua+ have been announced the winners of an urban renewal competition in the French town of Villeneuve d'Ascq, beating four other entries. The masterplan for a crucial site in the town centre adjacent to an inner city motorway, is the starting point of a wider regeneration of the area's public space. An iconic building, The Beam, will hover over the motorway signalling urban renewal and acting as visual reference point for the town's centre.
17 Jan 2013
MVRDV Glass Farm, Schijndel, Netherlands



picture © MVRDV
MVRDV Glass Farm
In 1944 the small Brabant town of Schijndel which is the birthplace of Winy Maas suffered from Operation Market Garden bombings resulting in an oversized market square. In 1980 the then 20 year old Winy Maas urged the mayor to fill in the gap.
13 Dec 2012
DNB Bank Headquarters, Oslo, Norway – completion news



photo : Jiri Havran
DNB Bank Headquarters Oslo
The MVRDV designed main building has 17 unique floors and a surface of 36,500m2. The pixelated volume based on small-scale working units adapts to the various influences of the urban context, combining an efficient and flexible internal organisation with a variety of specific communal spaces such as the main entrance lobby, a transparent trading floor, a sheltered public passage, respect for urban view lines and collective terraces overlooking the fjord to the south.
11 Dec 2012
MVRDV Teletech Campus Dijon wins ARSEG 2012 Award



photo : Philippe Ruault
Teletech Campus Dijon
French Institution Arseg (Association des directeurs de l'environnement de travail) devoted to excellent working conditions has chosen the transformed former Mustard Laboratory Teletech Campus in Dijon for the annual Award in the category "Working Environment : Execution and Completion of a Real Estate Project". MVRDV is extremely proud that a project exemplary for smart reuse has been chosen.
19 Nov 2012
Peruri 88, Jakarta, Indonesia, Southeast Asia
Design: MVRDV / Jerde / Arup



image from architects
Peruri 88 Indonesia
An international design team made up of MVRDV (overall design), The Jerde Partnership (commercial podium) and ARUP, together with developer Wijaya Karya – Benhil Property, have collaborated to create Peruri 88 – a new landmark icon for Jakarta. Peruri 88 will be a vertical city in one building combining Jakarta´s need for more green spaces with the need for densification. The tower is a 400m tall mixed-use project.
Recent MVRDV Buildings + Designs
6 Jul 2012
Almere Floriade 2022, The Netherlands
Design: MVRDV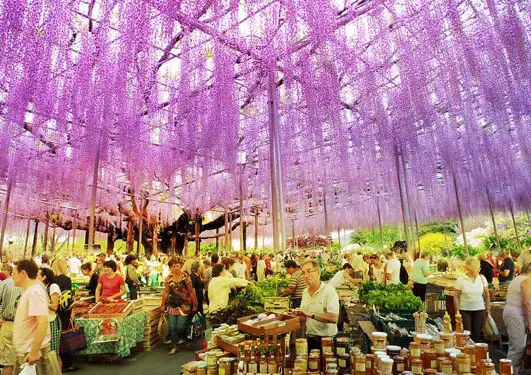 picture © MVRDV
Almere Floriade 2022
The City of Almere is one of the four Dutch cities left in the race for the prestigious horticultural Expo which takes place once every ten years in the Netherlands and is currently open in Venlo. The MVRDV plan for Almere is not a temporary expo site but a lasting green Cité Idéale as a green extension of the existing city centre.
18 Jun 2012
Baltyk Tower, Poznań, Poland, eastern Europe



picture © MVRDV
Baltyk Tower
Investment corporation Sophia Sp. z.o.o and MVRDV present the Baltyk Tower, to be realised in the Polish city of Poznań. The office tower with a total surface of 25.000 m² will be located at Rondo Kaponiera at the Eastern entrance to the historic city and will feature retail and a panorama restaurant with a proposed one room hotel. Completion is scheduled for 2014.
11 May 2012
MVRDV Exhibition
MVRDV exhibition '20' opens in Hamburg, Germany
Today a small retrospective exhibition of MVRDV opened at byUSM in Hamburg. The exhibition is the prize given for being elected "A&W-Architect of the Year" by the readers and online users of Germany's reputed magazine Architektur&Wohnen.


picture © MVRDV


picture © MVRDV
Winy Maas, Jacob van Rijs and Nathalie de Vries yesterday accepted the award and opened the exhibition. It is an overview of 20 years of the work of MVRDV in quotes, models, images, books and films. A small installation features a variety of models that have not been exhibited before. The show is open until June 11th and part of the Hamburger Architektur Sommer, it is planned to travel.
18 Apr 2012
Architect of the Year Award
MVRDV receives A&W architect of the year award, Netherlands
Also, e-architect exclusively report that a retrospective exhibition is coming soon: it will show a timeline and models of 20 years of MVRDV. The award was rewarded by the readers of the magazine in a vote. The practice beat Snohetta and David Chipperfield Architects.
Winy Maas, Jacob van Rijs, Nathalie de Vries – MVRDV:



picture © MVRDV
MVRDV has been voted architect of the year by the readers of German architecture and interior magazine A&W (Architektur & Wohnen). The readers appreciated the fact that "MVRDV has realised recognizable concepts and spectacular buildings." The award will be handed over on May 11 in Hamburg after a laudation by Kristin Feireiss.
On May 11 a small retrospective exhibition titled "What's Next?" opens as part of the Hamburg Architecture Summer at byUSM, Plan 6, Hamburg. The exhibition will be a time line of the office history and a city of models; most have never been exhibited before.
The Barcode House near Munich is one of the 3 realised MVRDV projects in Germany:



picture © MVRDV
Landscape architect Anouk Vogel receives the USM-Mentoring award for Architecture by A&W". MVRDV has nominated Anouk Vogel who has realised a few highly inspiring poetic designs such as Cacticity.
Anouk Vogel receives USM Mentor Award:



picture © MVRDV
Cacticity by Anouk Vogel:



picture © MVRDV
Recent MVRDV Designs
4 Jan 2012
Mirador Sanchinarro, Madrid, Spain
Architects: MVRDV / Blanca Lleó Associates



photo : Rob't Hart
Mirador Sanchinarro
Sanchinarro is a residential suburb on the north east edge of Madrid. Surrounded by highways, with views towards the Guadarrama Mountains. The building was developed as a reference point for the city extension and region at large, as a counterpoint against the massive uniformity of the surrounding blocks. The 22 level building acts as a frame for the distant landscape.
12 Dec 2011
Bastide Niel, Bordeaux, France



picture © MVRDV
Bastide Niel
Master plan for Bastide Niel, a 35ha extension of Bordeaux' city centre onto the right bank of Garonne River. The dense urban master plan will offer 3200 homes, offices and urban amenities, respect the existing fabric of the city and become one of the largest zero energy neighbourhoods in the world. The project Bastide Niel, with an envisioned urban program of up to 375.000m2 is regarded the most significant contemporary urban intervention in Bordeaux.
8 Dec 2011
Twin Towers – The Cloud at Yongsan Dreamhub, Seoul, South Korea



image © MVRDV
Yongsan Masterplan Seoul
20 May 2011
Alphabet Building, Amsterdam, The Netherlands



picture © MVRDV
Alphabet Building by MVRDV
Amsterdam based project development corporation NIC started sale of the MVRDV designed Alphabet building. In Amsterdam small and mid-size creative companies have trouble finding suitable office space. The Alphabet building communicates through a clear exterior design which reveals on the East façade the house number and at the main façade its extension for each company, a letter of the alphabet.
Building News 2010/11
Buildings / Designs, chronological:
China Comic and Animation Museum, Hangzhou, China



image © MVRDV
China Comic and Animation Museum
Future Towers, Pune, India



picture © MVRDV
Future Towers
Pushed Slab, Paris, France



image from architectural firm
Pushed Slab
Building News 2009
China Hills – Exhibition, Beijing Centre for the Arts, China



image from MVRDV, architects
China Hills Exhibition
Rotterdam Market Hall, The Netherlands



image from architects
Rotterdam Market Hall
The Why Factory, Delft, The Netherlands



photo © TU Delft
Why Factory Delft
Shenzhen 4 in 1 Towers, China



image from MVRDV, architects
Shenzhen Skyscrapers
Balancing Barn, Suffolk, England, UK



image from architects
Balancing Barn Suffolk
Key Older MVRDV Buildings
Gwanggyo City Centre Competition, near Seoul, Korea



image from architects practice
Gwanggyo Competition
Celosia housing, Madrid, Spain



photo from architects studio
Celosia housing
Gemini Space – Frøsilos, Havnestad, Copenhagen, Denmark
with Jørgensen & Wolhfeldts



picture © Adrian Welch
Gemini Residence MVRDV : pair of former seed silos
WoZoCo housing, Amsterdam, The Netherlands



photograph © Adrian Welch
WoZoCo housing : famous Dutch building
More architectural projects by MVRDV are welcome at e-architect
MVRDV Buildings – older projects + alphabetical list
Location: Dunantstraat 10 3024 BC, Rotterdam, Netherlands, Europe
MVRDV Rotterdam Practice Information
MVRDV Architects – Background
Architects office based in Rotterdam
Dutch design studio founded in 1990/91 after winning first prize in Berlin Europan Competition
Gemini Space Copenhagen, Denmark



photograph © Adrian Welch
MVRDV Publications – Winy Maas Books
Farmax by Winy Maas
MVRDV at VPRO
MetaCity/DataTown
Borneo Amsterdam Buildings : Dutch houses by this design studio



image © Adrian Welch
Comments / photos for the MVRDV Buildings page welcome
Website: www.mvrdv.nl