Caramel Architects, Austrian Design Studio, Building Photos, Vienna Office Projects News
Caramel Architekten : Architecture
Contemporary Architecture Practice, Vienna, Austria
post updated 11 May 2022
Caramel Architekten News
Caramel Architecture News
11 May 2022
Linalotte House, Linz, Austria
Architecture: Caramel architekten in collaboration with strukteur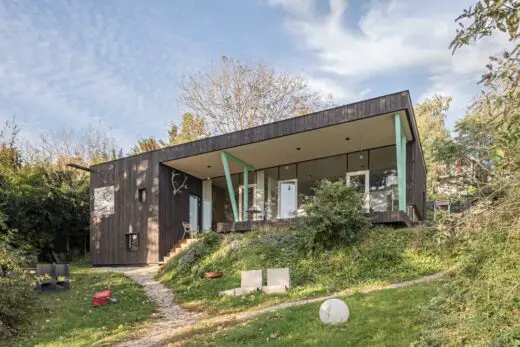 photograph : Hertha Hurnaus
Linalotte House Linz Property
15 Nov 2020
House Mesh near Linz, Hagenberg near Linz, Austria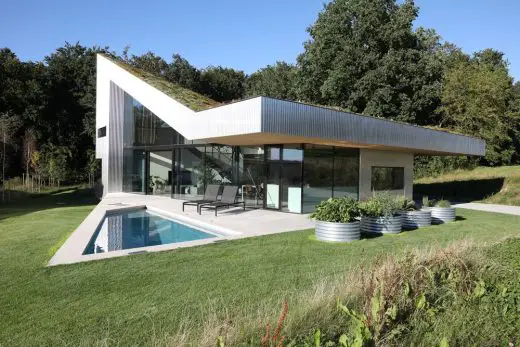 photos by Paul Eis and Kerstin O.
House Mesh near Linz
A generous green roof as a cut-out and folded landscape forms the largest space-forming element of the house. The lightweight timber construction with a ventilated metal facade and large glass elements form the remaining outer skin surfaces.
13 Dec 2017
"17 Türken" neues Büro für Caramel, Vienna, Austria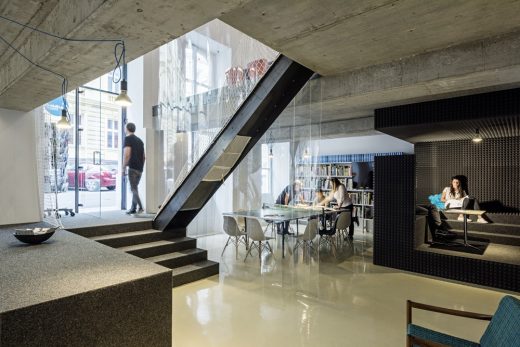 photograph : Hertha Hurnaus
Caramel Architekten
"Um unser neues Büro zu planen wurden wir endlich unser eigener Kunde – es war schon längst an der Zeit!"
9 Dec 2017
CJ5 – housing in urban density, Vienna, Austria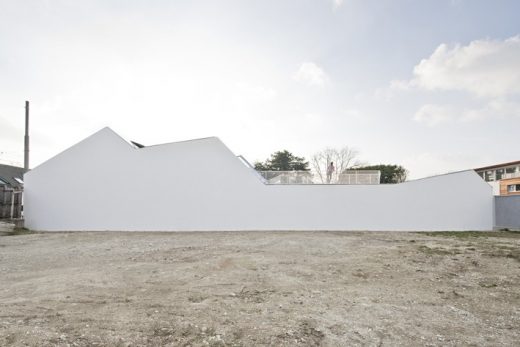 photograph : Hertha Hurnaus
CJ5 – housing
In its design for the housing project CJ5, Caramel tackles the question of sustainable urban density on the outskirts of Vienna.
8 Dec 2017
mill24, Vienna, Austria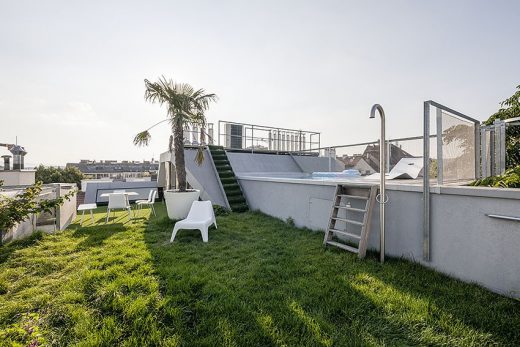 photo : Hertha Hurnaus
mill24 House Roof Vienna
Because of specific composition of the newest project "mill24" by caramel architects, the urban recompaction, implemented by an expansion of the roof of an early days house, can hardly be noticed from the street area.
26 Sep 2016
Haus D – single family house near Vienna, Austria
Design: Caramel Architekten with absolut-architekten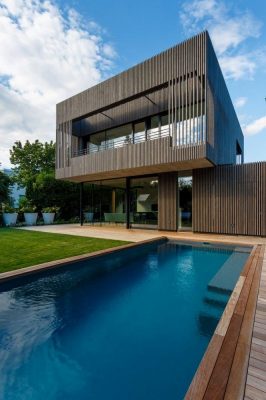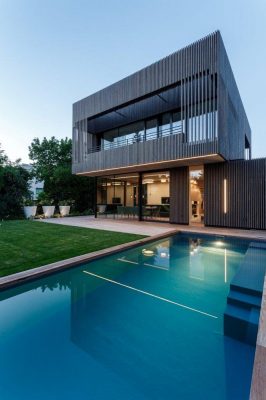 photo : Christian Sperr
Haus D Austria Property
5 Apr 2016
house e – single family house, Linz, Austria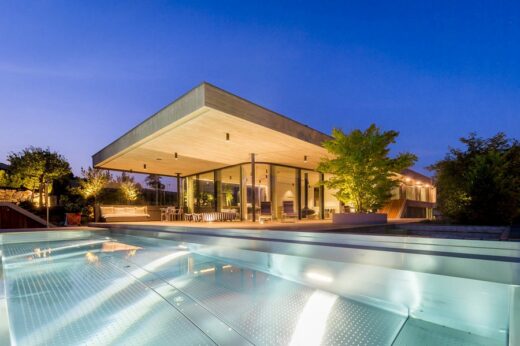 image from architects
house e by Caramel Architekten
Located on the periphery of the city, the plot of land offers a spectacular view of Linz, as long as one builds high enough to be able to gaze over the neighbouring properties. That is why the ground storey lies about 6m above street level – with the pleasant side-effect of allowing the garden area to adjoin the living area on the same level to the west and north, despite the extreme slope.
caramelfahrt Architecture Exhibition, Berlin, Germany
24 Jan – 2 Mar 2013



image from architects
Caramel Architekten Exhibition
In their exhibition caramelfahrt ('journey'), caramel architekten travel on an abstract railroad through a fictional world with two-dimensional caramel projects. the journey through this artificial landscape is visually documented from the engineer's perspective and transmitted live via beamer.
Caramel Architekten – Latest Design
500 sqm House, Vienna, Austria



photo from architects
500 sqm House
A family with one child and maybe more to come dreams of moving from their apartment in the middle of the city to a house at the periphery with plenty of green. They envision children playing in the grass, the parents and their friends sitting amongst them, and all around nothing but green, trees, pure nature. The purchased property is a 500-square-meter plot, a grassy meadow with trees.
Am Krautgarten Vienna, Austria


photograph : Hertha Hurnaus
Am Krautgarten Vienna
From an urban development perspective the site is located in a very heterogeneous environment. the corner of the building facing the public traffic area assimilates the main directions of the adjacent buildings. a green zone is produced along the street as a buffer between public and private space.
Caramel Architekten – Key Projects
Key Buildings by Caramel architekten, alphabetical:
AMI Fair Stand, Duesseldorf, Germany
2004
Caramel Architekten with fritz stiper



photo : caramel
AMI Fair Stand
The AMI Booth – Agrolinz Melamine International, a reusable trade fair booth; designed for K04 in Düsseldorf, October 2004. Concept: with the aim of counteracting the hectic bustle and over-stimulation one finds in the exhibition setting, a "space inside a space" was created, which by virtue of its colors and acoustic properties radiates tranquility and safety and encourages visitors to linger.
Expert Operation Workshop ma 48, Vienna, Austria
2003



photo : h. hurnaus
Workshop ma 48
Construction of a central workshop, including office space and a testing hall, after demolition of three existing buildings.
HAK / HLF Krems High School – triple sports hall, Austria
2007



photo : dietmar tollerian
Krems High School
The federal school complex, "bundesschulzentrum krems", which comprises a hotel management school with its own school hotel ("europaschule krems") and an A- and B-track business high school, was built in the seventies according to the modern functional standards of the time. Due to a serious shortage of space an open, EU-wide, two-stage competition was held in 2001.
House H – single family house, Linz, Austria
2003
interior friedrich stiper



photo : h.hurnaus
House H
Already in 2000, the client completed a project successfully together with Caramel and Fritz Stiper :
the conversion of the linz- based advertising company "reklamebüro". The planning team won the federal prize of the region upper austria in the category architecture for this project.
House Kaps – extension of 13th century farm house, Saalfelden, Austria
2004



photo : j. felsch + caramel
House Kaps
House Lina – for a mother with a child, Linz, Austria
2006



photo : caramel
House Lina
House M – single family house, Linz, Austria
2008



photo : otto hainzl + caramel
House M
House P – single family house, Klosterneuburg, Austria
2008
interior di barbara sabine bovelino



photo : hertha hurnaus
House P
Linz09 Infocenter, Austria
2009


photo : dietmar tollerian
Linz09 Infocenter
Operation Workshop Building, Ansfelden, Upper Austria
2006



photo : hertha hurnaus
Operation Workshop Building
Science Park Linz – Johannes Kepler University, Austria
2007-09



photo : hertha hurnaus
Science Park Linz
Two years after the opening of building 1 and with roughly one year to go until building 3 is completed, the johannes kepler university in linz has inaugurated building 2 of the new, ultra-modern science park, an architecturally eye-catching ensemble equipped with state-of-the-art technology.
Voest Visitor's Catwalk, Linz, Austria
2006
Caramel Architekten with fritz stiper



photo : dietmar tollerian + caramel
Voest Visitor's Catwalk
Wifi Dornbirn, Austria
2008



photo : marcel hagen
Wifi Dornbirn
More projects by Caramel Architekten online soon
Location: schottenfeldgasse 72/II/3, a-1070, Vienna, Austria
Architecture Practice Information
Caramel Architekten
Caramel architekten zt gmbh
Office Location: Vienna, Austria + Linz , Austria

Caramel architekten zt gmbh
katherl.haller.aspetsberger
türkenstraße 17, 1090 wien
tummelplatz 5 , 4020 linz
tel. +43 1 596 34 90
kha (at) caramel.at
www.caramel.at
Partners
di martin haller
di ulrich aspetsberger
di günter katherl
Philosophy
A new challenge every time – each project is a new challenge – this is our motto at Caramel architects.
Caramel relies on its successful participation in international architecture competitions and is often awarded contracts and commissions – including its most recent construction projects.
Besides the realization of large projects like Science Park Linz, adidas world of sports west Herzogenaurach, WIFI-Dornbirn, Operation Workshop Building Ansfelden, and Federal School Centre Krems the trio's members apply themselves to design studies and innovative single family house projects. Idealism and inventive talent play a major role in their designs.
Caramel's lecture series, courses, and art projects like the contribution for the Austrian pavilion at the architecture biennale 2016 in Venice are the salt in the soup of everyday architectural life.
Staff members
di barbara sabine bovelino
di claudia rockstroh
mag. arch. kolja janiszewski
di günther litzlbauer
di martina hatzenbichler
di maja nirmala salkic
di soner ertim
di irina feier
di zsuzsanna orcsik
di maria stauber
di andreea bianca cebuc
di sabine aberle
di juliane seidl
di laurent perfler
di emil dworschak
di florian dessl
m.arch. patrick gerber
di stefan förg
m.arch. caterina revedin
mag. arch. nicole david-rees
di sarita mulabdić
m.arch. marlene müller
valérie oswald
may nasar
mariia raftoska
ivan jakaric
founded in:
2001
Major Projects
GIZ – campus frankfurt/eschborn
martin-behaim-gymnasium – nürnberg
haus mesh – linz
wohnbau wildgarten – wien
haus rock – wien
adidas – laces – büro – herzogenaurach
wohnbau greinerhofpark – linz
science park johannes kepler universität bauteil 4 und 5 – linz
oben! – wien
haus marie – baden
"mill24" – wien
haus e – linz
haus d – bei wien
"places for people" biennale beitrag österreich pavillon architektur biennale 2016 – venedig
adidas word of sports, office west – herzogenaurach
tagesklinisches zentrum – wels
wohnturm simmering – wien
haus cj_5 – wien
haus siegfried – timelkam
nordico stadtmuseum – linz
luftschloss "feld11" – wien
science park johannes kepler universität – linz
einfamilienhaus "500m² wohnzimmer" – wien
krautgarten, sozialer wohnbau – wien
wifi dornbirn
hak+hlf – krems
hauptwerkstätte ma 48 wien.
infopoint linz09, linz
haus_h, linz
haus_p, klosterneuburg
haus_m, linz
betriebswerkstätte land oberösterreich – ansfelden
voest besucherstege linz mit fritz stiper
haus kaps – saalfelden
haus lina – linz
hypobank/casino kleinwalsertal, vlbg
bar kessler kleinwalsertal, vlbg
inncrystal, braunau mit fritz stiper
reklamebüro, linz mit fritz stiper
haus isolde, korneuburg
infobox kleinwalsertal, vlbg
raiffeisenbank riezlern, vlbg
Projects in progress
martin-behaim-gymnasium – nürnberg
science park johannes kepler universität bauteil 4 und 5 – linz
Competitions
2020
neubau rathaus – kitzbühel – 2.preis
GIZ – campus frankfurt/eschborn – 1.preis
martin-behaim-gymnasium – nürnberg – 1.preis
bezirkshauptmannschaft seekirchen – 2.preis
volksschule und hort linz- pichling – anerkennung
2019
post city linz – 3.preis
wohnbau brennerstraße linz – 1.preis
2018
th-köln campus deutz hörsaalzentrum – anerkennung
olympia sports complex jamsil last stage, seoul – finalist von 4
wohnbau mayrhofer linz – 1.preis
2017
schulcampus vöcklabruck – anerkennung
2016
wohnbau wildgarten – 1.preis
fakultät f. elektrotech. u. informationstech campus, münchen garching – anerkennung
IST institute of science and technology austria – chemistry lab – finalist
2015
wohnbau trollmann kaserne, steyr – 2.preis
schulzentrum gloggnitz – 3.preis
bg/brg sillgasse, innsbruck – anerkennung
wohnanlage winklerbahnhof, linz – 3.preis
stationsdesign u5 – finalist
olympia sports complex jamsil, seoul – 2.preis
redsand astronomy center – finalist
2014
adidas – world of sports – stage V – büro – 2.preis
lkh wolfsberg – 2.preis
bildungscampus attemsgasse – ankauf
traun mitte spinnerei – 4.preis
tagesklinisches zentrum wels – 1.preis mit architekt weismann
nachnutzung amtsgebäude jordangasse wien – 3.preis
2013
changing the face rotunda warschau – 1.anerkennung
high tech campus villach – 1.anerkennung
österreichische botschaft in bangkok – 2.preis
hochschule coburg – anerkennung
alten- und pflegeheim in vöcklabruck – 3.preis
UN campus in bonn – anerkennung
2012
naturbrücke tervete in lettland – ankauf
2011
hotel for adults in hongkong – honorable mention
2010
bundesschulzentrum eisenstadt – 3.preis
musikschule niederwaldkirchen – 2.preis
2009
kinderhospital schwarzach salzburg – 4.preis
science center wels – ankauf
2008
justizzentrum baumgasse wien – 5.preis
bene rondo seat art wien – anerkennung
2007
"linz 09" infopoint linz – 1.preis
alten- und pflegeheim gaspoldshofen – ankauf
2006
bhak bhas wiener neustadt – ankauf
landesbibliothek linz – ankauf
simmering vhs – preis
ars electronica linz – ankauf
2005
sigmund-freud-klinik graz – ankauf
KGW uni salzburg – ankauf
schule hbla wels – 3.preis
johannes-kepler-universität linz_science park – 1.preis
besucherweg voestalpine linz – 1.preis
2004
zentrum für molekulare biowissenschaften graz – 2.preis
gastgewerbliche berufschule altmünster – ankauf
big – bürogebäude, wien – 2.preis
2003
erweiterung lkh feldkirch, vlbg – 2.preis
bundesschulzentrum bad ischl -2.preis
erweiterung krankenhaus rohrbach – ankauf
designschule essen, brd – 3.preis
arbeiterkammer – ak plus wien – preisträger
schulzentrum hollabrunn – ankauf
2002
wifi dornbirn, vlbg – 1.preis
stadthalle wien, musiktheater – 3.preis
vs+kiga langobarden, wien – ankauf
betriebswerkstätte land oö – 1.preis
fachhochschule wels – ankauf
wohnen in alt-maxglan – ankauf
feuerwehr satteins – nachrücker
2001
transfusionsmedizin lkh salzburg – 1.preis
schönbrunn fiatgründe, wien – preisträger
hak + hlf krems – 1.preis
sonderschule schwechat – 2.preis
2000
gutachterverfahren hauptwerkstätte ma 48, wien – 1.preis
bundesamtsgebäude korösistrasse, graz – 3.preis
interspar linz – nachrücker
1999
hauptbibliothek wien – 2.preis
infobox mittelberg, vlbg – 1.preis
verkehrsamt kleinwalsertal, vlbg – 1.preis
fld und lgk innsbruck – 2.preis
1998
glasbau seele, brd – 1.preis
kindergarten tisis, vlbg – ankauf
Publications
bis dato über 1800 veröffentlichungen weltweit
herbst 2011: buchpräsentation "caramel: forget achitecture, schätzchen"
Awards
2019
– best architects 2020 (house marie) – winner
– the big see award 2019 – slovania (haus d) – winner
– the plan award kitchen 2019 (haus cj_5) – honorable mention
– the plan award kitchen 2019 (haus marie) – finalist
– the plan award 2019 (haus marie) – finalist
2018
-häuser des jahres 2018 (haus marie) – anerkennung
-baumit life challenge – kategorie struktur trifft design (haus marie) – winner europaweit
– best architects 2018 (home made) – auszeichnung
– s.arch 2018 (mill24) – honorable mention
-AIT award (home made) – special mention
-archilovers (mill24) – best project 2017
2017
– 'häuser award' 2018 (haus d) – nominiert
– bene pixel art – 1. preis
– A+Awards (home made) – special mention
– A'design award (home made) – bronze
– s.arch 2017 (home made) – category winner
2016
– s.arch 2016 project award (haus cj_5) – special mention
– 'häuser award' 2016 (haus cj_5) – auszeichnung
– best architects 2016 (haus cj_5) – auszeichnung
– DETAIL preis 2016 sonderpreis inside (home made)- ehrennennung
– gebaut "schorsch 2015" (haus cj_5) – auszeichnung
2015
– das beste haus 2015 (haus cj_5) – 1.preis wien
– geplant + ausgeführt 2015 (haus cj_5) – nominiert
– the plan award 2015 (haus cj_5) – nominiert
2014
– AIT award haus cj_5 – 3.preis
– aluminium architektur preis (science park) – lobende erwähnung
– geplant + ausgeführt 2014 (haus 500m²) – nominiert
– best architects 2014 (linz09) – auszeichnung
2013
– interior innovation award (garderobenhaken "inny") – winner
– das beste haus 2013 (haus 500m²) – nominierung
– bauherrenpreis 13 (science park bt3) – nominierung
– 'häuser award' 2013 (haus 500m²) – nominierung
2012
– ECOLA award (wohnbau krautgarten) – nominierung
– architekturpreis farbe struktur oberfläche (science park – mechatronik) – nominierung
– domico baupreis (science park – kunststofftechnik) – 1.preis
– aluminium baupreis (science park) – 3.platz
2011
– archip award moskau/2010 (science park mechatronik, best public building worldwide) – 1.preis
– 'häuser des jahres 2011' (haus 500m² – wien) – nominierung
2010
– 'häuser des jahres 2010' (haus p – klosterneuburg) – finalist
– 'häuser award 2010' (haus m – linz) – finalist
2009
– contractworld award 2010 (linz 09, best shopdesign worldwide) – 3.preis
– 'das beste haus 2009' – kategorie oö (haus m) – nominierung
2006
– bauherrenpreis 2006 – haus h
– architekturpreis salzburg – anerkennung haus kaps
– 'häuser award' 2006 (haus lina) – anerkennung
2005
– häuser award 2005 (haus h) – anerkennung
– 'das beste haus 2005' kategorie oberösterreich (haus lina) – nominierung
– european architecture award 'luigi cosenza 2004', silver plate (haus h)
2001
– landeskulturpreis oö (reklamebüro)
Austrian Architecture
Comments / photos for the Caramel Architekten Architecture page welcome
Website: www.caramel.at