Central Garage Upper Austria, Building Project Photos, News, Design Images
Central Garage Upper Austria : Architecture
Architectural Development in Austria design by Caramel Architekten
21 July 2009
Upper Austria / Ansfelden, Austria
Date built: 2006
Design: Caramel Architekten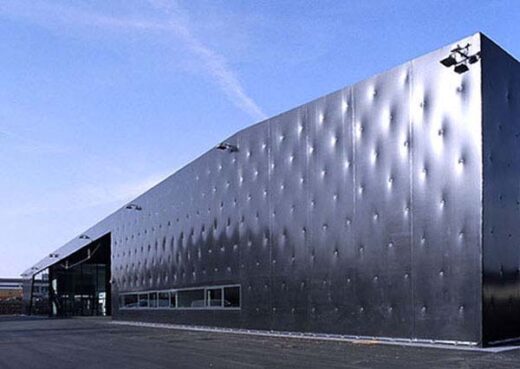 photo : Hertha Hurnaus
Central Garage Upper Austria
Project Description:
The plan for the garage and office building for the state government of Upper Austria resulted from a limited open design competition in 2002 in which Caramel took first place.
Although the organizer's brief called for a linear alignment of the functional units, Caramel arranged the main functional units in a U-configuration around a transparent covered interior yard. Situated in the west wing are the two-level office building as well as the employees' changing rooms and washrooms; directly adjacent to these are the special-service shops, e.g. the sandblasting and painting booths.
Along the front of the complex is the two-level warehouse, which connects to the east garage, a 20-meter wide hall that can be driven into from both sides and allows daylight to enter through glass-reinforced plastic doors. The office wing lies at the far side of the garage hall area at the front of the works yard.
The building as a whole unfolds outward along its length, emerging as a gentle slope from the terrain and rejoining it in its imaginary lengthwise projection, in the 72-meter-long shed roof.
Construction+Materials:
With the exception of a number of warehouses and fire protection walls, the building was built using a three-row, very efficient steel-frame construction method. The construction deadline of roughly 18 months was met despite a harsh winter by using mass-produced, prefabricated steel beams and columns. A total of 367 tons of steel were used. The largest spans of 20 m were made possible by employing 1.60-meter-high plate girders.
The materiality of the metal is emphasized by the application of micaceous iron oxide paint and contrasts sharply with the translucent glass-reinforced plastic door elements and glazed surfaces.
The contrasts between the different materials in color as well as in haptic quality are a striking feature of the architecture; one notices them in many places inside and outside the building.
The 24 glass-reinforced plastic doors are positioned between the fixed glazing and set in semicircular doorframes. Like the roof and the closed façade, the doorframes are composed of a black synthetic membrane (EVA). This gives the building its consistent homogeneous appearance; the rivets holding the façade in place reinforce the impression of glossy plasticity.
The works yard also profits from the steel construction. The 6 x 20 m spaces are covered by two-layer pneumatic panels (arch rise: 1.25 m), which keep their form through an internal air pressure of 0.05 bars (the air pressure of tires is roughly 1.9 bars).
The pneumatic panels, which are made of a 0.25 mm thick translucent ETFE membrane, support loads of 14 t, with a max. load capacity of 30 t.
The matter-of-fact and industrial vernacular of the building's interior is intentional, making use of only a few materials, e.g. steel and glass.
With the exception of the bright green washrooms, the color scheme tends to keep a low profile, sticking mainly to white and anthracite.
The new central garage gives form to its structure-less surroundings and creates an identity and modernity that extends well past the walls of the building itself.
Central Garage Upper Austria images / information from Caramel Architekten
Central Garage Upper Austria – Building Information
Architects: Caramel Architekten ZT – Gmbh
Günter Katherl, Martin Haller, Ulrich Aspetsberger
Assistant: Alexa Zahn
Client: Land OÖ
Contact Person: Bernhard Haider
Structural Engineering: h+w statik
Mr. Luger
Building Services Design: Allprojekt
Ms. Tobrmann
Contractors: Fa Traussner (builder)
Fa Haslinger (steel construction)
Fa Aquarex (membrane façades and roofs, pneumatic panels)
Fa Payreder (blacksmith)
Fa Peiniger (flooring)
Fa Supanz (technical equipment for automotive garages)
Competition: 2002 – 1st prize
Start of Construction : 05/2005
Completion: 10/2006
Photos & Credits: Hertha Hurnaus
[email protected]
Köstlergasse 3/9
A-1060 Vienna
tel./fax: +43/1/5235064 mobile: +43/699/10441733
Key Data
Building Volume: approx. 25,800 m³
Developed Area: approx. 4,400 m² (of that area 3,350 m² building + 1,050 m² yard)
Usable Area: approx. 4,050 m²
Number of Levels: garage: one level
office: two levels
Room Height: garage: 6.00 – 8.90 m,
office + break areas: 2.50 – 4.10 m
Main Uses:
" Two-level office building with break areas and restrooms for 65 employees
" Automotive garage consisting of nine areas with three large mechanics' pits, vehicle hoists, and a brake inspection stand, usable area: 1,335 m², room height: 7.20 – 8.90 m
" Supplementary shop bays (blacksmith and tinsmith, mechanic's shop, apprentice's shop, electrician's shop, parts shop)
" Special service shops: sandblasting booth and paint booth, usable area: 200 m²
" Warehouse areas, usable area: 1,053 m²
" Canopied open space as shop area, usable area: 1,162 m²
" Canopied open space for auctions, usable area: 282 m²
" Canopied works yard
Construction:
Garage hall construction using prefabricated, mass-produced steel beams on steel columns.
Office wing construction as an independent two-level structure.
Open spaces are canopied using a light steel or pneumatic construction method.
Materials:
Roofing/closed façades: insulated panels EVA synthetic membrane
Translucent exterior walls/doors: GRP (glass-reinforced plastic), insulated glazing
Works yard canopy: two-layered, ETFE-membrane air panels, approx. 6 m x 20 m
Location: Ansfelden, Austria, central Europe
Austrian Building Designs
Austrian Architecture Designs – architectural selection below:
Austrian Architecture Design – chronological list
Vienna Architecture Walking Tours by e-architect
Austria Architect : Studio Listings
FSF Leisure and Sports Center, Fließ, Landeck district, Tyrol
Design: AllesWirdGut Architektur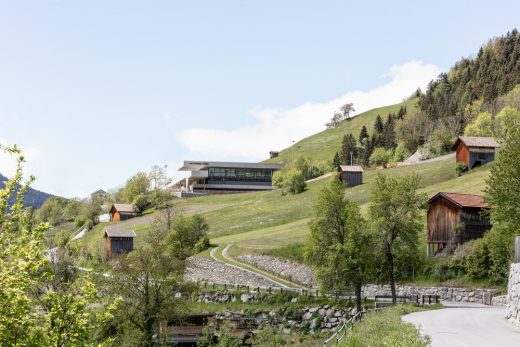 photo : tschinkersten fotografie, 2021
FSF Leisure and Sports Center, Tyrol Building
Theurl office building, CLT production plant, Steinfeld, Spittal an der Drau, Carinthia, southern Austria
Design: ATP architects engineers, Innsbruck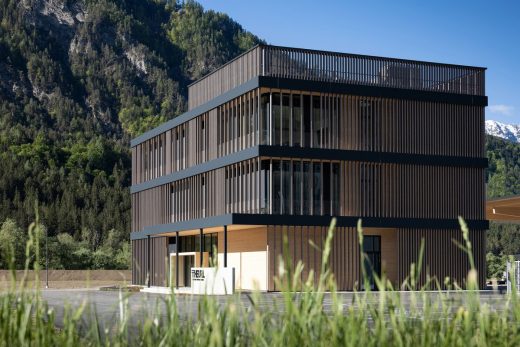 photo © ATP/Bause
Theurl Steinfeld office building, CLT production plant
Comments / photos for the Central Garage Upper Austria Architecture design by Caramel Architekten page welcome