University of California Santa Barbara Classroom Building, UCSB Los Angeles design, US architect news
Classroom Building University of California Santa Barbara, USA
Architecture Shows at UCSB in Goleta, CA, USA: Events Programme
Apr 12, 2021
Location: UCSB, California, United States of America
Design: LMN Architects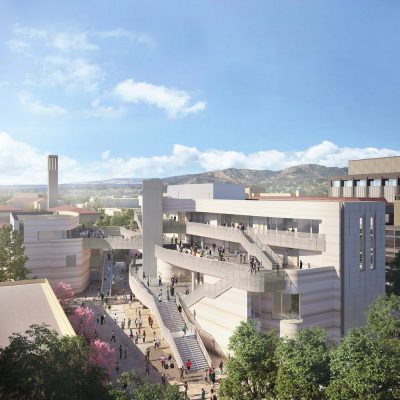 LMN Architects Designs New Classroom Building At The University Of California Santa Barbara
University of California Santa Barbara Classroom Building News
Inspired By The Site And The History Of The Campus, The Project Is The First New Building Dedicated To Classroom Space In Fifty Years
Seattle, Washington – April 12, 2021 – LMN Architects is pleased to celebrate the design and beginning of construction of the new Classroom Building at the University of California Santa Barbara. The project will increase campus classroom capacity by 35 percent, providing 2,000 seats in contemporary instructional spaces over four floors in the center of the University's iconic shoreline campus.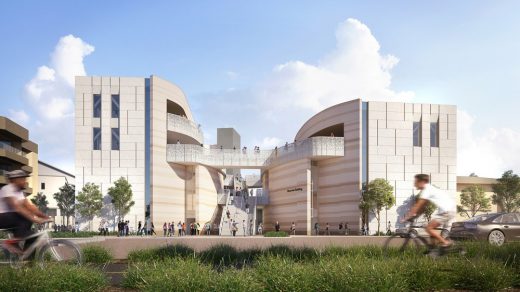 The University of California Santa Barbara (UCSB) has begun construction on a new 90,000 SFT Classroom Building designed by LMN Architects on a central site adjacent to the Library along Library Mall. The project will be the first new classroom building on campus since 1967 and will provide additional active learning space with 2,000 seats in 5 lecture halls, 3 active learning flat-floor rooms, and 20 flexible classrooms. The Classroom Building is designed to be a porous structure that opens at every face to welcome the university community, intertwining the life of the building with the surrounding campus and spectacular natural environment.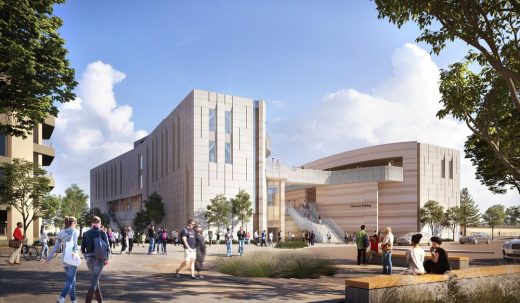 "As a top-tier research university and member of the prestigious American Association of Universities, UC Santa Barbara has been long overdue to update its teaching capabilities," comments Gene Lucas, Chair of the New Classroom Building Committee for the University. "As a campus with a reputation for pioneering interdisciplinary teaching and research, this new classroom building will provide spaces that encourage collaborative education and promote faculty-student interactions. Every classroom is designed to facilitate active learning, an experience our students are clamoring for, and our faculty is excited to provide. LMN has done an outstanding job of designing a building that not only provides this capability but integrates well with both the campus architecture and our beautiful Pacific Coast setting."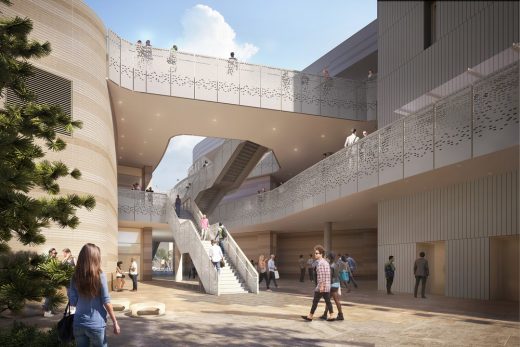 Stephen Van Dyck, Partner, LMN Architects, comments: "Together with University leadership, we have envisioned a building and surrounding public spaces that are open and welcoming. Drawing on the coastal climate and spectacular natural setting to create a place that will be among the most heavily used on campus. The building's site and design represent a major step forward towards the goals of the University's Long Range Development Plan, anticipating the eventual extension of Library Mall to the south and realizing the eastward extension of Pardall Mall, ultimately linking several of the campus' most significant shared buildings along these major public spaces."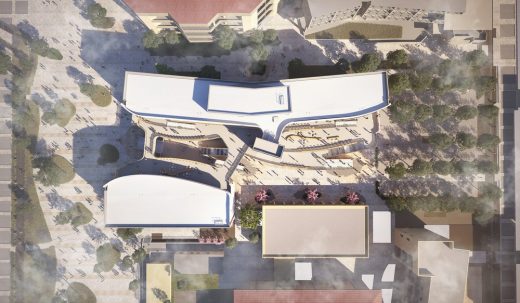 The project comprises two main volumes surrounding a central circulation corridor that runs east-west, linking the extension of Library Mall to Science Walk. This open-air paseo interconnects the functions of the two buildings' masses, providing outdoor terraces, stairs, bridges, and collaboration spaces designed to encourage serendipitous interactions and collaboration among students and faculty. The intensity of use of the building's many instructional spaces will activate the building throughout the day, extending the vibrant social and academic cultures of UCSB throughout the building's vertically arranged public spaces.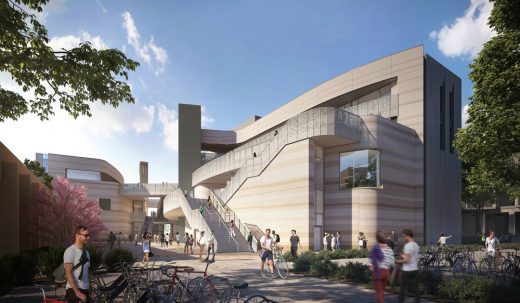 On the exterior, the building presents two characters of expression. A taught, vertical façade system comprised of high-performance-concrete panels and vertical windows clads the outward-facing elevations, establishing the building massing as clear framing elements along the adjacent campus spaces of Library Mall and Pardall Mall. Follow this link if you are interested in classroom stools.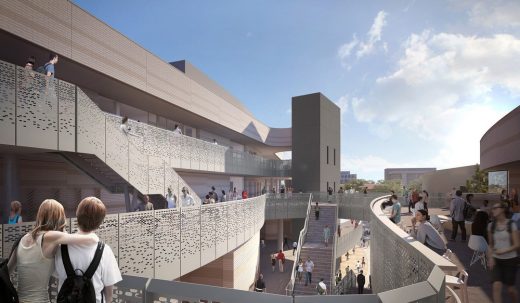 Facing the building's internal public spaces, the building takes a radically different form by sculpting the shared exterior terraces with a more loose, organic formal language, driven by the efficient planning of the lecture halls within. The resulting formal and material qualities of these spaces take inspiration from the local vernacular architecture and the adjacent seaside cliffs, recalling the sedimentary sandstone in its curvilinear, polished concrete block walls.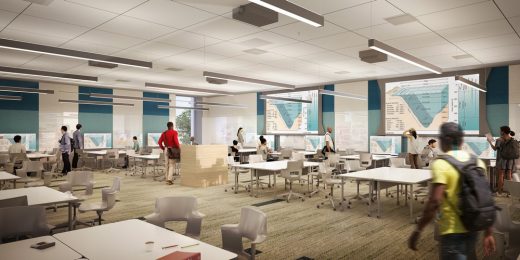 Jennifer Milliron, Principal, LMN Architects, comments: "The experience of the building is intended to be an extension of the campus experience. Taking advantage of the Central Coast of California climate and the views to the Pacific Ocean, the building acts almost as a vertical extension of the adjacent campus spaces. This same thinking is brought inwards to the building's teaching spaces, featuring material and color palettes inspired by the campus' unique natural setting. We have strategically integrated natural light in every room, and on the upper floors have created seminar rooms that feature views out to the lagoon and ocean beyond. This is a design that could only have evolved out of this iconic campus and stunning natural environment."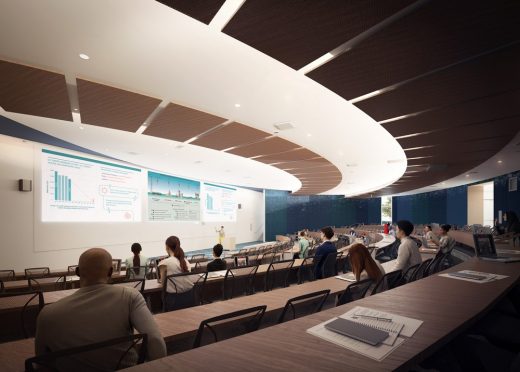 The four-story ensemble broke ground in February of 2021 and is expected to be completed in 2023. LMN Architects has designed over 140 projects on 47 campus in the United States, including the Bill & Melinda Gates Center for Computer Science & Engineering at the University of Washington in Seattle; the Voxman Music Building at the University of Iowa in Iowa City; Edward J. Minskoff Pavilion at Michigan State University in East Lansing; and the Clemson School of Business in Clemson.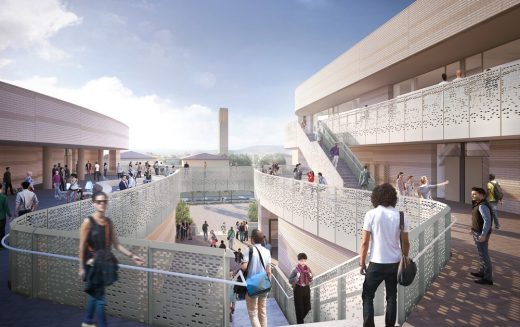 University of California Santa Barbara Classroom – Building Information
Project Title: University of California, Santa Barbara Classroom Building.
Location: Santa Barbara, CA, USA
Design Years: 2018-2021
Construction Years: 2021-2023.
Major Building Materials: High-performance concrete panels, polished concrete block, perforated aluminum guardrails, high-performance glazing.
Program: Lecture Halls (175, 250 and 350 seat), Active Learning Classrooms, Discussion Section Classrooms, Technical Office Suite, Informal Teaching Space, Exterior Terraces, Gender Inclusive Restrooms, Classroom Support, and Building Storage.
Site Area: 159,000 SFT (14,771.5 s.m.)
Floor Area: 90,000 SFT (8,361.2 s.m.)
Building Height: 81' – 6". (24.7 m.).
Number of Floors: 4 (+ Penthouse)
Project Images
Project Renderings: LMN Architects
Publication Drawings Credit: LMN Architects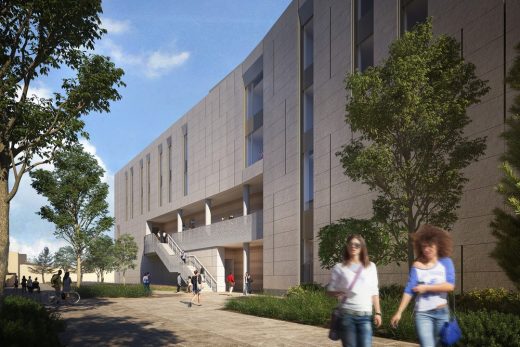 Project Credits
Architect:
LMN Architects
801 Second Avenue, Suite 501
Seattle, Washington 98104
Project Team:
John Aldredge
Albert Cua, AIA
Rob Curran
Michael Day
Tiffani Erdmanczyk, Associate AIA
Jeff Floor, AIA
Howard Howlett, Associate AIA
Kris Jugueta
Susan Lowance, AIA
Chris Martin, AIA
Jennifer Milliron, Associate AIA
Charlotte Phillips
Shima Sahebnassagh, Associate AIA
George Shaw, FAIA
Stephen Van Dyck, AIA
Kevin Zhang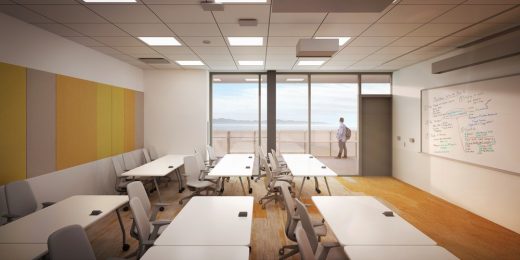 UCSB Design & Construction Services:
John Fitzgerald
Julie Hendricks
Ernie Knapp
Liana Khammash
Bill McGreevy
Meagan Roa
Jack Wolever
Project Contractor:
C.W. Driver.
Structural:
Saiful Bouquet, Inc.
Civil Engineer:
Stantec Consulting Services, Inc.
Landscape Architect:
Arcadia Studio, Inc.
MEP, Lighting & Sustainability:
Integral Group.
Acoustic, AV & IT:
Arup North America Ltd.
Environmental Graphics:
Entro.
Bicycle Planning:
Fehr & Peers.
Wind:
RWDI.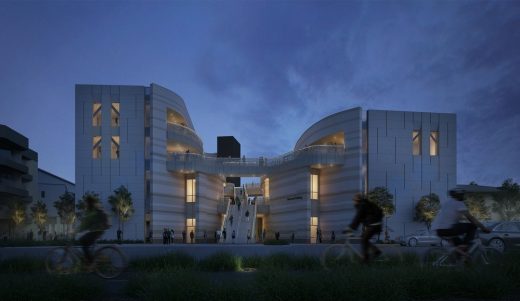 LMN Architects · 801 2nd Ave Ste 501 · Seattle, WA 98104-1509 · USA
Classroom Building University of California Santa Barbara images / information received April 12, 2021
Previously on e-architect
University of California Santa Barbara News
University of California Santa Barbara Exhibition
Location: Isla Vista – campus of the UCSB in Goleta, California, United States of America
The Art, Design, & Architecture Museum presents Clocks and Clouds: The Architecture of Escher GuneWardena, a mid-career survey of the firm founded in Los Angeles by Frank Escher and Ravi GuneWardena in 1997.
Chemosphere Restoration/Remodel, 1998-2000: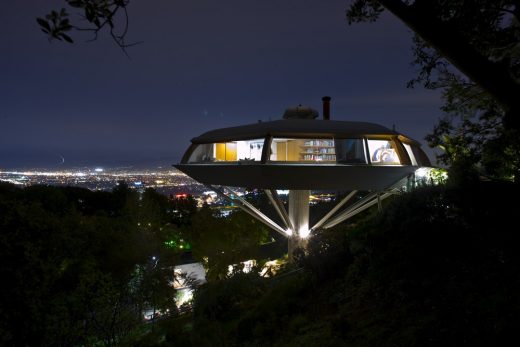 photo : Josh White
University of California Santa Barbara Exhibitions
Library Master Plan for University of California, Los Angeles
Design: Johnson Favaro, Culver City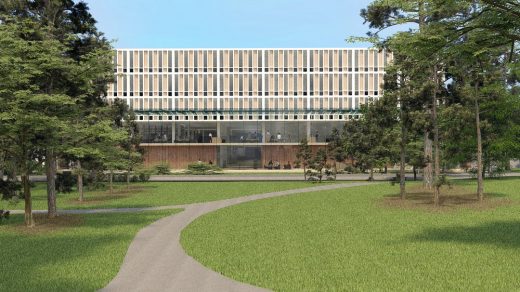 rendering courtesy of Johnson Favaro
Library Master Plan for University of California, UCLA
North Campus Housing at University of California, San Diego
Design: Carrier Johnson + CULTURE
University of California San Diego Housing
Location: UC Santa Barbara, California, USA
– north of Los Angeles, Southern California, United States of America
Los Angeles Buildings
Contemporary Los Angeles Architecture
L.A. Architecture Designs – chronological list
Los Angeles Architecture Tours – architectural walks by e-architect
Los Angeles Architecture Designs
Los Angeles Construction Photographs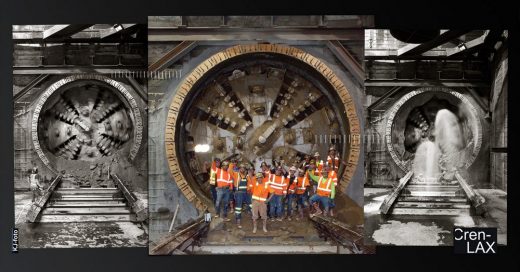 photo © Kenneth Johansson Photography
Los Angeles Construction Photos
New designs for the Lucas Museum of Narrative Art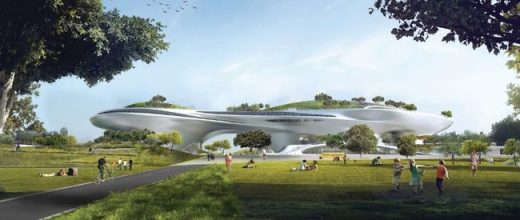 image courtesy of architects
Lucas Museum of Narrative Art Los Angeles
The Wave House Venice
Architect: Mario Romano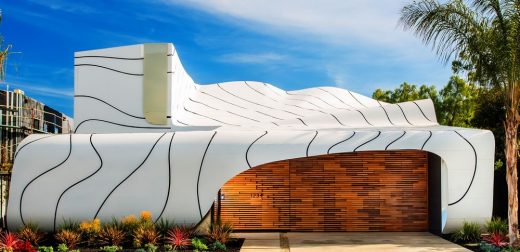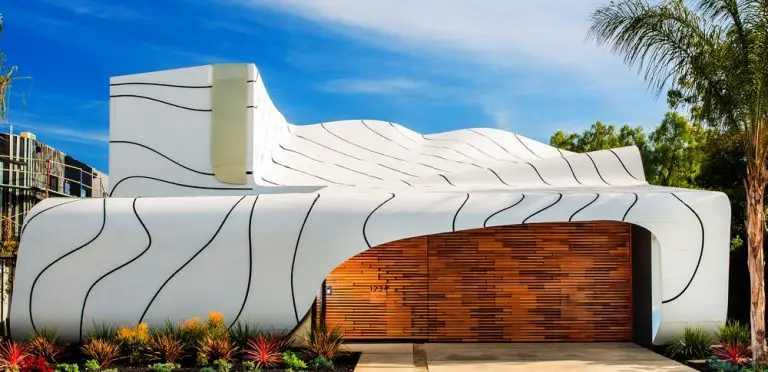 photograph : Brandon Arant
The Wave House, Venice, California
Mirror House in Beverly Hills
Architects: XTEN Architecture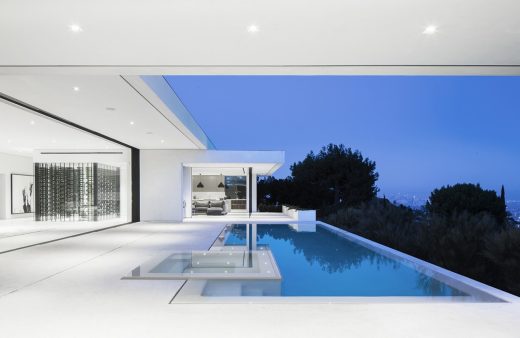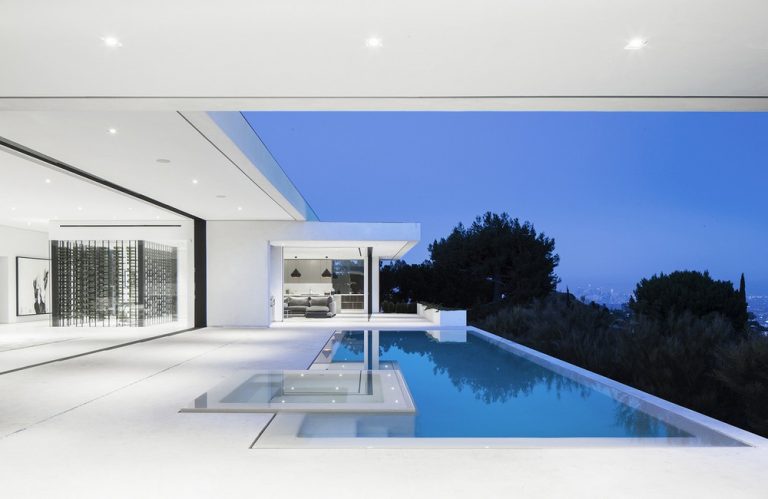 photos : Art Gray
Mirror House in Beverly Hills
Comments / photos for the Classroom Building University of California Santa Barbara – Los Angeles Event page welcome