Spanish Architect Practices, Companies, Design Studios Spain, Offices Details, Engineers Firms
Spanish Architect Offices
Arquitectos España : Current Spanish Architect Offices contact information
post updated 16 June 2023
Spanish Architecture Studios
Spain Design Practices, alphabetical:
Architect
phone
e-mail
address
A-CERO
+34 91 799 7984
–
a-cero(at)a-cero.com
www.a-cero.com
A-CERO
Parque Empresarial La Finca. Paseo Club Deportivo 1 – bloque 6 A – 28223 Pozuelo de Alarcón, Madrid, Spain
CAPILLA VALLEJO Arquitectos
+ 34 948274316
www.cvarquitectos.esc
CAPILLA VALLEJO Arquitectos
Monasterio de Cilveti 4 Pamplona 31011, Navarra. Spain
Enric Miralles – Benedetta Tagliabue | EMBT
+34 93 412 5342
+34 93 412 3718
info(at)mirallestagliabue.com
www.mirallestagliabue.com
Enric Miralles – Benedetta Tagliabue | EMBT
Passatge de la Pau, 10 bis, pral. 08002 Barcelona, Spain
HerrerosArquitectos
+34 91 522 7769
+34 91 559 4678
estudio(at)herrerosarquitectos.com
www.herrerosarquitectos.com
HerrerosArquitectos
Calle Princesa 25
28008 Madrid, Spain
menis arquitectos
+34 922 288838
+34 922 151925
info(at)menis.es
www.menis.es
menis arquitectos c/puerta canseco 35, 2ºb 38003 sc tenerife españa
NNN Arquitectos
+34 954 212085
info(at)nnnarquitectos.com
www.nnnarquitectos.com
NNN Arquitectos
Plaza del Cristo de Burgos, 10-1ºA
41003 Sevilla, Spain
Pacheco y Asociados
+34 868 042 442
+34 670 312 304
arquitectojapm(at)gmail.com
www.spanisharchitect.info
Pacheco y Asociados
Calle Molina de Segura Nº 5,
Bloque 8-3ºC
30007 Murcia
Spain
Rafael de La-Hoz Arquitectos
+34 91 745 3500
+34 91 561 7803
estudio(at)rafaeldelahoz.com
www.rafaeldelahoz.com
Rafael de La-Hoz Arquitectos
Paseo de la Castellana 82 2º A
28046 Madrid, Spain
Vaillo + Irigaray
+34 94 829 0054
+34 94 829 0303
galar(at)vailloirigaray.com
www.vailloirigaray.com
Vaillo + Irigaray
c/Tafalla 31 Bajo 31003 Pamplona, Spain
Xavier Vilalta Studio d ' Arquitectura
+34 93 165 7314
+34 93 162 0892
info(at)xvstudio.com
www.xvstudio.com
Xavier Vilalta Studio d ' Arquitectura
c/ Roger de Flor, 216 Ppal 1a 08013 Barcelona, Spain
Spanish Architect Practice Listings
Architects + Landscape Architects + Structural Engineers with offices in Spain
Spanish Architect additions welcome: info(at)e-architect.com
The Spanish Architecture site aims to promote Spanish Architects as well as the country's architecture. The page is a good starting point for selecting an architect.
Spanish Architects practices' details are listed for an annual fee, likewise for Spanish Structural Engineers, etc.
Please provide your design firm's contact details to us via email. You must confirm how you will pay, whether via PayPal or by bank transfer.
See Architect Profiles Information for prices and details.
Location: Spain, southwestern Europe
Spanish Architects Studios
New Buildings in Spain
Spanish Architectural News on e-architect
International Architectural Firms – selection:
Spanish Architecture
Contemporary Architecture in Spain – architectural selection below:
Anticovid 19 Municipal Offices, Michelena, Pontevedra, north east Spain building design by NAN Arquitectos: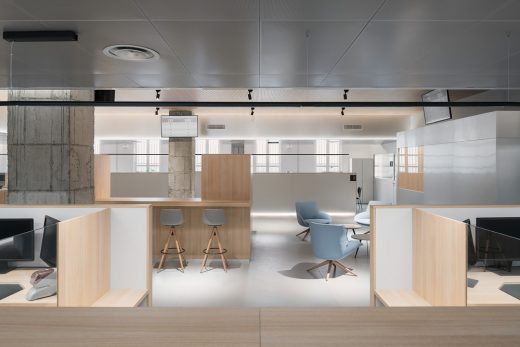 photograph : Iván Casal Nieto
Anticovid 19 Municipal Offices, Pontevedra
Due to the health crisis caused by covid-19, the municipal government decided to adapt its facilities to the new situation. In this context, the aim with Anticovid 19 Municipal Offices was to guarantee the safety of both workers and users who access the facilities.
Car Collector Pavilion, Costa Brava, Catalonia building designed by architects Borgos Pieper: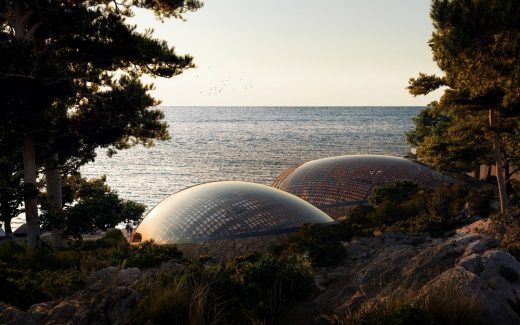 image : Borgos Pieper
Car Collector Pavilion, Costa Brava
Set within an idyllic rural estate nestled into the hillside is this Car Collector Pavilion home to a private collection of vintage and contemporary automobiles. Working together with a passionate car collector who owns a rural estate we have finished the design of two spaces for the growing collection of vintage and contemporary automobiles.
Jané Winestore, Tarragona building design by architects Chu Uroz & Carmelo Zappulla: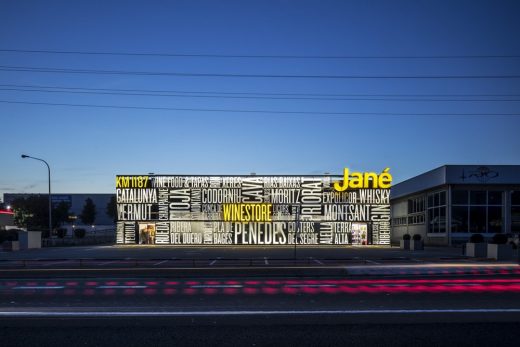 photograph © Adrià Goula
Jané Winestore in Tarragona, Costa Dorada
A pop operation that goes back to the iconic Las Vegas signage has inspired the new image of this liquor store that reaffirms its origins. The disposition of the internal elements with a cabinet character allows us to classify the wide variety of beverages that are housed inside.
Spanish Stadium Building : Real Madrid
Additions for the Spanish Architecture Studios – Spain Architect Practices and Building Engineering Companies page welcome