Energain Phase Change System, Wealdon District Council Building, DuPont Product, Hailsham
DuPont Energain : Wealdon District Council
DuPont Energain Phase Change System – Building in Hailsham, East Sussex
9 Jul 2012
DuPont™ Energain® Phase Change System maximises energy-efficiency and interior comfort at Wealdon District Council
DuPont Energain Phase Change System
July 2012 – With the objective of saving the local taxpayer over £370,000 a year while also maximising efficiency and reducing energy consumption, Wealdon District Council has consolidated its administrative facilities into a single property, choosing to expand and renovate its premises in Hailsham. This blockwork and brick-skin building was totally refurbished by the appointed contractor Wilmott Dixon, with the responsibility for building services assigned to the Frankham Consultancy Group.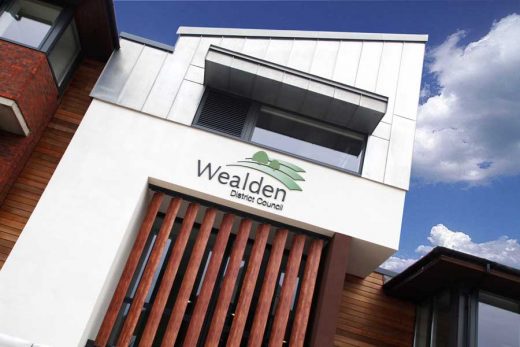 photo : Wilmott Dixon
The refurbished building was designed to benefit from a more energy efficient heating system using passive ventilation and making better use of the building's fabric to control ambient heat. In order to manage thermal gains, improve interior comfort and reduce the need for energy-hungry climate control, Frankham proposed the installation of a phase change system, exploring the options before specifying DuPont™ Energain® advanced thermal mass panels.
DuPont™ Energain® was chosen for its superior characteristics and also for the quality of the service offered, which included transparent costing, reliable delivery and a helpful calculation model to measure the quantity of product required for optimal savings in the structure:
Captured Week in the month of June: – Week 26 – days 169 through to 174
Date of Peak temperature: – Day 173 (22nd June)
Geographical Climate: – Eastbourne CIBSE DSY 2008 WC08SET
Air changes night ventilation: – 2.80 ch/hr
Lighting – 10 watts per m²
Double Glazed Windows – u-value 0.85 w/m²/K
External Walls – u-value 0.40 w/m²/K
Total volume of DuPont™ Energain® modelled – 700 m²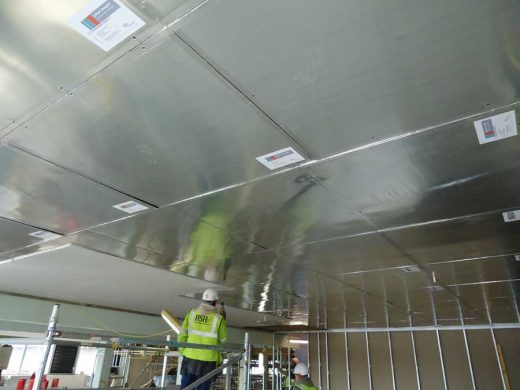 photo : Wilmott Dixon
Based on supplied drawings and using DuPont's building design software system, simulation graphs were generated by DuPont to demonstrate the performance of the system when installed into the entire second floor level ceilings. After proving the case successfully to all parties, 650m2 of DuPont™ Energain was ordered in January 2012 and the installation behind a single layer of plasterboard was completed during February, providing a total heat storage capacity of approximately 91000 Wh (temperature window: 18-24°C) and thereby achieving up to 5 to 6 degrees passive reduction of interior peak temperatures.
Terry O'Neill of Wilmott Dixon comments: "We were very impressed at how helpful DuPont were in enabling the team to choose the correct specification of a very important part of the building's fabric. The cost was reasonable, the material was readily available, and the quality was consistent. Comparatively, the product is very effective and, overall, we are completely satisfied with the choice of DuPont™ Energain® to deliver additional and effective thermal mass in a light weight slim panel system".
DuPont™ Energain® is an advanced phase change system supplied in lightweight, easy-to-install panels of 1.0m x 1.2m x 5.26mm thickness, which are sealed behind the plasterboard in walls or ceilings using standard tools and working practices. Build time, energy use (both on-site and in transport) and weight loadings are considerably reduced using this straightforward solution.
DuPont™ Energain® works by absorbing ambient heat as room temperature rises (at around 22°), storing it until the temperature drops again (at around 18°), and then releasing it back into the room. In ventilated structures this can make a significant difference to comfort and also to the choice of construction methods and materials. In buildings with air-conditioning DuPont™ Energain® can reduce costs by up to 35% and help to reduce heating bills in the winter by up to 15%.
Comparing DuPont™ Energain® with traditional thermal mass solutions such as concrete, a comparison study run by Lyon University, France has demonstrated that 5 mm of Energain® behaves like approximately 20- 40 mm of concrete, depending on temperature.
Leader of Wealdon District Council, Cllr Bob Standley, says of the project: "The move to a single headquarters will mean significant savings over running two buildings as well as improving the way we work. The refurbished office will make the best use of available space and modern technology and it will be a more energy efficient and sustainable building."
For commercial or technical information on DuPont™ Energain® in UK: Tel: 01275 337 660/ Email: [email protected] / www.energain.co.uk
DuPont Energain Phase Change System – Wealdon District Council Hailsham images / information received 090712
Location: Hailsham, East Sussex, England, UK
English Building Designs
English Architecture
Guildford Crematorium, New Pond Road, Godalming
Design: Haverstock, Architects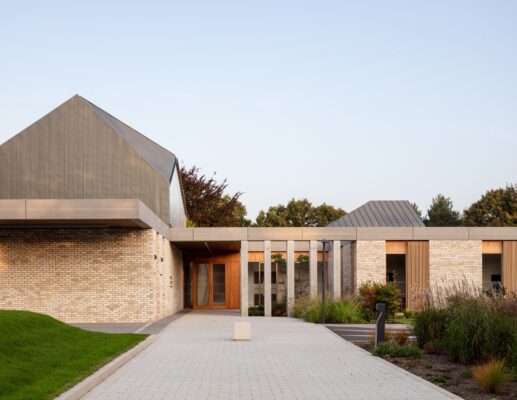 photo : Simon Kennedy
Guildford Crematorium
Sir Sydney Camm Science and Technology, Claremont Fan Court School, Claremont Drive, Esher
Design: Fletcher Crane Architects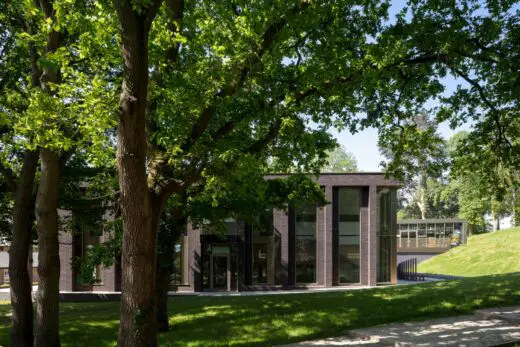 photo : Nick Kane
Sir Sydney Camm Science and Technology
Articles from DuPont – Selection
DuPont Building Innovations News
DuPont Corian Examples
Corian Sphere, England
Brørup Sparekasse, Denmark
The Cineroleum, London
Comments / photos for the DuPont Energain Phase Change System – Wealdon District Council Hailsham page welcome