Corian Showroom Shanghai, Photos, Design Studio, Huashan Square China, Pictures, Products
Corian Showroom Shanghai
Corian Design Studio China – News
9 Sep 2010
After Milan, New York and Philadelphia, DuPont opens the "DuPont™ Corian® Design Studio" in Shanghai, China
"DuPont™ Corian® Design Studio" Shanghai, design Michael Young: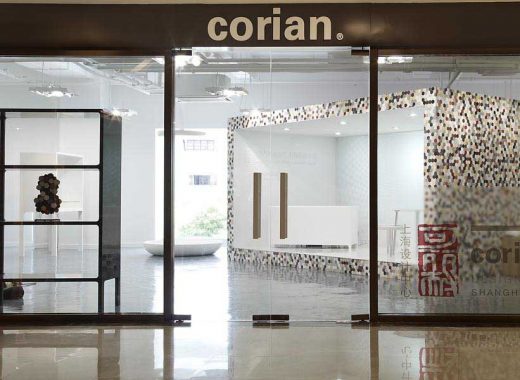 photo Fang Lei for DuPont™ Corian®
Corian Design Studio Shanghai
When world-class science and superior market knowledge unite, they produce an ideal foundation for the imaginative efforts of architects, designers and creative minds. With its extraordinary versatility and diverse color and pattern availability, DuPont™ Corian® high-tech surface is an ideal tool for empowering designers to fully realise their most daring and artistic visions. On August 11, 2010, DuPont unveiled the "DuPont™ Corian® Design Studio" in Shanghai, China.
Located in Huashan Square in Shanghai, the "DuPont™ Corian® Design Studio" is a space where designers in Asia and from around the globe to exchange ideas and concepts and where possibilities and potential can be explored. Conceived by internationally renowned designer Michael Young, this is the first-ever "DuPont™ Corian® Design Studio" in Asia-Pacific, and follows on from predecessors in Italy and USA.
"DuPont™ Corian® Design Studio" of Shangai, design Michael Young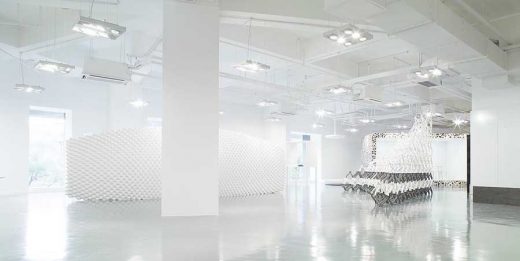 photo Fang Lei for DuPont™ Corian®
The "DuPont™ Corian® Design Studio" in Shanghai serves as the premier platform to demonstrate how this iconic and multi-talented material can both inspire and achieve complex customised applications for commercial and residential environments. A tour through the showroom is a discovery of the exrtraordinary versatility of DuPont™ Corian® – here it interpreted as strikingly unique furniture; there evolving into astonishing art pieces; and a few steps forward, unfolding as a luxurious wall decoration or delicate houseware objects. DuPont™ Corian® adds a playfulness and meaningful value to each design, showcasing its uniqueness and excellence in every aspect.
"Our collective vision was to build a creative workshop for building innovations, where designers can look, touch, and feel the energy that DuPont™ Corian® evokes," said Thomas Schuler, President of DuPont Building Innovations. "We hope to leverage our innovative technology to promote leading-edge designs that can best serve the end-user with both breathtaking beauty and valuable functionality and longevity. "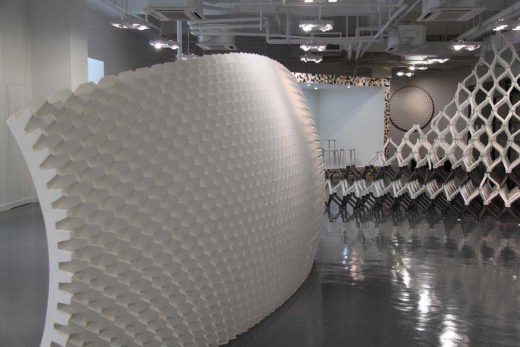 photo Fang Lei for DuPont™ Corian®
DuPont has chosen to establish this centre of inspiration and technology in Shanghai in response to this remarkable city's endeavors to develop itself into a centre of creativity with such success in recent years. With its creative and design industry encompassing five major areas: design research and development; architecture; culture and media; lifestyle and consumption; event planning and consulting – Shanghai is becoming a global center of imaginative industry, spreading its influence across the world.


photo Fang Lei for DuPont™ Corian®
DuPont is confident in maximising the reputation of DuPont™ Corian® in the architecture and design community by turning the "DuPont™ Corian® Design Studio" in Shanghai into a platform for the interaction and exchange of ideas, and even to inspire unrestrained innovation in the design community. In this regard, creativity from all over the world can effectively serve the Chinese market, while designs from Shanghai and all over China can shine on the international stage with confidence.


photo Fang Lei for DuPont™ Corian®
Doug Muzyka, President of DuPont Greater China, comments, «The establishment of "DuPont™ Corian® Design Studio" in Shanghai is also a further assurance of our commitment to the Chinese market. For a science-based market-oriented company, timely and precise response to the market is the foundation of sustainable development. In order to achieve a better understanding of customer needs, DuPont has rolled out its network in China for research and development and technical services, including its China R&D Center launched in 2005 in Zhangjiang Hi-Tech Park. The launch of the "DuPont™ Corian® Design Studio" in Shanghai sets up another channel for DuPont to keep abreast of market trends and demands. Hi-tech solutions developed in response to demand by the market are also highly practical in application and trend-leading in terms of new frontiers as well.»


photo Fang Lei for DuPont™ Corian®
Renowned British designer Michael Young designed the jaw-dropping interiors, employing a perfect marriage of art and technology. "The "DuPont™ Corian® Design Studio" of Shanghai brings Eastern and Western cultures together, drawing from the rich history of Chinese art and building techniques. As a designer, what I pursue is innovation that transcends commonness to foster a delightful and vibrant atmosphere. The supreme thermoformability and state-of-the-art techniques embedded in DuPont™ Corian® enabled me to bring the designs to life," explains Michael Young.
About DuPont™ Corian® (www.corian.com) – First marketed as a high performance solution for kitchen and bathroom worktops, DuPont™ Corian® is now a leading global brand in superior quality surfacing materials for design, architecture and furnishing, a solution chosen worldwide by many dozens of thousands of architects, designers and companies and by millions of consumers.


photo Fang Lei for DuPont™ Corian®
The continuous efforts, the investment and the creativity of DuPont in research and technology, product innovation, new applications development and marketing have made DuPont™ Corian® high-tech surface a design tool offering exceptional versatility and almost limitless possibilities for producing high quality, effective, functional and reliable solutions addressed to residential, public and commercial environments, both indoor and outdoor. From kitchens to lamps, from bathrooms to the skin of buildings, from seatings to domotic systems, from radiators to touch control surfaces, from tables to furnishing and fashion accessories, to mention just a few…: the "magic" of DuPont™ Corian® can be found today in an extremely wide variety of products, systems and objects that everyone uses or experiences in daily life. And the list keeps on growing…
DuPont™ Corian® (the whole range or to specific types) has received important independent certifications for its environmental performance (like GreenGuard®, NAHB North American Builders Association, U.S. Green Building Council's LEED® Green Building Rating System, ISO 14025 Green Choice, Scientific Certification Systems, Ecospecifier). Its hygienic performance has also been certified by prestigious independent institutions (for example, by NSF International, The Royal Institute of Public Health and LGA QualiTest).
DuPont is a science-based products and services company. Founded in 1802, DuPont puts science to work by creating sustainable solutions essential to a better, safer, healthier life for people everywhere. Operating in more than 90 countries and regions, DuPont offers a wide range of innovative products and services for markets including agriculture and food; building and construction; communications; and transportation.
The DuPont Oval, DuPont™ and Corian® are registered trademarks or trademarks of E. I. du Pont de Nemours and Company or its affiliates. Other logos, trademarks and registered trademarks are a property of respective owners.
All rights reserved on design and photos.
DuPont® Corian Showroom Shanghai images / information received 9 Sep 2010
Location: Shanghai, China
Corian Product Designs
DuPont™ Corian® – Other Examples
Architectural Products
Building Products – chronological list
Architectural Product Designs – a recent selection featured on e-architect:
Oneiric Catamaran
Design: Zaha Hadid Architects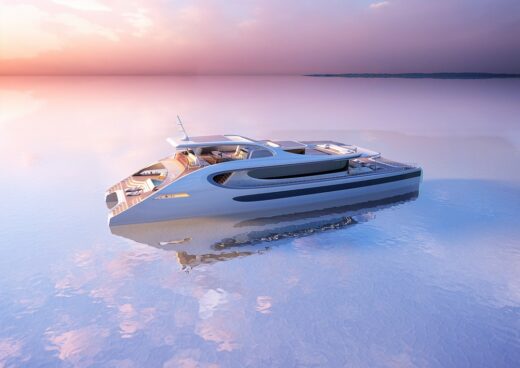 Oneiric catamaran
Oneiric Catamaran, Zaha Hadid Superyacht
Lignacite celebrates 75 years of manufacturing sustainable masonry for Britain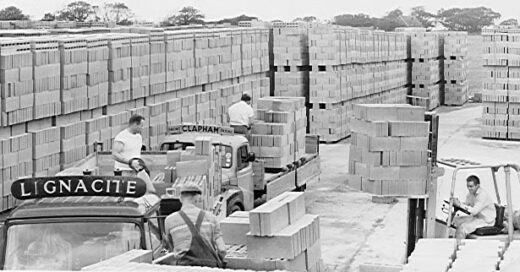 Lignacite celebrates 75 years of manufacturing masonry
Libeskind House : Daniel Libeskind
Artemide lamp – Genesy
Comments / photos for the Corian Design Studio Shanghai page welcome
Website: Shanghai, China