Rainscreen Facades, Corian Design Pictures, Surface Design Show Islington, London
Corian CPD on Rainscreen Facades
RIBA Approved CPD – Surface Design Show at Business Design Centre, Islington, London, UK
30 Jan 2012
DuPont Corian presents New RIBA approved CPD on Rainscreen Facades
High-tech solid surfaces for durable and dynamic exteriors
January 2012 – Launching at the Surface Design Show (Business Design Centre, Islington, London) on February 8th 2012, a new RIBA approved CPD seminar on the innovative use of solid surfaces for beautiful and sustainable rainscreen facades is now available from DuPont™ Corian®, the hi-tech surface offering outstanding properties for exterior building applications.
DuPont™ Corian® hi-tech solid surfaces form a jigsaw style exterior façade for the Brørup Sparekasse Bank in Denmark by schmidt hammer lassen architects: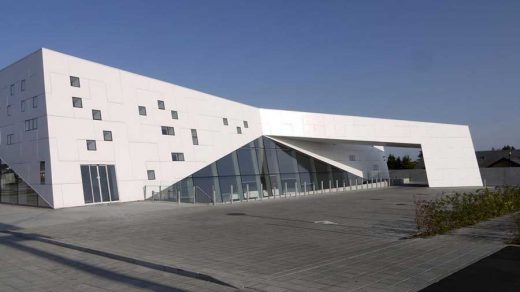 photo : Jens Nygaard for DuPont. All rights reserved
The seminar, entitled 'Modern Solid Surface Materials for Rainscreen Facades,' is presented by design professional Phil Hutfield, who during his three years as Design Consultant to DuPont® Corian® in the UK has worked on multiple installation projects with the material and also a 'Knowledge Transfer Partnership' project with a local university specifically on DuPont® Corian® as a Rainscreen Façade. Phil is responsible for overseeing the design and installation of rainscreen façade projects in the UK.
Solid Surface material for use as a rainscreen façade is a relatively new market segment. This one hour seminar details the product characteristics of solid surface material that make it particularly appropriate to this performance and design use. It gives an overview of the installation process, especially focusing on fixing systems available; outlines the design potential, showing specialist features of solid surface material; and provides a history of solid surface material as a rainscreen façade through the use of projects and photographic examples of applications. The seminar includes full visual support, actual samples and further appendices.
In recent years the world of architecture has made the exciting discovery about how this high-performance decorative material can apply its multiple talents as impressively to the exterior of a building as to its interior.
First impressions count and a beautifully functional rain-screen façade created from DuPont™ Corian® high-tech surface will keep looking and performing to its best for the long-term. Strong, durable, versatile and easy to work with, DuPont™ Corian® is superbly well suited to cladding applications in a variety of valuable ways.
Completely homogenous and non-porous, the material is easy to clean and maintain, it is fire rated, resistant to graffiti, UV and climatic conditions – and should any damage occur – DuPont™ Corian® is repairable. Furthermore a variety of design and decorative effects can be achieved with the material, which is available in 37 colours for external façades.
It is compatible with a 'secret' fix undercut anchor system and its lightweight, workable properties mean that fabrication and fitting run smoothly both off and on site. Whether creating an apparently 'seamless' monolithic look, puzzle-like patterns or engraved, textured and backlit effects, DuPont™ Corian® offers a façade solution like no other.
Façades created from DuPont™ Corian® can also enhance the sustainability of a building, by offering excellent durability, ease of maintenance and repairability, thereby affording the building exterior a long and valuable life. By helping to protect the building structure, and especially if acting together with an advanced membrane such as DuPont™ Tyvek® UV Façade, when performing the function of a rainscreen it's use can also contribute to energy savings.
From an 'iceberg' style hotel in France to private villas, large public buildings and a 'Tetris' style bank in Denmark, DuPont™ Corian® has been making its mark as a distinctive 'skin' for a number of high-profile international projects.
A visual and technical brochure on the use of DuPont® Corian® for exterior and interior cladding is also available. For hi res images and further information on any of the installations pictured here, please contact: [email protected] T: 020 7485 4832.
– Left below: 'Iceberg' style cladding for the 'Seeko'o' Hotel in Bordeaux, France by Atelier King Kong Architects;
– Right below: Engraved exterior in DuPont™ Corian® for the pavilion of a children's playground in Utrecht, The Netherlands by Mulders vandenBerk Architecten;




photo: Arthur Pequin, all rights reserved ; photo: Roel Backaert, all rights reserved
– Left below: Private clinic in Belgium featuring a sleek 'skin' in DuPont™ Corian®; photo Aries PR for DuPont™ Corian®, all rights reserved.
– Right below: Effectively lit lobby area clad externally and internally in DuPont™ Corian® for the Icade Building in Munich, Germany by Ganzer-Hajek-Unterholzner / Louvieaux, Landau Kindelbacher; photos Werner Huthmacher, all rights reserved




photo : Aries PR for DuPont™ Corian®, all rights reserved ; photo : Werner Huthmacher, all rights reserved
– Left below: 3D textural effects in DuPont™ Corian® cover the entire curved structure of the Palais de Congres in Abidjan, Ivory Coast by architect Pierre Fakhoury; photo DuPont™ Corian®, all rights reserved.
– Right below: Private Villa in Lisbon with a sleek façade in easy-care, durable DuPont™ Corian® by architect Duarte Pinto Coelho; photos Duarte Pinto Coelho, all rights reserved.




photo DuPont™ Corian®, all rights reserved ; photo : Duarte Pinto Coelho, all rights reserved
To book this CPD seminar or for further commercial or technical information about DuPont™ Corian® in the UK: T: 0800 962 116 E:[email protected] www.corian.co.uk
About DuPont™ Corian® (www.corian.com, www.corian.co.uk) – First marketed as a high performance solution for kitchen and bathroom worktops, DuPont™ Corian® is now a leading global brand in superior quality surfacing materials for design, architecture and furnishing, a solution chosen worldwide by thousands of architects, designers and companies and by millions of consumers.
The continuous investment and creativity of DuPont in research and technology, product innovation and new applications have made DuPont™ Corian® solid surface a design tool offering exceptional versatility and almost limitless possibilities. From kitchens to lamps, from bathrooms to the skin of buildings, from seating to technical systems, from radiators to touch control surfaces, from tables to furnishing and fashion accessories…: the "magic" of DuPont™ Corian® can be found in an extremely wide variety of products, systems and objects. And the list keeps on growing…
DuPont™ Corian® (the whole range or specific types) has received important independent certification for its environmental performance (such as GreenGuard®, NAHB North American Builders Association, U.S. Green Building Council's LEED® Green Building Rating System, ISO 14025 Green Choice, Scientific Certification Systems for the series with recycled content). Its hygienic performance has also been certified by prestigious independent institutions (for example, by NSF International, The Royal Institute of Public Health and LGA QualiTest).
– Left below: Opera Residence (Gümüşsuyu, Istanbul, Turkey): external cladding made with DuPont™ Corian® by First Concept; project by Hakan Kiran Mimarlik architectural studio
– Right below: Hôtel de ville of Harelbeke, Belgium (external cladding made with DuPont™ Corian®)




photo by DuPont® Corian® and First Concept, all rights reserved ; photo Sabine De Wilde for DuPont™ Corian®, all rights reserved.
About DuPont – DuPont (NYSE: DD) has been bringing world-class science and engineering to the global marketplace in the form of innovative products, materials, and services since 1802. The company believes that by collaborating with customers, governments, non-governmental organizations, and thought leaders we can help find solutions to such global challenges as providing enough healthy food for people everywhere, decreasing dependence on fossil fuels, and protecting life and the environment. For additional information about DuPont and its commitment to inclusive innovation, please visit www.dupont.com
Corian® CPD on Rainscreen Facades images / information received 300112
e-architect represenatatives from the UK and France will be at the Surface Design Show – we hope to see you there!
Location: Business Design Centre, Islington, London, England, UK
DuPont Corian Examples
Brørup Sparekasse, Denmark
Corian Sphere, England
Corian Worktop, London
Corian Showroom, Shanghai
Corian Desk, Aberdeen
The Cineroleum, London
Selection of Architectural Products featured on e-architect
Libeskind House : Daniel Libeskind
Artemide lamp – Genesy
Zaha Hadid Jewellery – Celeste Necklace
Comments / photos for the Corian® CPD on Rainscreen Facades page welcome