Hard Rock Cafe Store Barcelona, Corian Product Design, Catalunya, Spanish Shop
Hard Rock Cafe in Barcelona
DuPont Corian high-tech surface in Catalonia, Catalonia, Spain
24 Jul 2013
UK design studio Fuse choose DuPont™ Corian® high-tech surface to redecorate and relaunch the Hard Rock Cafe in Barcelona
Hard Rock Cafe in Barcelona Design
Having worked with the versatility and performance properties of the material on previous projects for the international chain, Scott Ryalls of Fuse has specified DuPont™ Corian® high-tech surface once again, this time for the renovation of the busy Hard Rock Cafe in the heart of Barcelona.
July 2013 – Taking inspiration from high-end nautical design, Leeds based design studio Fuse has renovated a popular nightlife destination in the Hard Rock Cafe group with a fresh new look. Among the high-spec solutions for the refit, DuPont™ Corian® high-tech surface features prominently on several service counters in the revamped venue in Barcelona. The material also forms the rear panel of the stage area, where its famed ability to be shaped as desired via thermoforming creates a new visual focal point, in a sleek, easy-care finish destined to perform for the long-term.
DuPont™ Corian® lends itself beautifully to intelligent customisation, offering virtually unlimited creative freedom, employed here by Fuse to execute a high-profile project with optimum impact, and functionality. According to interior architect Scott Ryalls, "the concept for the restaurant interior was to emulate the look of a luxury yacht – and the capability of DuPont™ Corian® to provide seamless, curved surfaces and a crisp, almost futuristic finish was a deciding factor in its selection."
DuPontTM Corian® high-tech surface (in Designer White colour) features prominently in the renovated Hard Rock Cafe in Barcelona as seamlessly curved and backlit screens, contrasting beautifully with dark wood finishes and red upholstery: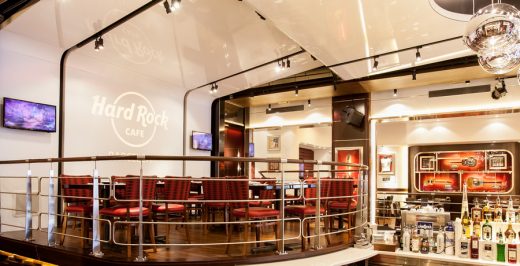 photo courtesy of Teyco Construction, all rights reserved
Furthermore, the malleable nature of DuPont™ Corian® high-tech surface allows for CNC routing to the reverse of the material and for LED illumination of the brand's logo through the surface of the screen, as well as the illumination of iconic 'mantras' such as "Love All, Serve all" and "Save the Planet" within the service counters. Ryalls continues, "Our specification of DuPont™ Corian® was reinforced by this subtle backlighting capability.
At night the lighting to the logo behind the stage is turned off and the surface is used as a video projection screen. DuPont™ Corian® has enabled this multifunctional aesthetic versatility without any compromise to the design, on the contrary, the whole effect is enhanced."
Back-lit counters made from DuPont™ Corian® at the Hard Rock Cafe Barcelona:




photos courtesy of Fuse, all rights reserved
The monolithic and gently curved service counters, made from DuPont™ Corian® in pure Designer White, appear to have been sculpted out of a single piece of the material, forming an inviting yet pleasingly robust installation that will be easy to maintain and will stand up to the high traffic use demanded of such a busy location. The combination of advanced lighting technology together with the seamlessly organically shapes achieved by DuPont™ Corian® high-tech surface work beautifully in contrast with the dark wood tones and deep red finishes elsewhere in the scheme to create a striking new image for the venue that is very much in tune with the times.
About Fuse – (ww.fuse-studios.com) – Established in 2010 Fuse operate from design studios in Manchester and Leeds in the UK and provide a balanced skill set of interior design and architecture expertise. Led by four directors, with a combined experience of over 60 years in the industry, they provide the experience and technical ability of delivering projects across most market sectors: from small, beautifully-crafted restaurant projects, to new hotel developments or the designing of large regenerative masterplans.
About Hard Rock International – With a total of 176 venues in 56 countries, including 138 cafes, 18 hotels and 8 casinos, Hard Rock International (HRI) is one of the most globally recognized companies. Beginning with an Eric Clapton guitar, Hard Rock owns the world's greatest collection of music memorabilia, which is displayed at its locations around the globe. Hard Rock is also known for its collectible fashion and music-related merchandise, Hard Rock Live performance venues and an award-winning website.
HRI owns the global trademark for all Hard Rock brands. The company owns, operates and franchises Cafes in iconic cities including London, New York, San Francisco, Sydney and Dubai. HRI also owns, licenses and/or manages hotel/casino properties worldwide. Destinations include the company's two most successful Hotel and Casino properties in Tampa and Hollywood, Fl., both owned and operated by HRI parent company The Seminole Tribe of Florida., as well as other exciting locations including Bali, Biloxi, Chicago, Cancun, Las Vegas, San Diego and Singapore.
Upcoming new Hard Rock Cafe locations include San Jose, Ibiza, Chennai, Istanbul and Tenerife. New Hard Rock Hotel projects include Daytona Beach, Palm Springs, Aruba, Riviera Maya, Abu Dhabi and Shenzhen and Haikou in China. New Hard Rock Casino projects in development include Hungary and Northfield, OH. For more information on Hard Rock International, visit www.hardrock.com.
About DuPont™ Corian® – (www.facebook.com/CorianDesign, www.corian.co.uk) – First marketed as a high performance solution for kitchen and bathroom worktops, DuPont™ Corian® is now a leading global brand in superior quality surfacing materials for design, architecture and furnishing, a solution chosen worldwide by thousands of architects, designers and companies and by millions of consumers.
The continuous investment and creativity of DuPont in research and technology, product innovation and new applications have made DuPont™ Corian® solid surface a design tool offering exceptional versatility and almost limitless possibilities. From kitchens to lighting, from bathrooms to the skin of buildings, from seating to home automation systems, from radiators to touch control surfaces, from furnishing to fashion accessories…: the "magic" of DuPont™ Corian® can be found in an extremely wide variety of everyday products, systems and objects. And the list keeps on growing…
DuPont™ Corian® (the whole range or specific types) has received important independent certifications for its environmental performance (such as GreenGuard®, NAHB North American Builders Association, U.S. Green Building Council's LEED® Green Building Rating System, Scientific Certification Systems, Ecospecifier). Its hygienic performance has also been certified by prestigious independent institutions (for example, by NSF International, The Royal Institute of Public Health and LGA QualiTest).
The environmental management systems of all the plants of DuPont that produce DuPont™ Corian® have been certified according to ISO 14001. Moreover, as a result of a multi-year improvement program, all the plants of DuPont that manufacture DuPont™ Corian® have reduced to zero their impact on landfills by reducing, reusing and recycling manufacturing byproducts and waste.
DuPont – (NYSE: DD) has been bringing world-class science and engineering to the global marketplace in the form of innovative products, materials, and services since 1802. The company believes that by collaborating with customers, governments, NGOs, and thought leaders we can help find solutions to such global challenges as providing enough healthy food for people everywhere, decreasing dependence on fossil fuels, and protecting life and the environment. For additional information about DuPont and its commitment to inclusive innovation, please visit www.dupont.com
Hard Rock Cafe in Barcelona – DuPont® Corian® images / information received 240713
Address: Plaza de Cataluña, 21, 08002 Barcelona, Spain
Phone: +34 932 70 23 05
Corian Designs
Corian® High-Tech Surface
New Colour Palette



Leo Torri for DuPont™ Corian®, all rights reserved
Corian® High-Tech Surface
Corian Colour Evolution Milan Design Week



photo : Leo Torri for DuPont™ Corian®, all rights reserved
Corian Colour Evolution Milan Design Week
Location: laza de Cataluña, 21, 08002 Barcelona, Spain
Barcelona Architecture
Barcelona Architecture Walking Tours
DuPont Links Selection
Corian Sphere, England
Comments / photos for the Hard Rock Cafe in Barcelona – Corian® high-tech surface page welcome
Website: Hard Rock Cafe Barcelona