Eco-Lodges Cornwall, DuPont Tyvek, Code Level 4 Design, Portreath Property, Gwel an Mor
Eco-Lodges Cornwall: Portreath
Thermowood Timber Cladding + Tyvek: The Residence, south west England, UK
9 Sep 2014
DuPont™ Tyvek® is an airtight investment for high-spec Eco Lodges
Location: The Residence development, Gwel an Mor, Portreath, Cornwall, southwest England, UK
Eco-Lodges Cornwall Buildings
Eco-Lodges Cornwall – Portreath Accommodation
Cornwall's beautifully rugged coastline now has a new asset in the form of The Residence: 50 high-spec 'Eco-Lodges' created to superior standards of sustainability, elegance and comfort. The £6 million development, built by Cornish company Building With Frames, offers these premium holiday homes for private ownership, with a managed rental income as a return on the investment for each hi-tech 3-bedroom unit.
Built to beyond code Level 4, the scheme uses SIPS (structural insulated panel systems) framed construction together with the highest quality materials such as Thermowood® timber cladding and DuPont™ Tyvek® advanced breather membranes, to achieve optimum levels of energy performance. Climate management for this contemporary, flat-roofed design is enhanced by air source heat pumps among other low-footprint systems.
The Residence development of 50 high spec 'Eco Lodges in Cornwall features DuPont Tyvek®: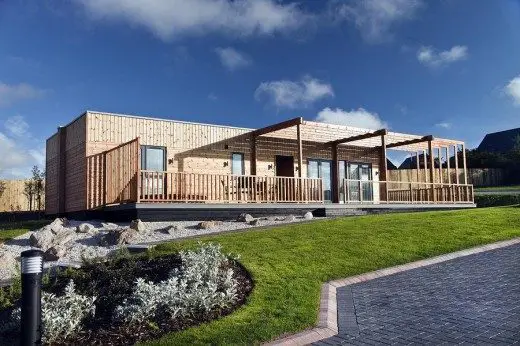 photo courtesy of Building with Frames, all rights reserved
A total of 5,500 square metres of DuPont™ Tyvek® Housewrap has been installed in the development, specified to achieve the high levels of airtightness, moisture control, thermal performance and interior comfort demanded by the project. Stephen Boyd, Managing Director of Truro based Building With Frames chose DuPont™ Tyvek® because of its reputation for enduring quality, one that matches that of his own company, the only building firm in Cornwall currently to fabricate with SIPS.
"Airtightness, and with it thermal performance, is a vital element in this project. Not only does it need to meet the requirements of the Building regulations, our brief, which is also our company's standard, was to reduce air leakage to a minimum. On this project we aim to have air permeability which is no higher than 1m3/m2/hr through the frame, and using DuPont™ Tyvek® allows us to consistently reach these targets throughout the whole site," explains Stephen Boyd.
Stephen adds that "it is also important for the structures to withstand the worst of the Cornish winter weather and to be protected against harmful condensation, therefore a membrane with a good water column and vapour permeability was essential. DuPont™ Tyvek® provides all the essential performance parameters we need in one layer: performance, protection, sustainability."
The Residence development of 50 high spec 'Eco Lodges in Cornwall features SIPS construction
and is installed with DuPont™ Tyvek® Housewrap advanced breather membranes: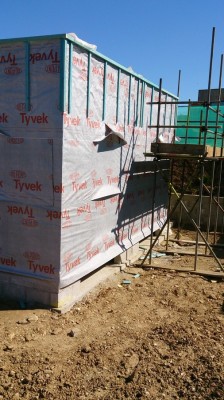 photo courtesy of Building with Frames, all rights reserved
DuPont™ Tyvek® is unique in the market because of its high-quality single layer construction which is naturally vapour open but also wind and water-tight. Lightweight yet robust, DuPont™ Tyvek® is easy to install to exterior walls and roofs, and offers long-term proven reliability and performance. DuPont™ Tyvek® has been rigorously tested and evaluated and comes with the technical support of a manufacturer renowned for its commitment to service, safety and sustainability.
The first Eco Lodges in The Residence development in Gwel an Mor, Portreath, in Cornwall are now complete and occupants will soon be able to enjoy all that the area and high specifications of the project have to offer.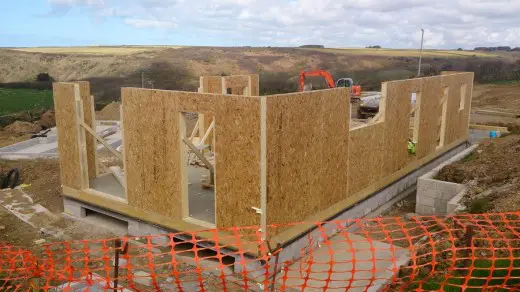 photo courtesy of Building with Frames, all rights reserved
Building With Frames, T: 01872 27 37 57 www.buildingwithframes.co.uk
For more information about DuPont™ Tyvek® in the UK please visit: www. tyvek.co.uk
or call 01275 337 660 (087 922 2740 in ROI)
About DuPont™ Tyvek® (www.tyvek.co.uk) – Invented by DuPont research and development laboratories in the late '60s as a premium material for personal protection and packaging, DuPont™ Tyvek® is manufactured using a unique, proprietary technology, and has, over time been discovered and developed as ideally suited to a variety of further applications and markets. Around 1990, it was first adopted as a breather and water proof membrane for roofs and walls for building construction in certain countries in Europe.
Between 1990 and 1995, it was introduced to the Nordic Countries (Scandinavia), Switzerland, Germany and then to the United Kingdom. Today, DuPont™ Tyvek® is marketed in 35 countries in the Europe Middle East and Africa region, in addition to the USA, Canada and many other countries in the other regions. In 2005, the entire range of DuPont™ Tyvek® membranes achieved CE certification, the first to do so in the building membrane market.
About DuPont Building Innovations – DuPont™ Tyvek® is a product of DuPont Building Innovations. From innovative energy-saving systems to beautiful and long-lasting surfacing solutions, the extensive offering of DuPont Building Innovations delivers safety, durability, beauty and energy efficiency, providing a major contribution to the modern built environment – across the spectrum of building and architecture, roads, bridges and other infrastructure and also to landscaping and gardens, as well as to the preservation or the renovation of contemporary and historical constructions.
The main products and brands managed by DuPont Building Innovations are DuPont™ Corian® (www.corian.com), DuPont™ Tyvek® and DuPont™ AirGuard® (www.construction.tyvek.com), DuPont™ Energain® (www.energain.co.uk), DuPont™ Typar® (www.typargeo.com) and DuPont™ Plantex® (www.plantexpro.dupont.com).
About DuPont – DuPont (NYSE: DD; www.dupont.com) has been bringing world-class science and engineering to the global marketplace in the form of innovative products, materials, and services since 1802. The company believes that by collaborating with customers, governments, non-governmental organizations, and thought leaders we can help find solutions to such global challenges as providing enough healthy food for people everywhere, decreasing dependence on fossil fuels, and protecting life and the environment.
Eco-Lodges Cornwall images / information received 090914
Location: Gwel an Mor, Portreath, Cornwall, England, UK
DuPont Links
Corian High-Tech Surface
Corian® High-Tech Surface
Corian Colour Evolution Milan Design Week
Corian Colour Evolution Milan Design Week
Corian Sphere, England
Comments / photos for the Eco-Lodges Cornwall – Portreath Properties page welcome