Central St Giles Development, Renzo Piano London Building, Interiors, Clarendon, Bucknall Street Design
Central St Giles London : United House Developments
Corian hi-tech surfaces in London mixed-use development design by Renzo Piano Architect (RPBW)
7 Dec 2011
DuPont Corian hi-tech surfaces make the right impression at Central St. Giles
Central St Giles London
December 2011 – The impressive new Central St. Giles mixed use development by famed architect Renzo Piano represents a dynamic step forward for modern inner city living in London.
The overall complex consists of 56 private apartments, 53 affordable homes, 400,000 square feet of office space and a public piazza with restaurant and retail units. The private residential tower was acquired and completed to the highest specification, within budget and on schedule, by leading specialists United House Developments.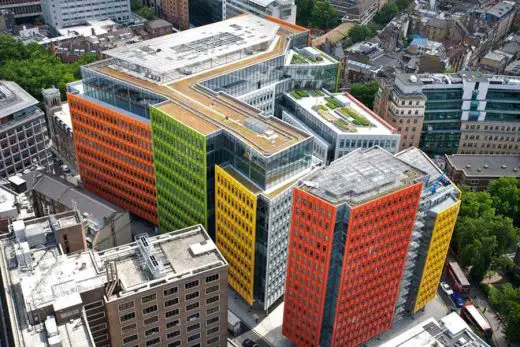 The Central St. Giles Development in London by Renzo Piano and United House, featuring DuPont™ Corian® surfaces Shot: Ext-03. Photo courtesy of United House Group. All rights reserved
In the heart of London's vibrant West End, this forward-thinking construction addresses the issues of contemporary urban housing with both verve and a keen consciousness of sustainability. The use of FSC accredited timber and a boldly coloured glazed ceramic façade distinguish the construction, while the interiors of the 56 private apartments benefit from the versatility, superior aesthetics and longevity of DuPont™ Corian® hi-tech surfaces.
Specified by interior architects Mackay + Partners LLP, this sleek, durable and hygienic material (renowned for adding value to a property) features in all the bathrooms and kitchens of the private apartments, 90% of which were pre-sold off plan.

DuPont™ Corian® solid surface features as wall cladding, alcoves, shower trays, bath surrounds and vanity tops in all bathrooms of the private apartments at Central St. Giles. Interiors designed by Mackay + Partners, fabrication by Clarendon. Above: Shot SF-47. Below: Shot SF-38. Photo courtesy of United House Group. All rights reserved

Ken Mackay explains the ideas behind the interior design and the reasons for choosing DuPont™ Corian® solid surface: "The concept for the entire project represents a new direction for British housing and the units were designed to have a less traditional and a more 'international' feel.
We were looking for modern, high-performance materials to achieve a light, clean and easy-care finish. It was also important that the materials would be adaptable to our design ideas and would last beautifully. DuPont™ Corian® was the obvious choice."
"The bathrooms are almost entirely clad in the material, which offered the smooth, seamless and consistent finish we had in mind. We have also used DuPont™ Corian® to create the shower trays, bath surrounds and vanity tops. This is repeated on the worktops and coved splashbacks in the kitchens, all in the pristine Glacier White colour choice.
I think DuPont™ Corian® solid surface is a wonderful product and we use it in many of our projects and plan to continue doing so wherever it is applicable."
The 56 private apartments are configured as studio, one, two and three bedroom flats, plus a spacious penthouse, each unit incorporating between one and three bathrooms. Optimal use of space called for the most efficient application of material, equipment and finish, whether in cloakrooms, shower rooms, larger bathrooms, or as galley style or larger open plan kitchen areas.
The high-spec bathrooms also feature sanitaryware by Villeroy & Boch, Kaldewei and Agape (penthouse), and fittings by Hansgrohe, while the kitchen units are by Asselle, with taps by Abode, sinks by Blanco and appliances by Siemens, AEG and Gaggenau.
The reception area of the apartments also benefits from the sleek formability of DuPont™ Corian® in the form of an impressive, monolithic style reception desk, fabricated by Rosskopf. The extensive fabrication of over 500 sheets of DuPont™ Corian® in the 6mm thickness and 200 sheets in the 12mm thickness for the apartment interiors was undertaken by Clarendon.
For further information about United House Group: www.unitedhouse.net
For further information about Mackay + Partners LLP: www.mackayandpartners.co.uk
For further commercial or technical information about DuPont™ Corian® in the UK:
Phone: 0800 962 116 Email: [email protected] Website: www.corian.co.uk
About DuPont™ Corian® (www.corian.com, www.corian.co.uk) – First marketed as a high-performance solution for kitchen and bathroom worktops, DuPont™ Corian® is now a leading global brand in superior quality surfacing materials for design, architecture and furnishing, a solution chosen worldwide by thousands of architects, designers and companies and by millions of consumers.
The continuous investment and creativity of DuPont in research and technology, product innovation and new applications have made DuPont™ Corian® solid surface a design tool offering exceptional versatility and almost limitless possibilities.
From kitchens to lamps, from bathrooms to the skin of buildings, from seating to technical systems, from radiators to touch control surfaces, from furnishing to fashion accessories…: the "magic" of DuPont™ Corian® can be found in an extremely wide variety of products, systems and objects. And the list keeps on growing…
DuPont™ Corian® (the whole range or specific types) has received important independent certification for its environmental performance (such as GreenGuard®, NAHB North American Builders Association, U.S. Green Building Council's LEED® Green Building Rating System, ISO 14025 Green Choice, Scientific Certification Systems for the series with recycled content). Its hygienic performance has also been certified by prestigious independent institutions (for example, by NSF International, The Royal Institute of Public Health and LGA QualiTest).
About DuPont – DuPont (NYSE: DD) has been bringing world-class science and engineering to the global marketplace in the form of innovative products, materials, and services since 1802. The company believes that by collaborating with customers, governments, non-governmental organizations and thought leaders we can help find solutions to such global challenges as providing enough healthy food for people everywhere, decreasing dependence on fossil fuels, and protecting life and the environment. For additional information about DuPont and its commitment to inclusive innovation, please visit www.dupont.com
Location: Bucknall Street, London, UK
Central St Giles Building in London
Key London Building by Renzo Piano Building Workshop
The Shard
DuPont Corian Designs
London Architecture – Selection
Central St Giles : building context
Comments / photos for the Central St Giles London page welcome
Website : www.buildingcentralsaintgiles.com + www.centralsaintgiles.com