new bwin.party HQ design London, Ranne Creative Interiors, Corian Product, Applications
new bwin.party HQ
DuPont Corian high-tech surface, London, UK design by Ranne Creative Interiors
26 Feb 2013
Location: One New Change Shopping Centre, 1 New Change, London, UK
DuPont™ Corian® high tech surfaces shape the design vision at the new bwin.party HQ by Ranne Creative Interiors
bwin.party HQ design
February 2013 – When the world's largest listed online gaming company was formed by the merger of two major industry players to become bwin.party, the 'dot' that connected the new name style was also to become a key motif in the design of their impressive new Headquarters in London. Ranne Creative Interiors was chosen to envision the new space in Cheapside's prestigious One New Change development and the design team in turn chose DuPont™ Corian® high-tech surfaces to help realise a bold, curvaceous concept.
The new bwin.party HQ in London by Ranne Creative Interiors features circular wall cladding and a reception desk made from DuPont™ Corian® high-tech surfaces: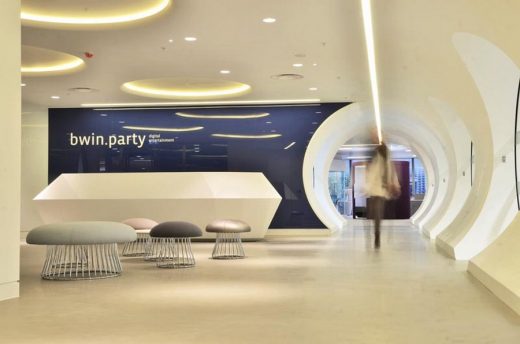 image courtesy of Ranne Creative Interiors, all rights reserved
Inspired by the circular 'dot' theme, Ranne echoed this form throughout the design, including LED light installations in the ceilings and the spectacular tunnels and entrances to the meeting room suite, shaped from and entirely clad in DuPont™ Corian®.
"We chose DuPont™ Corian®," says project designer Chloe Ralph-Smith, "because it was the only material that would fulfil our design brief and which could provide the clean, seamless, organic finish that we wanted. DuPont™ Corian® has also been used to create the statement reception desk and for the doors and worktops to the kitchenette areas."
DuPont™ Corian® is now widely being used not only for horizontal but for vertical surfaces, particularly wall applications, where its exceptional design capability means it can achieve almost any aesthetic vision, while also offering superior performance in terms of longevity, resistance, easy-maintenance and renewability of finish.
The new bwin.party HQ in London by Ranne Creative Interiors features circular entrances and wall cladding made from DuPont™ Corian® high-tech surfaces:



image courtesy of Ranne Creative Interiors, all rights reserved
The seamless curving of the tunnels at bwin.party, achieved by highly skilled fabrication and fitting, is one of many decorative possibilities for DuPont™ Corian® high-tech surfaces that include digital printing, CNC engraving, backlighting, inlaying and many other dramatic effects. In each case, DuPont™ Corian® is renowned for making the right (and lasting) impression. With its sleek, tactile finish and sophisticated colour palette of over 70 choices, DuPont™ Corian® makes a distinctive surface solution that is both design and user friendly. At the bwin.party London HQ, a total of 74 sheets of the DuPont™ Corian® in the Glacier White colour have been installed.


image courtesy of Ranne Creative Interiors, all rights reserved
The new premises are now home to more than 200 staff, in a generous 20,000 sq.ft floorplate with a flowing layout that has been zoned into workspace, meeting rooms, reception, refreshment and recreation areas (including a fully equipped games room.) Further high-spec furnishings include Vitra Joyn desks, Herman Miller Mirra chairs and seating solutions from Boss Magic, Bene Parcs and Allemuir. Flooring finishes include poured resin in the reception area, Desso carpet tiles in the meeting rooms and Bolon woven vinyl in the open plan area.
The design concept for the new bwin.party HQ London came together after a careful process that included consultation between the designers and the bwin.party workforce as to what they would hope to gain from the new workspace. By all accounts, since completing the move in December 2012, the occupants are delighted with their new facilities. Ranne Creative Interiors are now turning their attention to the bwin.party offices in Tel Aviv and Vienna.
The new bwin.party HQ in London by Ranne Creative Interiors features wall cladding, circular entranceways, a statement reception desk and kitchenette countertops and doors made from DuPont™ Corian® high-tech surfaces:



image courtesy of Ranne Creative Interiors, all rights reserved
About bwin.party: bwin.party is the world's largest listed online gaming company, formed in March 2011, from the merger of bwin Interactive Entertainment AG and PartyGaming Plc. The group has more than 2,700 employees in Europe, India and the US. Gaming is currently a €300m a year industry, approximately 9 per cent of which is expected to be interactive in 2013. www.bwinparty.com
About Ranne Creative Interiors: Ranne Creative Interiors is a specialist interior design, build, consultancy planning service. Founded in 2009, the company works throughout the UK and
Europe for clients including Johnson Matthey, Aviva, the Almeida Theatre, Coffee Republic, bwin.party, Quickoffice, and booking.com. For further information visit www.ranne.co.uk
About DuPont™ Corian® (www.corian.com) – The continuous efforts, the investment and the creativity of DuPont in research and technology, product innovation, new applications development and marketing have made DuPont™ Corian® high-tech surface a design tool offering exceptional versatility and almost limitless possibilities for producing high quality, effective, functional and reliable solutions addressed to residential, public and commercial environments, both indoor and outdoor.
From kitchens to lamps, from bathrooms to the skin of buildings, from seating solutions to home automation systems, from radiators to touch control surfaces, from tables to furnishing and fashion accessories, to mention just a few…: the "magic" of DuPont™ Corian® can be found today in an extremely wide variety of products, systems and objects that everyone uses or experiences in daily life. And the list keeps on growing…
DuPont™ Corian® (the whole range or specific types) has received important independent certifications for its environmental performance (like GreenGuard®, NAHB North American Builders Association, U.S. Green Building Council's LEED® Green Building Rating System, Scientific Certification Systems, Ecospecifier). Its hygienic performance has also been certified by prestigious independent institutions (for example, by NSF International, The Royal Institute of Public Health and LGA QualiTest).
The environmental management systems of all the plants of DuPont that produce DuPont™ Corian® have been certified according to ISO 14001. Moreover, as a result of a multi-year improvement program, all the plants of DuPont that manufacture DuPont™ Corian® have reduced to zero their impact on landfill by reducing, reusing and recycling manufacturing byproducts and waste.
DuPont – DuPont (NYSE: DD) has been bringing world-class science and engineering to the global marketplace in the form of innovative products, materials, and services since 1802. The company believes that by collaborating with customers, governments, NGOs, and thought leaders we can help find solutions to such global challenges as providing enough healthy food for people everywhere, decreasing dependence on fossil fuels, and protecting life and the environment. For additional information about DuPont and its commitment to inclusive innovation, please visit www.dupont.com.
The DuPont oval logo, DuPont™ and Corian® are registered trademarks or trademarks of E. I. du Pont de Nemours and Company or its affiliates. Other logos, trademarks and registered trademarks are a property of their respective owners.
For further commercial or technical information about DuPont™ Corian® in the UK:
T: 0800 962 116 E:[email protected] www.corian.co.uk
bwin.party HQ design images / information received 260213
Location: London, England, UK
Address: One New Change Shopping Centre, 1 New Change, London EC4M 9AF, UK
Phone: +44 20 7337 0100
DuPont Products – Selection
Corian Sphere, England
The Cineroleum, London
Selection of Architectural Products featured on e-architect
Libeskind House : Daniel Libeskind
DuPont Building Innovations News
Comments / photos for the bwin.party HQ design page welcome