New Orleans architecture news, Louisiana building, Big Easy architects, United States of America property designs
New Orleans Architecture: Buildings
Key American Property + Architectural Developments – Major Contemporary Real Estate / Built Environment USA
post updated September 8, 2023
New Orleans Building – Latest Designs
New Orleans Building Developments – chronological list
New Orleans Buildings News
Contemporary New Orleans Architecture, Louisiana, southern United States of America, chronological:
August 10, 2023
Second Harvest
Design: EskewDumezRipple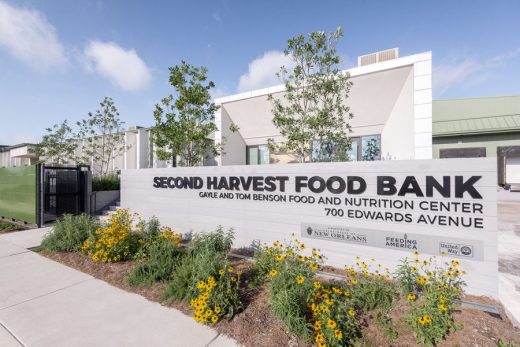 image : Michael Mantesen
Second Harvest in New Orleans
Second Harvest is one of the region's largest food banks, carrying out a mission to end hunger by providing food access, advocacy, education, and disaster response. The organization provides food and support to 700+ community partners and programs across 23 parishes, and their staff and volunteers distribute the equivalent of more than 32 million meals to 210,000+ people a year.
July 18, 2023
Moiré Noir House
Design: Nathan Fell Architecture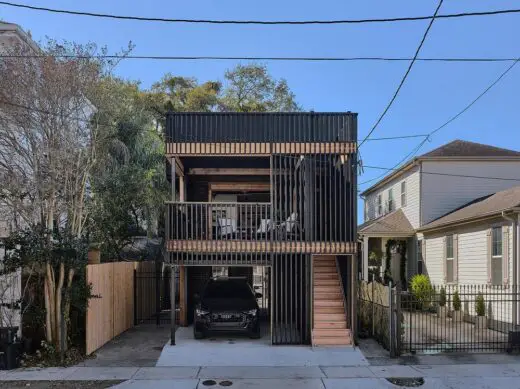 photo : Jeremy Jachymn
Moiré Noir House
When Nathan Fell of NFA (Nathan Fell Architecture) first spoke with Eric Roland, the client for the Moiré Noir House New Orleans front porch addition, there were a few things about the project summary that would normally have stood out as red flags. The budget was only $50k, the project scope was very small, and it was going to be DIY (Roland was to self-perform as the General Contractor).
Dec 20, 2022
Retirement Of Principals Mark Ripple And Tracy Lea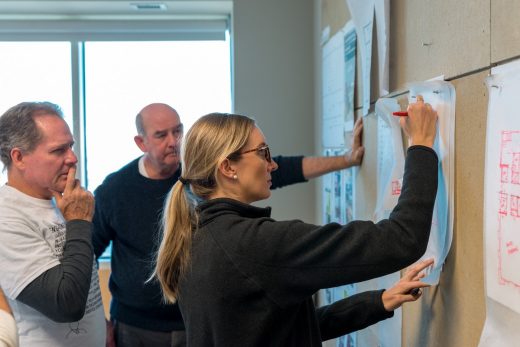 photo courtesy of architects office
EskewDumezRipple Architects USA
Following long and celebrated careers leading the architectural practice of EskewDumezRipple, Principals Mark Ripple and Tracy Lea announced today their retirement at the end of 2022. Over the last four decades, Mark and Tracy have brought their unique and complementary talents in the leadership of this distinguished, nationally-acclaimed practice.
Jan 4, 2022
Saint Charles Avenue Mansion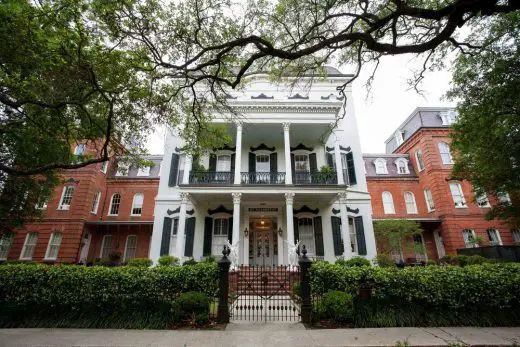 photo : Concierge Auctionsn
Saint Charles Avenue Mansion
With the death of Anne Rice in December at the age of 80, New Orleans lost one of its most unique characters. The author of the 1976 smash hit Interview With a Vampire and its thirteen sequels among her forty novels sold more than 150 million books during her prolific career, forever changing the image of the vampire in literature and inspiring countless other writers.
Dec 26, 2020
Maison de la Luz
Design: EskewDumezRipple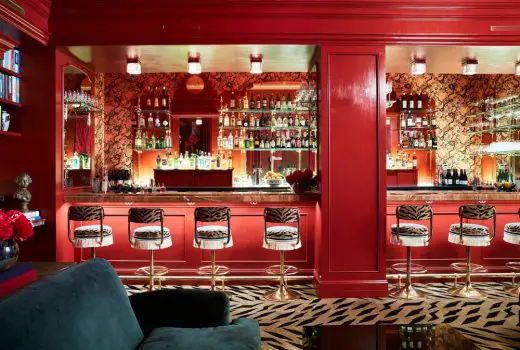 photograph : Stephen Kent Johnson
Maison de la Luz New Orleans
Maison de la Luz from Atelier Ace is a new luxury guesthouse designed in collaboration by EskewDumezRipple and interior design firm Studio Shamshiri. The design team worked in tandem to transform the legacy six-story, 55,464-square-foot former City Hall annex into a sophisticated destination.
Nov 18, 2020
The Beacon, South Market
Design: EskewDumezRipple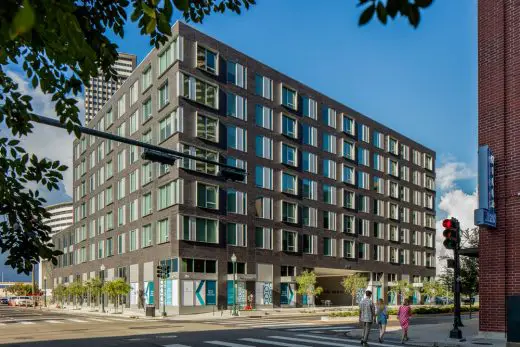 photo © Neil Alexander
The Beacon, New Orleans Homes
A 172,000-sqft, seven-story residential building that takes it's inspiration from the city's historic French Quarter courtyard buildings. In contrast to the typical residential courtyard block accessible only to the residents of the building, this courtyard opens directly onto Girod Street.
More New Orleans Architecture News online here at e-architect soon
New Orleans Architecture News 2018 – 2019
Nov 7, 2019
North Terminal – Louis Armstrong International Airport
Architects: LEO A DALY and Atkins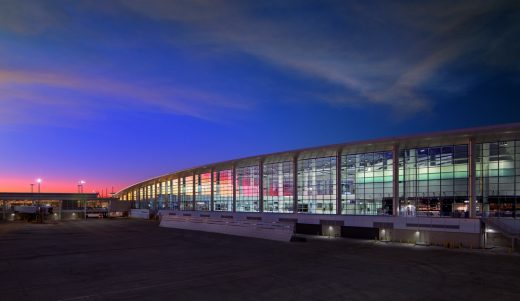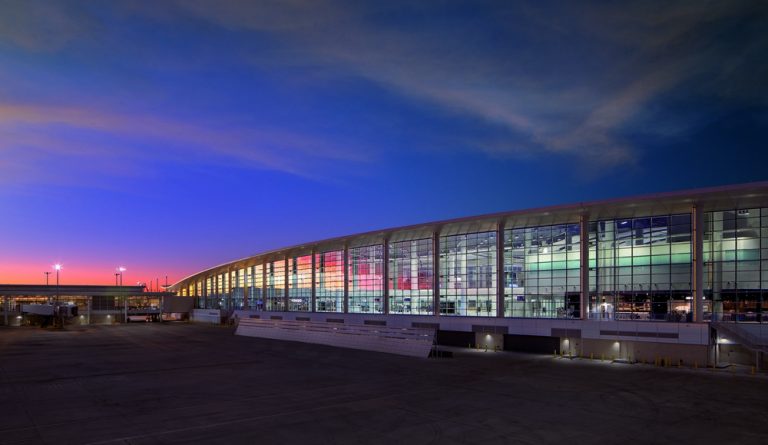 picture from architecture office
New Orleans International Airport Building
LEO A DALY and Atkins celebrate grand opening of $1 billion terminal at New Orleans International Airport.
Aug 19, 2019
Redefining Learning Spaces – International Architectural Competition, UL Lafayette Campus
A site on the UL Lafayette Campus (Exact site to be announced) ULlearninglab.org. This American architectural competition began on August 15, 2019. The UL Learning Lab is due to be open by Fall 2022.
Redefining Learning Spaces – International Architectural Competition
Jan 24, 2019
St. Pius X Catholic Church Chapel and Prayer Garden, 6666 Spanish Fort Boulevard
Design: Architects EskewDumezRipple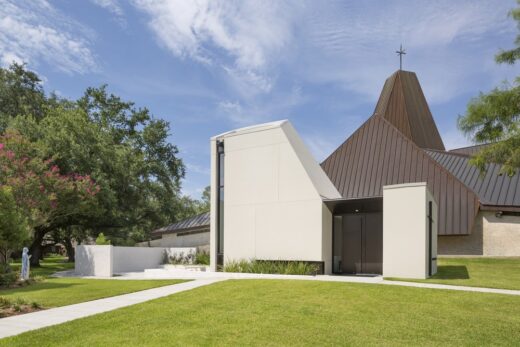 photo © Will Crocker
St. Pius Chapel and Prayer Garden in New Orleans
The St. Pius Chapel and Prayer Garden has been recognized as one of nine projects to receive this year's top Interior Architecture Award by the American Institute of Architects (AIA). The nw building was designed as a quiet refuge and intimate sanctuary for sacred reflection and contemplation and serves as a quiet, sculptural addition to the landscape.
Jul 28, 2018
Ace Hotel Louisiana Accommodation
Design: Architects EskewDumezRipple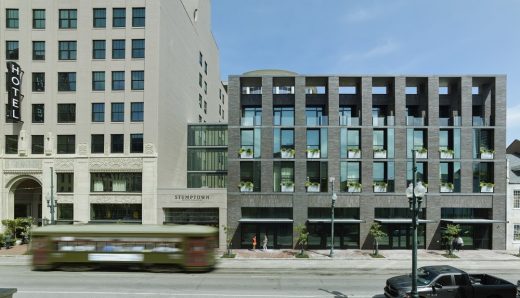 photography : Timothy Hursley; Fran Parente; Simon Watson
Ace Hotel
The Ace Hotel New Orleans is located on a corner lot in the historic Warehouse District, within walking distance of a gourmet grocery, upscale retail establishments, and a variety of fine dining options. This 184,000-square-foot mixed-use development centered around the renovation of an existing 9-story circa 1928 building.
Jul 12, 2018
Crescent Park, Mississippi River
Architects: EskewDumezRipple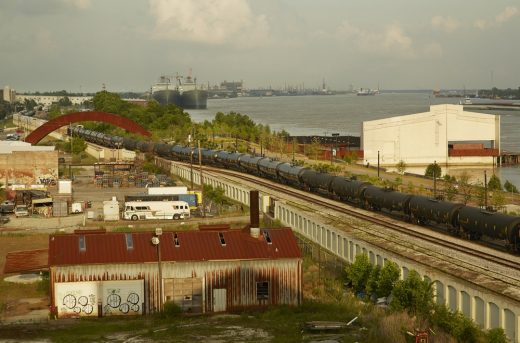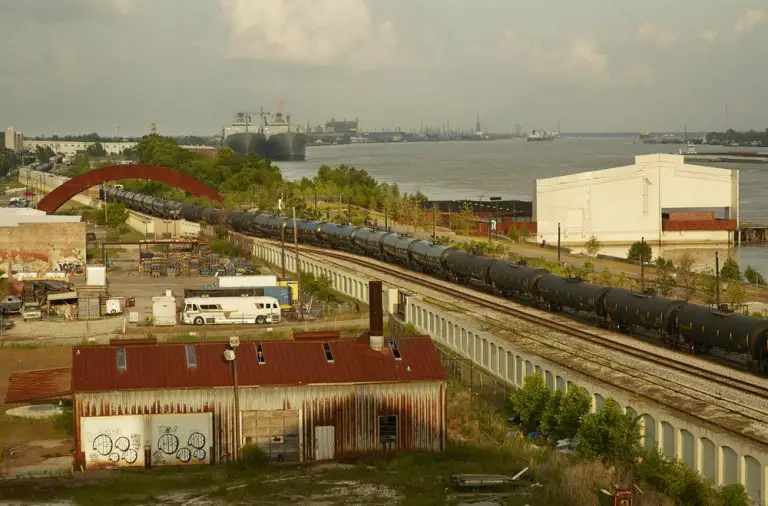 photo : Timothy Hursley
Crescent Park, Mississippi River
The Park grants unparalleled physical and visual access to the river, creating an environment for locals and visitors to interact and promote a healthy, active lifestyle with unrivaled vistas of the city skyline and the picturesque Crescent City Connection Bridge.
Jun 27, 2018
The Shop at the CAC New Orleans
Architects: EskewDumezRipple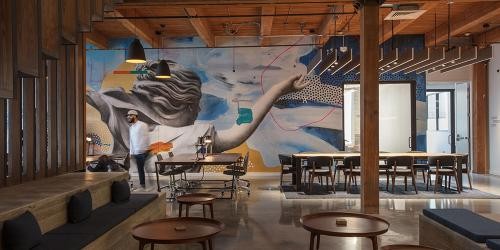 picture from architectural firm
The Shop at the CAC New Orleans
The Shop is a comprehensive co-working development at the Contemporary Arts Center, New Orleans (CAC). Targeting technology, arts, and cultural-based businesses; The Shop serves as a hub of entrepreneurship in the developing Downtown innovation corridor.
More New Orleans Architecture News on e-architect soon
New Orleans Architecture News 2010
Jan 21, 2010
L.B. Landry High School
Design: EskewDumezRipple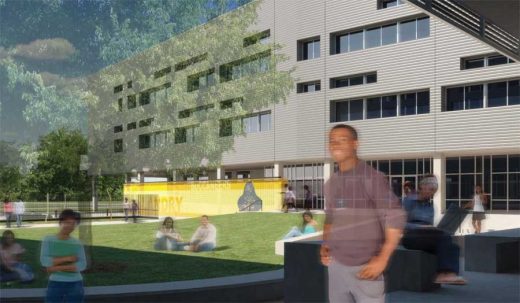 image courtesy of architects practice
L.B. Landry High School
This is a post-Katrina replacement high school for the Louisiana Department of Education Recovery School District. The school was founded in 1938 as the first high school in Algiers that African-American residents could attend and the second black high school established in Orleans Parish, after McDonogh 35.
Jan 21, 2010
Prospect.1 New Orleans
Architects: EskewDumezRipple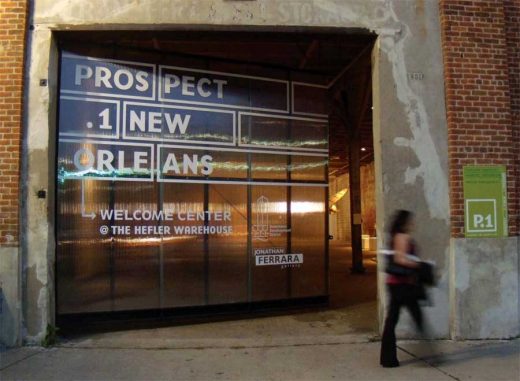 photo : Will Crocker
Prospect Welcome Center
Prospect.1 New Orleans [P.1], the largest biennial of international contemporary art ever organized in the United States, exhibited 81 artists in museums, historic buildings, and found sites throughout New Orleans from November of 2008 through January of 2009.
New Orleans Healthcare Buildings
Louisiana Architectural Designs
We've selected what we feel are the key examples of Louisiana Buildings, USA. We aim to include projects that are either of top quality or interesting, or ideally both.
We cover completed Louisiana buildings, new building designs, architectural exhibitions and architecture competitions across the state. The focus is on contemporary buildings but information on traditional buildings is also welcome.
Major New Orleans Building Designs, alphabetical:
Oct 5, 2008
Charity Hospital, Medical Center of Louisiana, 136 S Roman Street
Design: RMJM Hillier architects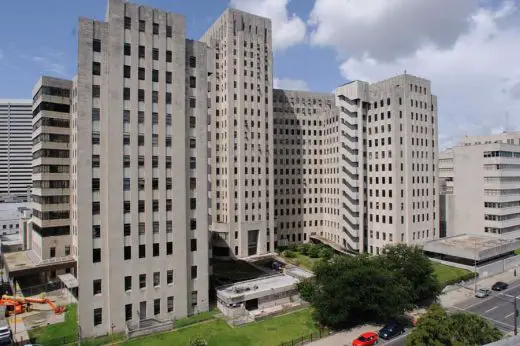 photo from architect studio
Charity Hospital New Orleans
Charity Hospital was one of two teaching hospitals which were part of the Medical Center of Louisiana at New Orleans (MCLNO), the other being University Hospital. Three weeks after the events of Hurricane Katrina, then Governor Kathleen Blanco said that Charity Hospital would not reopen as a functioning hospital.
Nov 18, 2009
Duplantier Volunteer Pavilion
Design: Michael McKay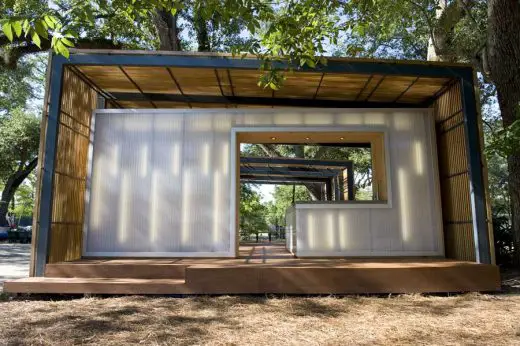 photograph : Frank Doring
Duplantier Volunteer Pavilion
The Duplantier Volunteer Pavilion is located in the New Orleans Botanical Garden in City Park. After the devastating storms of 2005 a number Cypress trees in City Park were uprooted. This pavilion was constructed as result of these fallen trees.
New Orleans Houses, Lower Ninth Ward, for charity Make It Right – run by Brad Pitt
Design: Brad Pitt with various architects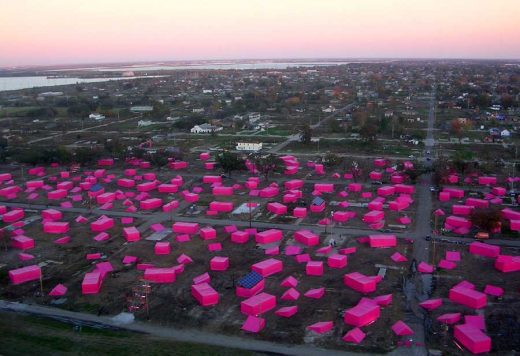 photograph : Megan Grant
New Orleans Houses
Hurricane Katrina devastated New Orleans. The slow reaction to the initial emergency and to the ongoing crisis exposed troubling realities about the response capabilities of the American government when the citizens of our most culturally diverse city were in desperate need of help.
New Orleans Houses, Lower Ninth Ward
Design: Graftlab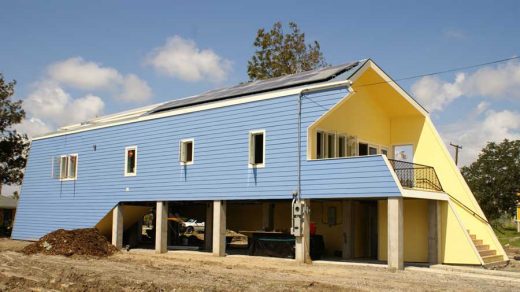 image courtesy of architects practice
New Orleans House
This proposal positions itself from the starting point of a traditional New Orleans housing typology, the shot gun house, which is abstractly represented through an expressive, almost exaggerated, gable roof and generous front porch.
Make it Right Affordable housing
Design: Trahan Architects
MIR housing
Poydras Residential Tower
Design: EskewDumezRipple
Poydras Residential Tower
More Louisiana Buildings online soon
Key Louisiana Building Developments, no images, alphabetical:
Piazza D'Italia, New Orleans
–
Design: Charles Moore
Famous postmodern design
More New Orleans Building Designs online soon
Location: New Orleans, Louisiana, USA
Holy Rosary Catholic Church complex
Design: Trahan Architects
Holy Rosary Church Building
America Architecture News – latest building updates
Developments in Neighbouring States to Louisiana
Mississippi Buildings
Buildings / photos for the New Orleans Architecture page welcome