World Trade Centre Architecture New York, Manhattan Ground Zero Buildings, WTC Design
World Trade Center New York Architecture
Discussion on the Design of the Freedom Tower in Manhattan, NY, USA
post updated September 11, 2021 ; origianl article posted Mar 15, 2004
9/11 anniversary – 20 years since the 11 September attacks
In total, 2,977 died, with 2,753 victims at Ground Zero in Manhattan.
Four of the six towers planned on the former Ground Zero site are now open, including the tallest – One World Trade Center.
Location: World Trade Center – seven buildings in the Financial District, Lower Manhattan, New York City, United States of America
Manhattan World Trade Center
Memory Marker: Remembrance of Things Past
Article by Adrian Welch, Architect and e-architect Editor
Article written in 2004 for the The Drouth Literary magazine
Any marker to '9/11' must sit in relation to polar opposites: the capitalist drive to extract dollars per sq ft on the site and a desire to leave space for memory of this atrocity. But are these truly irreconcilable opposites or could a creative architect – or team (important distinction) – reconcile these goals partly or even fully?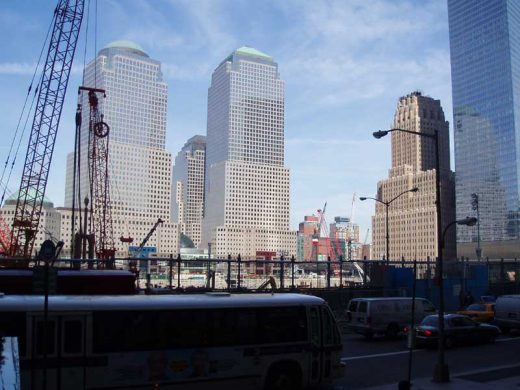 Ground Zero New York photograph : Andrew McRae, 2007
I won't dwell on questions of how the site is being parcelled up – the sadly separate competitions for 'building' and 'memorial' – but the separation is relevant background information. The 'building' competition came first probably due to its size and thus fiscal importance. The 'memorial' was slotted in afterwards – eight typically minimalist 'spaces' shortlisted mostly using water and light. If a creative mind was behind rebuilding this site the two could have been married together.
Pre-Modernism memorials were mostly formal objects – think of Edwin Lutyens' Thiepval Arch in the Somme, memorial to the First World War dead. Modernism brought us simple forms – the Vietnam Memorial wall in Washington, D.C. stands out, more recently architect Daniel Libeskind's Memorial Garden outside his Berlin Museum.
Memorials are described as being places to reminisce, but not normally too vividly: no overt references to falling bodies will appear in the Twin Towers Memorial. To avoid hurt they seem to retract from death and tragedy into abstract pathos or general formality. Memorials inhabit a twilight zone between architecture and sculpture; typically linked to taboo issues – here 'atrocity' – they sometimes suffer from lack of critique.
The new World Trade Center tower at 200 Greenwich Street: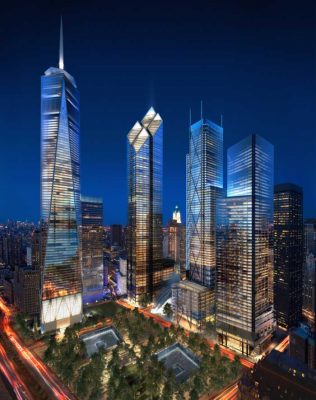 image : Foster + Partners
Back to the opening premise: can Libeskind et al make the dollar generator into the memorial, can 'Freedom Tower' itself have the required potency? The foot of Manhattan is already a powerful marker for many US immigrants, including members of my own family. Arriving on a ship seeing the towering lights of Mammon and the symbolic Statue of Liberty. The latter has a dual purpose – icon and climbable tourist attraction: how could the 'Freedom Tower' express both poles of its duality?
For a start the height of 1776 ft, resonating with America's Year of Independence, fell flat for me: I expected it to change post-competition and so it did, unusually revised up! The impression is of lip service to the tragedy whilst the fiscal side is worked up in the background: the result is an aim to simply parcel off a patch of prime real estate purely for memory. The Ground Zero site is owned by Larry Silverstein and, with George Pataki, the City Governor, he ran an international architecture competition to find an architect / scheme for the site. The shortlist was whittled down eventually to Daniel Libeskind – radical Polish-born architect – and Rafael Vinõly – a conservative but contemporary architect born in Mexico.
But cries of 'sell-out to Silverstein' – especially from relatives – drown out reason: like Swiss Re for London, (after years of IRA bombs) is not the burgeoning tower of real estate the most fitting memorial? It should express city, embody confidence, and emanate determination to progress. The people who died, were primarily part of the bullish capitalist drive to make money: why pretend otherwise, wrap up reality with the cotton wool of disconnected abstraction?
Fredom Tower New York, World Trade Center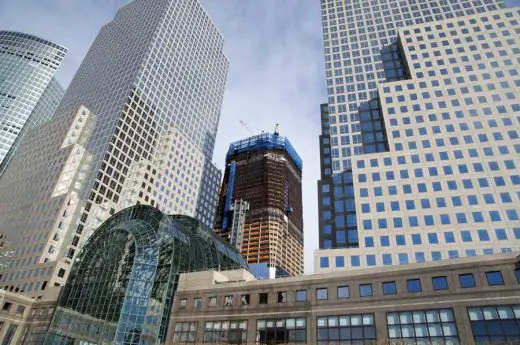 Freedom Tower New York image received May 2011
Central to the memorial is symbolism and inscription. From Stonehenge to the humble gravestone we see this. For example Louis Kahn's 1968 abstract memorial to the 'Six Million Jewish Martyrs' proposed for Lower Manhattan contained both – the central pier served as an ohel (chapel), complete with inscription. The written word introduces the personal – the name you can point to, relate to. An unspoken rule of architecture is 'good buildings don't need signs' and, by extension, 'words'. Yet no architectural memorial seems complete without inscription. 'Set in stone' is a phrase to suggest permanency – rootedness is a useful aura when suffering loss. Hope, life after death.
Memorials also of course allow the State, organisations, people to make a statement, exert power, show respect. Just as arguments exist around the extent of 'respectful' space around city cathedrals – for example the years of vigorous debate around Paternoster Square's relationship to St Paul's Cathedral – so the same applies for memorials: do monuments really need space? Discussion re this site seems to have revolved around the notion of space given over to 'memorial': space = respect.
World Trade Center Towers, New York City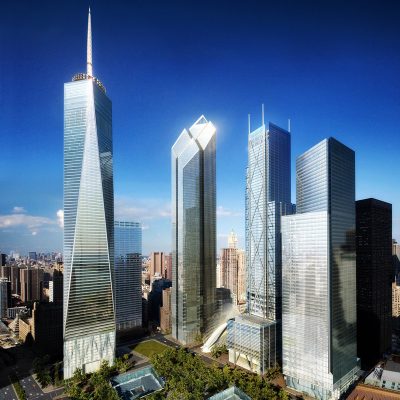 image : dbox Courtesy of: Silverstein Properties
This corollary comes from the public / private opposition that has characterised debate on urbanism for decades: the more 'public realm', the greater the developer's generosity and perceived benefit to the populace. The demand for rent creates maximum development by default. The Public appears to want 'sacrifice' where possible. Here the sacrifice could be a viewing platform at the top of 'Freedom Tower' a contemplative pool or a square for parades and gathering. The clever bit (in developers' eyes) is dressing the necessary space around the building (building laws related to light, etc.) as the 'sacrificial space'.
Monuments were essentially 'monumental' in the past (sounds obvious!), hence the textual linkage, i.e. grand and impersonal, arching over singularity to create plurality and collectivist aspirations but mostly subjugation. The Arc de Triomphe, Nelson's Monument, the Monument to the Great Fire of London all rise above an urban context and dominate the human.
What validates 'monument', differentiates it from sculpture or building? Does the 'title' matter if you realise there exist 'living structures' (The London Eye) and 'functionless buildings' (Edinburgh's National Monument)? The Ground Zero site will be home to one of the most observed memorials ever, trying to come to terms with huge, spectacularly vicious loss of life, and in one of the World's largest and most popular cities. New York almost epitomises what we think a city should be. The memorial will be a marker for more than atrocity: it will also become a marker for cities, architecture and society.
200 Greenwich Street – WTC Tower 2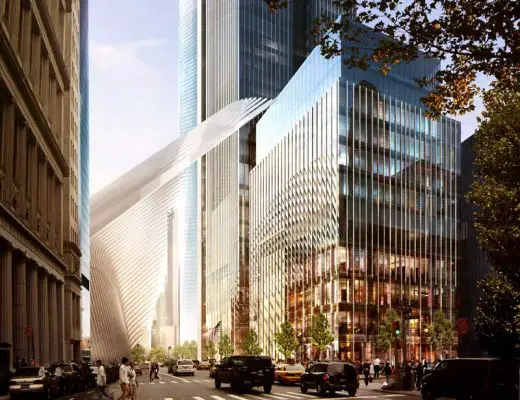 picture : Foster + Partners I Courtesy of: Silverstein Properties
The agenda of the people, the owner/developer, city and state may all vary. Monuments generally use scale, heroic forms, emblems/icons, metaphor and allusion. The Marker could synthesize function and memory and be emblematic of New York. Empirical institutions and situations of the city stand as allegories of the invisible substance of society as a whole.
Politically the site has to represent unbroken spirit, confidence to progress, unhindered by fears of terrorism but without creating what Giedion termed 'devaluation of symbols', empty gestures of civic monumentalism. Monuments should be catalytic. Tension between the 'opposites' could be played up or down. Aspirations of State could transmit to surging height or connotations of peace and freedom.
99 Church Street World Trade Center Tower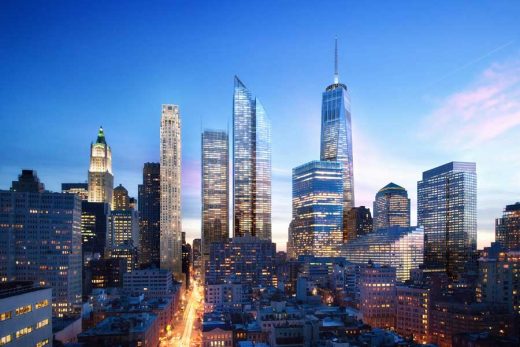 image : dbox Courtesy of: Silverstein Properties
In Aldo Rossi's 'The Architecture of the City' he defines monuments as 'primary elements in the city which are persistent and characteristic urban artifacts. They are distinguished from housing, the other primary element in the city, by their nature as a place of symbolic function, and thus a function related to time, as opposed to a place of conventional function, which is only related to use'. A monument is dialectically related to the city's growth.
In these days of superfast media the permanence of solid physical memorial may be a welcome antidote, but memorial possibilities have multiplied if NY wanted a more imaginative zeitgeist marker. Loops of crash footage on a massive screen, raining mannequins projected from above, the smell of kerosene and worse, screams and sirens blasted around the site complete with multi-screen slivers of reaction from bereaved families. However, this is not a horror film-set but a place of reconciliation for the bereaved, for East and West, conservative and radical.
Statue of Liberty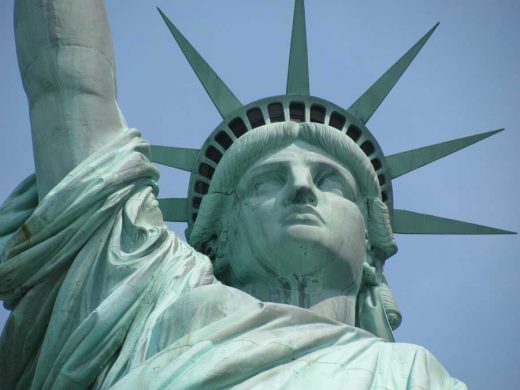 photograph : Hausman LLC
Daniel Libeskind is working on a book fittingly about 'tragedy, memory and hope, and the way architecture can reshape human experience': his asymmetric tower ostensibly follows the Statue of Liberty so unless the forces of commerce puncture this concept, we will have iconoclastic towers forming a lop-sided symbolic gateway. Neither forms a traditional abstract solid, the obelisks, pyramids and towers of the past. The Twin Towers form modern day icons blasted into people's minds. The Towers were considered by many to be ugly, but they will be a hard act to follow. Memory is what matters most, not built form.
World Trade Center Prints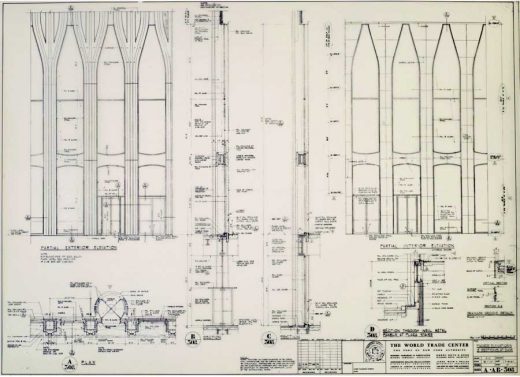 photo of print courtesy of Wright
* In 1946 New York State Legislature set up a WTC Corporation to analyse such a facility. The World Trade Centre idea formed in 1960* and preliminary drawings were drawn up by SOM, who slipped in behind Libeskind 43 years later (via David Childs). Michigan-based Minori Yamasaki and Emery Roth & Sons completed the Twin Towers between 1966 and 1973. Yamasaki had over a hundred schemes, one being a single 150-storey tower. Towers 1 & 2, nicknamed 'David & Nelson' after the supportive Rockefeller Brothers became quintessential New York symbols, appearing on a large proportion of postcards.
Author: Adrian Welch is an Architect and runs this website. The New York Freedom Tower article first appeared in The Drouth Literary magazine in 2004
Architectural texts welcome – no limit to words : info(at)e-architect.com
Location: 99 Church Street, WTC, New York City, NY, USA
9/11 Architecture
Contemporary 9/11 Architectural Designs
Pentagon 9/11 Memorial Visitors Center, Arlington, Virginia, United States of America
Design: Fentress Architects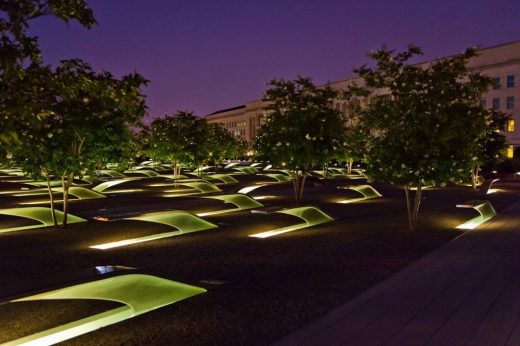 image courtesy of architects practice
9/11 Pentagon Memorial Visitor Education Center
September 11th Memorial Building, New York City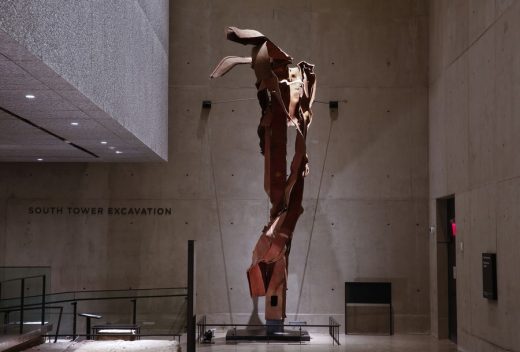 photo : Jin Lee
9/11 Memorial Museum New York
WTC, New York City
World Trade Center Towers New York
Architecture in New York City
Contemporary Architecture in New York City
New York City Architecture Designs – chronological list
New York Architecture Walking Tours
Site of World Trade Center
New York (destroyed 2001)
1966-73
Minoru Yamasaki, Emery Roth & Sons
Freedom Tower New York – Site of World Trade Center
Ground Zero, Lower Manhattan
2004-
Daniel Libeskind Architects + David Childs of SOM Architects
Controversial towers to replace the World Trade Centre skyscrapers lost to New York in 2001. The main skyscraper by Libeskind was to be a significant number of feet high – 1,776 ft – to mark a key American date in history – United States Year of Independence; the building was largely handed over to architect David Childs. Designed to be the tallest tower in the world for the site leaseholder – real estate developer Larry Silverstein. The angular design is typical for Libeskind but here echoes the Statue of Liberty. A Snohetta building was also due to appear but the situation is in a state of flux, more online soon – 2006.
Daniel Libeskind was commissioned to design the Freedom Tower after a strongly
contested World Trade Center design competition in Feb 2003, beating architects
such as Norman Foster and in the end winning a two-strong shortlist.
Freedom Tower New York designer – Studio Daniel Libeskind Architects
Six teams were shortlisted in Sep 2002 out of over 400 submissions, including:
Foster + Partners
Richard Meier Architect
Studio Daniel Libeskind
United Architects
Think Group
Gehry Partners LLP and Snøhetta were selected as architects for the World Trade Center cultural complex by Lower Manhattan Development Corporation in Dec 2004
Ground Zero – first building now on site
SOM Architects
7 World Trade Center
World Financial Center
1986
Design: Cesar Pelli Architect
Including the Winter Garden
World Trade Centre – New Museum Complex, Ground Zero
Design: Snohetta, Architects
International Freedom Centre + Drawing Centre. Also named the WTC Cultural
Center. Snøhetta Architects became well known with their Alexandria library in
Egypt which won a major architecture competition.
Snøhetta Architects have an architects office in New York based at 50 Broad St
World Trade Centre Cultural Center architect : Snøhetta
World Trade Centre site – Ground Zero : News 2006
Richard Rogers Partnership to design Tower 2
Foster & Partners (Norman Foster) to design Tower 3
Norman Foster has recently designed New York skyscraper the Hearst Tower and is designing another, adj. The Seagram Building, so despite losing out in the final shortlist for the World Trade Centre site Foster has done well.
Richard Rogers is working on massive designs for the Jacob Javits Convention Center with controversy in early 2006 when he joined a group opposed to certain Jewish settlements in Palestine
World Trade Center Towers – photos of existing buildings + images of new designs
World Trade Center Architectural Drawings : Wright's Important Design Auction
World Trade Center New York Competition finalist : Rafael Viñoly
Another featured building by Daniel Libeskind:
Creative Media Centre – Hong Kong Buildings
Another New York building by Daniel Libeskind:
Condominium tower in Union City, New Jersey
New York Architectural Designs
Contemporary Architecture in New York, USA
New York City Architecture Designs – architectural selection below:
Brooklyn Bridge Competition Design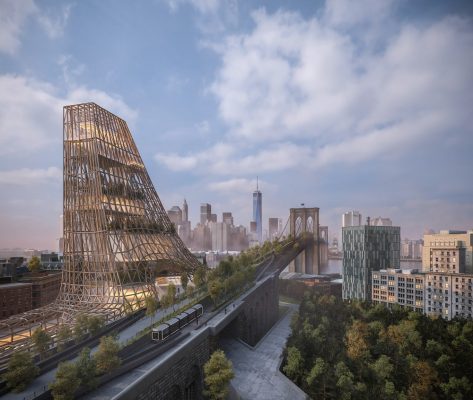 image courtesy of architects
Brooklyn Bridge Design by DXA studio
550 Madison
Architects: Snøhetta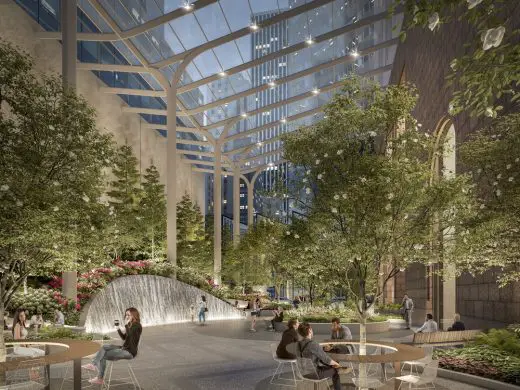 photo © Snøhetta and MOARE
550 Madison in New York City
New York State Architecture Designs
Comments / photos for the New York World Trade Centre page welcome