La Hacienda Creative's New Sound Studio in Montreal, Commercial Interior Design, Industrial Architecture
La Hacienda Creative's New Sound Studio in Montreal
Architectural Renovation Project, Canada – design by Newsam Construction + MXMA Architecture & Design
8 Dec 2017
La Hacienda Creative's New Sound Studio
Design: Newsam Construction + MXMA Architecture & Design
Location: Montréal, Quebec, Canada
La Hacienda Creative's New Sound Studio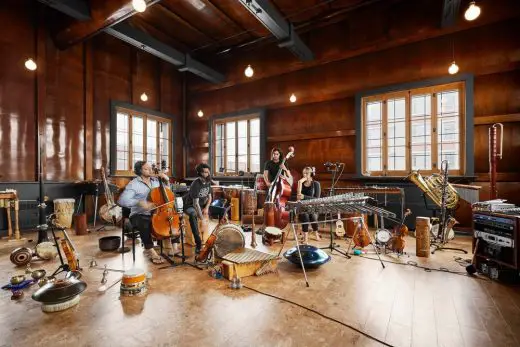 Newsam and MXMA  strike a resonating chord with renovation of historic RCA Victor Studio
Newsam Construction and MXMA Architecture & Design are proud to announce the rebirth of the former RCA Victor Studio in the St-Henri district, in Montreal. La Hacienda Creative, a leading Canadian sound creation studio, becomes the new tenant of the emblematic 5,000 sq. ft. (465 sqm) space.
In breathing new life into the building, Paul Schapira, head of Newsam Construction, and Maxime Moreau, founding architect of MXMA Architecture & Design, have succeeded in paying homage to its historic past, while envisioning a vibrant future.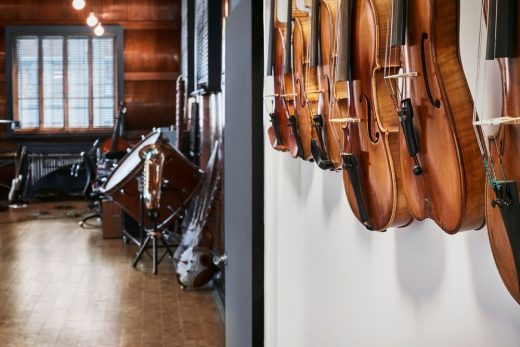 From the onset of the project, Alexandre Beaulieu, General Manager of La Hacienda, and Brian D'Oliveira, the company's Creative Director, received guidance from Newsam Construction's Paul Schapira, who provided a very specialized construction approach to their new premises. The defunct RCA Victor Canada site was originally one of the most important buildings in the sound and music industry, renowned in the 1940s for its rare acoustical engineering.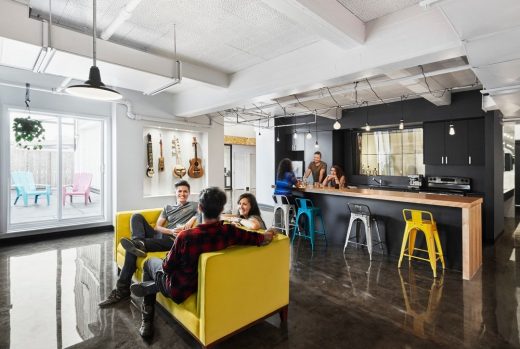 After years of neglect, recapturing the historic essence of the space would prove to be a formidable challenge, particularly given its proximity to a major highway. The intervention of architect Maxime Moreau was urgent.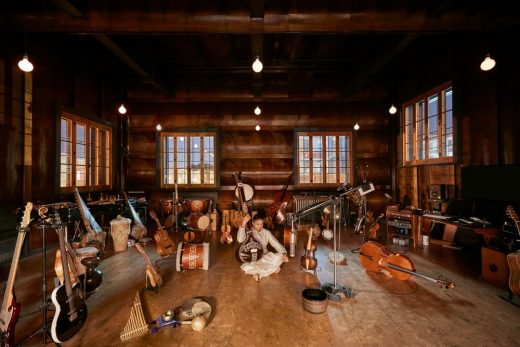 Collaborative process
"The clients wanted to work with an architect with creative ideas," explains Paul Schapira. "Maxime and I have worked together on several projects over the past three years and I immediately thought that he was the right person for this job."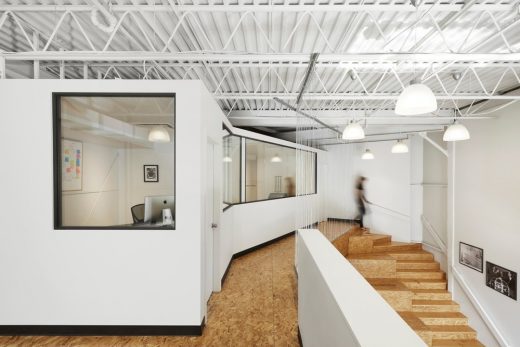 "When we agree to work with a client, it's because they understand the added value of close collaboration with an architect," says Maxime Moreau. "Rather than approaching projects in monetary terms, we strive to infuse even greater passion into a client's ideas, and to take them to a level they thought was unattainable."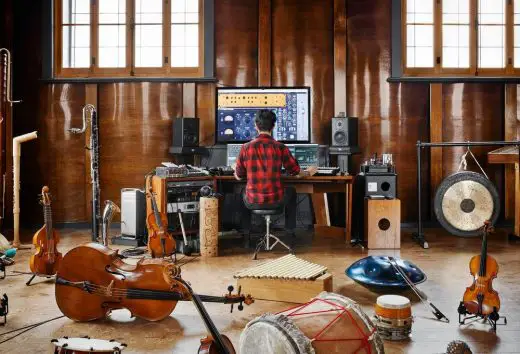 The process begins with understanding who the client is and where their vision is headed. Maxime Moreau believes that a shared vision between the architect and the client is the catalyst for developing more creative solutions that transcend traditional architecture. From the outset, the strategy was to provide the client with design reference points and ideas, enabling the client to participate in the creative process and to reinforce it. La Hacienda Creative wanted to develop a hub of creativity, while instilling a sense of community that would be reflected in the built environment.
"My vision for La Hacienda was to make it a very different studio," says Brian D'Oliveira. "It's more of a venue for a creative team than a traditional music studio or post-production studio. It's an integrated space where all stages of sound production can be realized."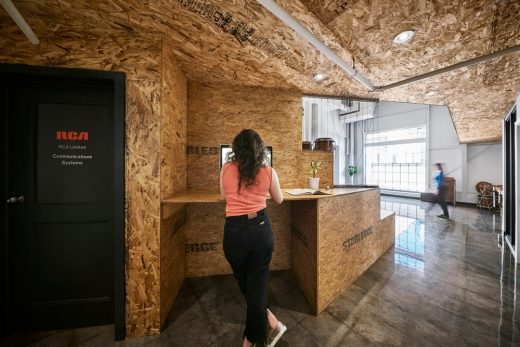 Once the plans were drawn up, MXMA and Newsam tackled the technical challenges of the project, as well as the materials, construction processes and design elements. Alexandre Beaulieu was also fully invested in achieving the common goal. While Newsam focused on the construction and technical challenges of the site, the collaborative process between the parties continued on all levels.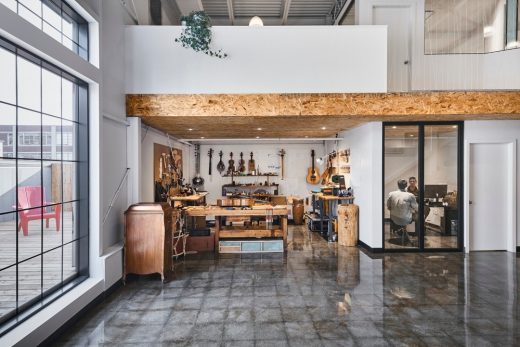 "My role was to ensure aesthetic continuity of design elements throughout the building," explains Maxime Moreau. "In addition to the design of each piece, it was necessary to ensure a homogeneous transition between the spaces."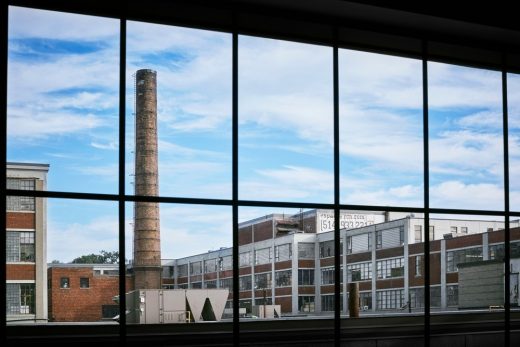 Sense of community
Community spirit sets in at the entrance to La Hacienda Creative's new facilities. People feel welcome in a large open reception space that feels like a living room. Beyond the effective design elements, wall-mounted instruments convey La Hacienda's spirit to every guest. A spirit of sharing and connection is also conveyed by large windows looking into the studios, and by the communal sink outside of the washrooms. The kitchen area, with its large island, is designed to host events.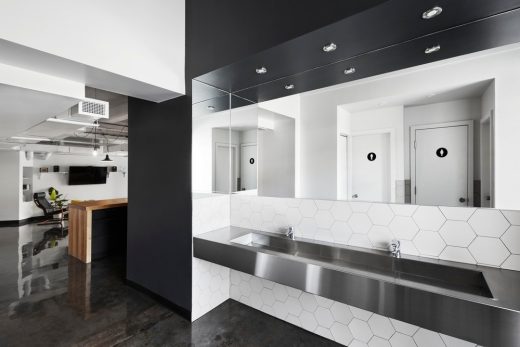 On the other side is the Satellite Room, named for its historic role as the birthplace of Canada's first satellite. Bleacher seating allows teams to work in a reflective space away from their desks. The space also promotes open-air meetings and musical performances, as does the open staircase that ascends one level.
Under the mezzanine, the repair and transformation of instruments is carried out in an open workshop area. Once dark and gloomy, the MXMA team transformed the space into a bright and lively place through the integration of new windows overlooking a terrace to the south. In addition to providing an abundance of natural light, they offer views of the historic building, also visible from the bleachers, like a window on the past of a great era for the sound industry.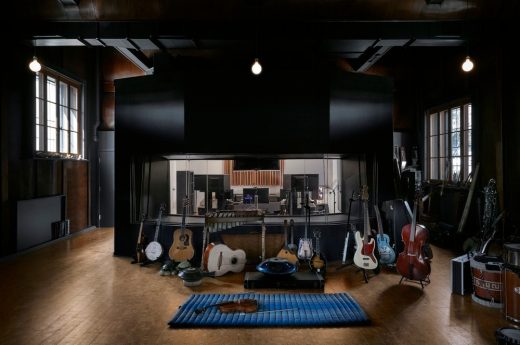 Something borrowed, something new
In order to stay within budget when selecting materials, Maxime Moreau decided to retain as much of the building's existing concrete flooring as possible, which had previously been covered with linoleum tiles. Varnished chipboard panels cover the bleachers and stairs, evoking the complexity of wood instruments.
Several of the old RCA recording studio doors were recovered as a design statement, while modern architectural solutions were applied to revamping the Victor Room, the building's original studio. In addition to new acoustic walls, floors and ceilings, each room was designed to contain sound and to insulate other tenants of the building against it. Additionally, the shape, textures and finishes of the control room were completely redone.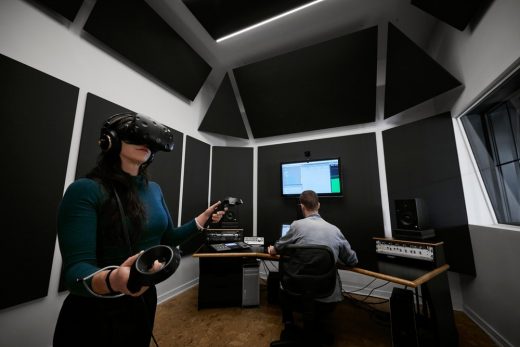 "We brought expertise in soundproofing to this project, as well as notions of intimacy," notes Maxime Moreau. "We are experienced in condo construction, so the idea of building small boxes within a large box, while designing acoustically independent parts, is one of our strengths."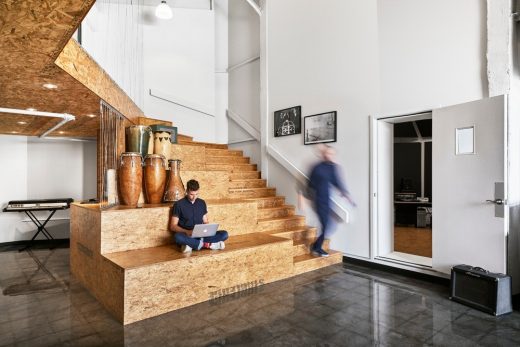 That expertise was also applied to the construction of La Hacienda's ceilings, using springs to absorb vibration, and in the design of air-conditioning and heating systems that are extremely discreet and quiet. Despite an abundance of concrete beams and low ceilings, Newsam and MXMA overcame the buildings technical challenges in order to provide La Hacienda with a truly unique sound studio.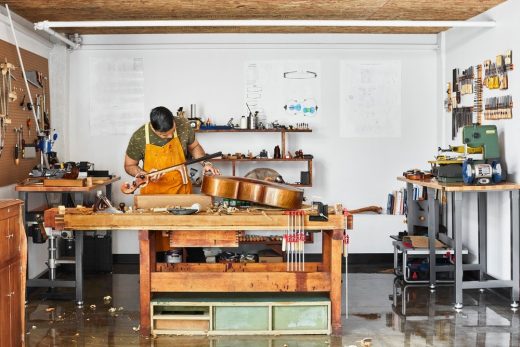 About La Hacienda Creative
Created in 2007, the La Hacienda team consists of 10 sound artists who develop projects in the realms of video gaming, television, advertising, museums, virtual reality, events and products. The goal of the studio has always been to shape the world through truly unique sounds.
Whether using leading edge technologies or traditional methods, La Hacienda applies a wide range of techniques to the achievement of unforgettable results. Over the years, La Hacienda has acquired more than 800 instruments that fuel the creative process and drive their projects. The extensive collection ensures that no two projects are alike. La Hacienda's studio was custom designed for modular workflow management and interaction, ensuring that each project unfolds swiftly, creatively and collaboratively with their clients.
Newsam Construction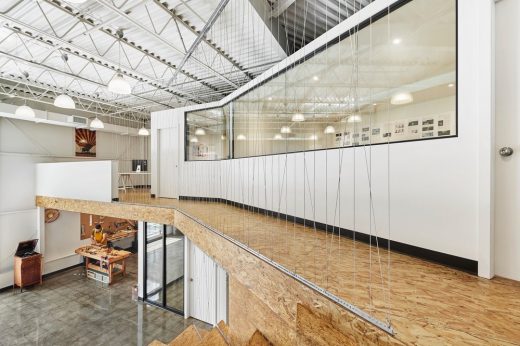 About Newsam Construction
Newsam Construction is a full-service renovation company specializing in custom restorations and construction projects. Servicing the Montreal area since 1980, Newsam prides itself on providing superior customer service and the highest quality craftsmanship. Project managers offer expert advice and creative solutions with meticulous attention to detail. The depth of its team of in-house professionals and quality sub-trades allows Newsam to deliver quality turnkey projects of exceptional value on time and on budget.
Newsam Construction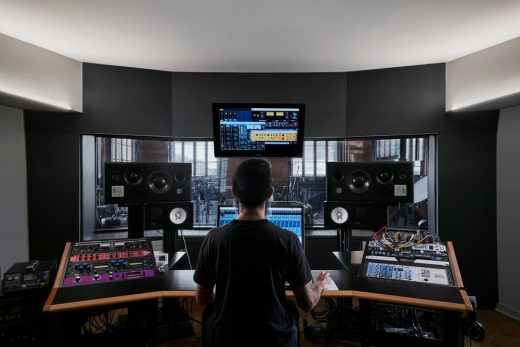 About Maxime Moreau, architect
After studying architecture at Université de Montréal, Université Laval and the Swiss Federal Institute of Technology in Lausanne, Maxime Moreau spent five years developing his architectural experience at prestigious firms in Los Angeles and Montreal. In 2010, he began his private professional practice as a co-founder of Architecture Open Form in Montreal.
In 2016, he founded MXMA Architecture & Design with the goal of taking architectural functionality to new heights, and has won a number of significant distinctions in architecture and design. Maxime Moreau's contribution also extends to the academic field, where he has guided architecture students at the bachelor's and master's level. He also taught as a visiting professor at the School of Architecture at the Université de Montréal and helps to educate people of all ages about architecture and design.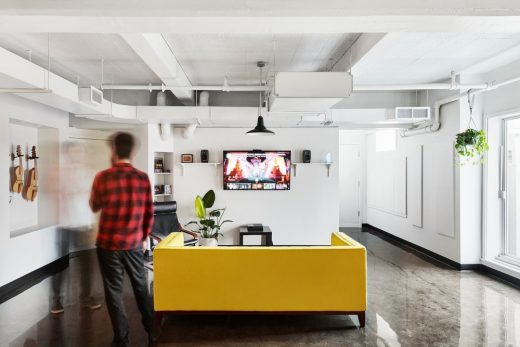 About MXMA Architecture & Design
MXMA's mission is to inspire people to live in emotive and surprising living spaces. It is natural for MXMA to ponder the built environment through ideas that arouse public curiosity and interest, regardless of the scale of the project. MXMA brings together professionals with unique experiences and multiple interests who want to share their knowledge and inspire new ways of doing things, leading to the creation of exceptional and emotionally inspiring projects.
MXMA Architecture & Design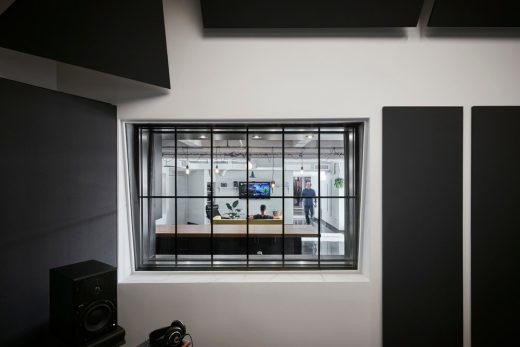 Photography: Annie Fafard
La Hacienda Creative's New Sound Studio in Montreal images / information received 081217
Location: Montréal, Quebec, Canada
Montréal Architecture Developments
Contemporary Montréal Buildings
Montreal Architectural Designs – chronological list
Architecture Tours Montreal – Quebec architectural tours by e-architect
Comments / photos for the La Hacienda Creative's New Sound Studio in Montreal page welcome