Val-David House, Canadian Residence, Laurentian Mountains Home, Architecture, Building, Architect, Images
House in the Middle of a Natural Forest
Canadian Home near Val-David, near Dufresne Regional Park, Quebec – design by Valbourg
11 Aug 2014
House in the Middle of a Natural Forest in Montréal
Design: Valbourg
Location: Val-David, Quebec, Canada – Laurentian Mountains about 80 km north of Montreal
House in a Forest in Montréal
Five minutes from the village of Val-David, near Dufresne Regional Park, a jewel of a development is hidden up on a hill. So few of these properties, destined for true nature lovers, are left in the region.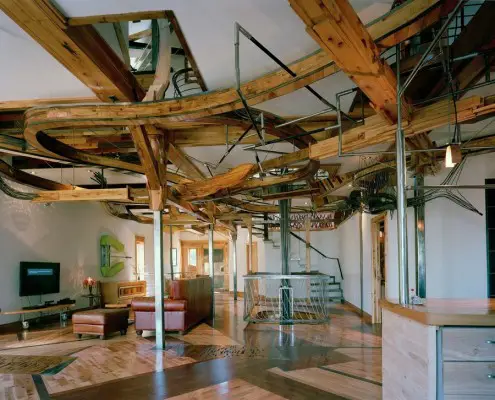 This natural haven of some 50 acres hosts an exceptional residence, now for sale. Born from the imagination of artist Robert Lachance, this live-in sculpture tells a fascinating story of symbols and connections.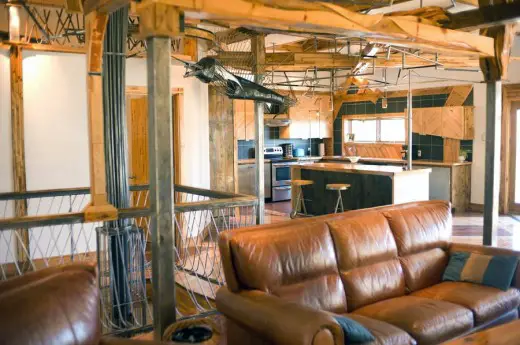 House-Sculpture
When visitors enter the house, their usual habits in discovering living spaces are completely overturned. Here, we do not decide where to go; instead, we are led through the spaces of the house by connections that are not functional but narrative. As we move slowly through this museum-house, our attention is drawn to every little detail. Organic beams slither across the living-room ceiling then explode into metal fingers that delve brutally into a wall. It is as if the wood and metal curves dance above our heads. As the artist explains, he wants to form his environment and bring it to life.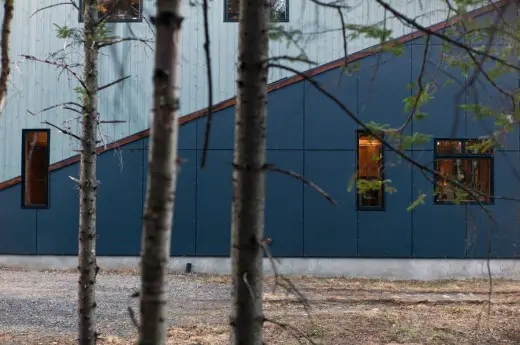 In the spirit of Kurt Schwitters's Merzbau, this interior design reflects Lachance's appropriation of the space both artistically and personally. Aside from the original shapes of the different architectural elements that inspired the structure of the house, the walls feature massive sculptures by the artist perfectly integrated into the decor.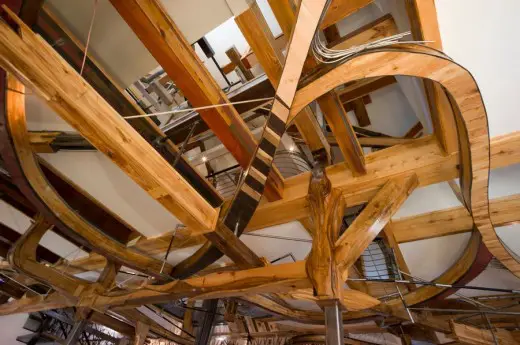 The lighting fixtures no doubt are among the elements that perfectly express Lachance's narrative architectural approach. Combining materials, textures and shapes, they capture the eye and offer an invitation to follow the cabalistic signs that they seem to project into the space. Thus, the artist's architectural intervention is almost graphic in form, as if he wanted to literally draw a personal story with beams, posts, and ceramic tiles.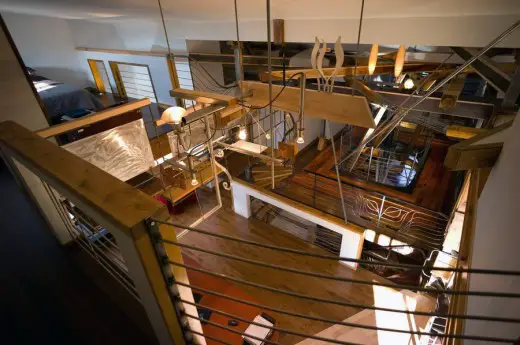 Robert Lachance
It is easier to comprehend the interior design when the personality of the person who imagined it is known.
A self-taught artist, Robert Lachance started with two-dimensional works before turning toward monumental sculptures that combine fibreglass, wood, and metal. His heritage from the Refus Global endows his abstract works with a raw power and organic sensuality that leave a deep impression.
With fifteen years of practising art behind him, Lachance reached the conclusion that people appreciate contemporary art but rarely purchase it. He therefore decided to integrate art with functionality and create inhabitable artworks. With his background as artist, industrial mechanic, and handyman, he acquired just about all the talents he needed to renovate old buildings, from the foundation to attic, including plumbing and finishing.
Neither architect nor designer, he goes with his artist's intuition, feeling more than analyzing the potential of an interior space. As a result, nothing is planned; everything is done as the story evolves, and then delivered to future visitors. This empirical creative process sometimes produces formal incongruities that give the home its charm and special character. In the artist's hands, everything becomes a work of art: furniture, lighting fixtures, floors, stairs, banisters, ceramics, and more.
Moreover, as an eco-designer, Lachance uses recycled materials. Metal posts used to reinforce concrete are shaped into a sinuous banister. Wood planks are aligned to form the sculptural base of the bathtub. Far from being restrictive, the formal limitations of recycled materials become a source of inspiration: glass taken from French doors, old globes, and twisted sheets of copper are transformed into a majestic lighting fixture.
Although he has kept it a secret up to now, Lachance is thinking of offering his services to those looking for unconventional living spaces. You can see some of his other projects on the Web site www.valbourg.com.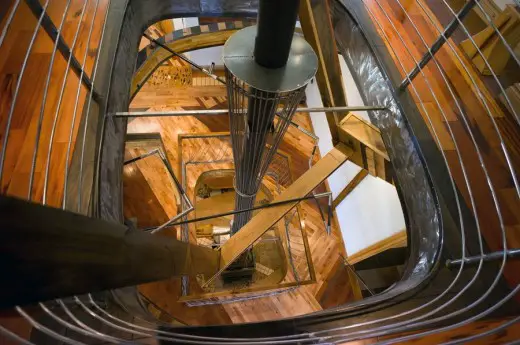 Valbourg: lots for people who love peace and nature
This house is for sale and is located on a 50-acre lot, called Valbourg, perched on the highest peak in Val-David, with an altitude of 480 metres. Nestled in the middle of a mixed deciduous and evergreen forest, the development borders Dufresne Regional Park to the south and west, and the historic Gillespie cross-country ski trail, between Ste- Agathe-des-Monts and Val-Morin, to the east.
Lachance and his spouse were smitten by this unique site with its exceptional view. That is why they have chosen not to unduly fragment their property for maximum profitability; instead, they want to preserve its quality and personality. The development plan offers only 19 lots for sale, of which three situated at the peak of the mountain are still available. Each lot is between 1.5 and 4.5 acres.
To give an idea of the site's exceptional quality to people who love peace and nature, the couple rents out the two first country houses that Lachance built. Large enough to host up to ten people, equipped with a year-round hot tub, and situated near skiing and hiking trails, these peaceful havens will certainly please those who love nature – and art!
To guarantee that Valbourg's superior quality will endure, the developers require that future owners agree not to subdivide the exceptionally large lots, to preserve the wooded nature of the lots, and to follow rules to ensure the privacy of all residents.
Photographs: Bernard Fougères
House in the Middle of a Natural Forest images / information received 11082014
Location: Val-David, Quebec, Canada
Montréal, Quebec, Canada
Montréal Architecture Developments
Contemporary Montréal Buildings
Montreal Architecture Designs – chronological list
Montreal Architecture Tours – North American architectural tours by e-architect
McGill University Schulich School of Music – New Music Building, Montreal
Saucier + Perrotte
McGill University Schulich School of Music
Palais des Congrés, Place Jean-Paul Riopelle
Realisation: Les architectes Tétrault, Dubuc, Saia et associés ; Hal Ingberg architecte (Independent architectural consultant and co-designer)
Palais des Congrés Montreal
Comments / photos for the House in the Middle of a Natural Forest page welcome