Aarhus School of Architecture Milan Design Week 2016 Installation, Danish Exhibition Project
Aarhus School of Architecture Milan Design Week
Contemporary Milanese Pavilion + Installations – information & images
5 Apr 2016
Aarhus School of Architecture exhibits at Milan Design Week 2016
Location: Milan, Italy
Aarhus School of Architecture exhibits at Milan Design Week 2016
How can architecture help improve people's everyday lives in a society that is constantly changing? This is the question Aarhus School of Architecture will address in the exhibition History as Catalyst at Milan Design Week from 12 to 17 April 2016.
The Fairy Tale: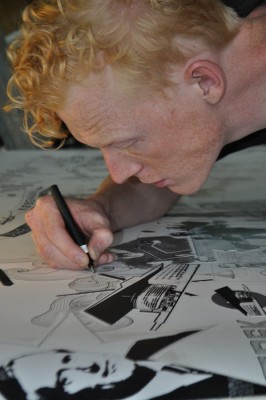 photo : Asbjørn Staunstrup Lund
"Using history as a catalyst for a series of experiments, the exhibition presents unique works that combine traditional craftsmanship and familiar materials with digital manufacturing processes", explains Karen Kjærgaard, the exhibition's curator.
Hypocaustum: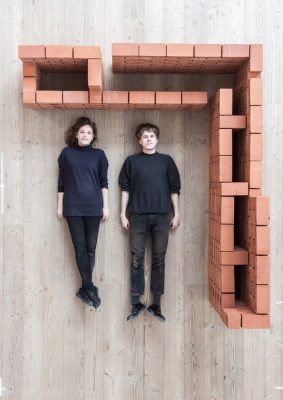 photo : Thomas Lillevang
It is the second time Aarhus School of Architecture presents a solo exhibition at Milan Design Week, which is considered one of the world's most trendsetting design exhibitions. In 2015, the school's exhibition received a great deal of attention and was seen by 30.000 visitors. Again this year, the school will be exhibiting in Ventura Lambrate, an area of Milan where particularly innovative and experimental exhibitions are presented.
LeCool_1: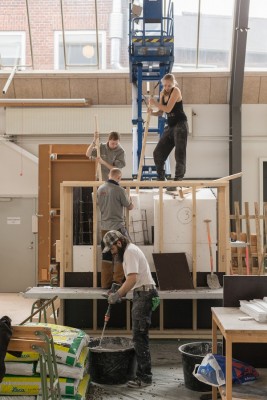 photo : Thomas Lillevang
Traditional materials and new technologies
Aarhus School of Architecture will be exhibiting seven curated projects made by students in close collaboration with teachers and partners from the construction industry. Three projects of particular interest are:
 The Spine. A floating roof and wall structure made from synthetic straw with the aid of advanced robotics.
 LeCool. Using 3D modelling, robotic hotwire cutting and CNC milling, complex forms are cast in the well-known lightweight aggregate LECA.
 Hypocaustum. An architectural wall structure based on an ancient Roman principle: hot air circulates in the wall cavity, using the thermal mass of the bricks to store energy and release it gradually.
All the works are examples of new, sustainable solutions made using advanced digital technology – but with history as a catalyst.
The Milan Pavilion: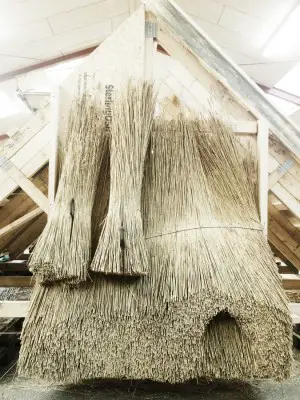 photo : Helena Felicia Emanuelsson
International attention
"We want to make an impression internationally and show that we are among the world's most renowned schools of architecture and design. Last year we learnt that being present at Milan Design Week provides valuable contacts and generates increased international interest in our school, which, incidentally, has just been validated by one of the world's most recognized architectural institutions, Royal Institute of British Architects (RIBA)", says Rector Torben Nielsen.
In 2015, Italian newspaper La Repubblica singled out Aarhus School of Architecture's exhibition, calling it a "must see". The 2015 exhibition was also discussed in international media, in daily newspapers as well as the trade press.
The Spine: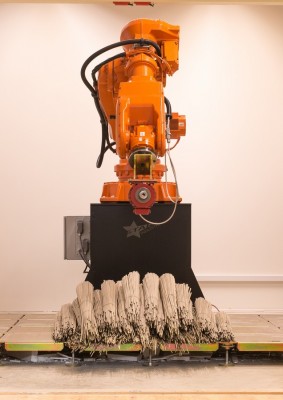 photo : Thomas Lillevang
Sponsors
The exhibition is supported by Augustinus Fonden and Dreyers Fond.
The Spine is sponsored by Dutch company Novariet, LeCool by LECA® Saint Gobain Weber and Aalborg Portland, Hypocaustum by Randers Tegl and The Milan Pavilion by Grønagergård Savværk.
Address and opening hours
Via Ventura 6, Ventura Lambrate, Milano.
Tuesday 12 April – Saturday 16 April: 10.00 – 20.00 Sunday 17 April: 10.00 – 17.00
Opening reception Wednesday 13 April 18.00 – 22.00
Aarhus School of Architecture exhibits at Milan Design Week 2016 images / information from Aarhus School of Architecture
LeCool_2: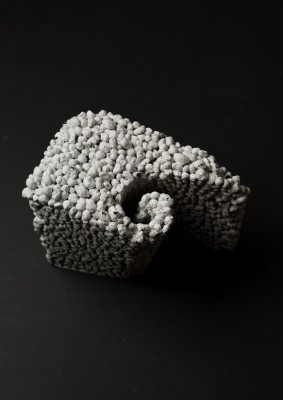 photo : Thomas Lillevang
History as Catalyst – Aarhus School of Architecture
HISTORY AS CATALYST
Aarhus School of Architecture takes history as point of departure for the exhibition History as Catalyst. By doing so, we wish to re-think the way we practice architecture and show how we as designers and architects can contribute to improve people's everyday lives in a society of constant change. History as Catalyst is a guide to action in the present, using the resources of the past to imagine alternative possibilities and thereby qualify and inform future practice.
Around the world towns and cities are undergoing massive changes which make it necessary to re-think practice and propose radical and sustainable solutions. For that reason, Aarhus School of Architecture focuses on transformation, habitation and sustainability. In the exhibition, structures in straw, brick, clay, and wood together with robotic thatching, casting, and CNC milling address a reflective knowledge and interest in both materials and digital production methods.
In order to spark off a discussion embracing the numerous challenges architects are facing today, History as Catalyst presents experimental and transdisciplinary collaborations and inventions rather than finished products. We wish to push the boundaries and go a step further to demonstrate our knowledge of design, fabrication, and the use of materials, and to discuss the relevance of design to society.
Torben Nielsen
Rector
Aarhus School of Architecture
THE SCHOOL
Aarhus School of Architecture is an institution under the Danish Ministry of Higher Education and Science founded in 1965. The School has a student population of 750 and employs a staff of 145. By our vision Engaging Through Architecture we focus on educating architects who deal with our future material and immaterial surroundings by engaging actively and critically with society.
We offer teaching at Bachelor, Master and PhD level within architecture and areas related to the architectural profession. We also offer a range of professional studies and specialised courses aimed at qualified architects and designers.
Our education and research are based on a professional architectural practice characterised by an artistic and research-based approach to architecture.
In 2015 RIBA validated Aarhus School of Architecture as the first architecture school in Scandinavia.
Aarhus School of Architecture
Noerreport 20
DK-8000 Aarhus C
Denmark
Aarhus School of Architecture Drawing of the Year 2016
Location: Aarhus School of Architecture, Noerreport 20, DK-8000 Aarhus C, Denmark
Milan, Lombardy, northern Italy
Milan Architecture
Contemporary Milanese Architecture
Milan Building Designs – chronological list
Milan Architecture Tours – city walks by e-architect
Milan Architects Offices – architectural firm contact details on e-architect
Salone di Mobile Milan Architecture
Mutated Panels Milan Installation
Salone di Mobile Milan pavilion
Design: Mecanoo architecten
Salone di Mobile Milan
House of Stone at Salone del Mobile, Milan 2010
Design: John Pawson, architect
House of Stone Milan
Aarhus Building Developments
Jutland Architectural Designs
Aarhus Architecture Designs – chronological list
Comments / photos for the Aarhus School of Architecture exhibits at Milan Design Week 2016 page welcome